Ford Raptor
As if the Ford Ranger wasn't big enough already, along comes the Raptor. Still not as big as a full size American pickup, the Raptor cuts a striking presence on British roads. And perhaps that will be the main reason folk buy it. Just to stand out, to be different. But the Raptor is not all show without go.
Of course it's based on the Ranger so it has the same size cabin and loadbox, but it sits 51mm taller on a 150mm wider track. It still has the same 4 cylinder, 2 litre, 213 PS turbo diesel as the 'standard' Ranger and has a 10 speed auto 'box, but it really looks quite different with a special Raptor front grille treatment and sat on a set of BF Goodrich All Terrain 285/70 by 17 tyres under the extended wheel arches.
It might look like a desert racer, but don't go thinking it has the speed to match the looks. It may well have 210 bhp but with 500 Nm of torque it's geared for power not pace. This would indeed pull the skin off the mother-in-law's rice pudding! By the way, NASA still wants her recipe, but she's not up for it.
However, it does sport race-bred suspension with FOX shock absorbers. This features 'Position Sensitive Damping' which provides higher damping forces at extremes for serious off-road capability, while also providing lower damping forces for a smoother ride on-road. Front damper travel is increased by 32 per cent, and rear travel by 18 per cent.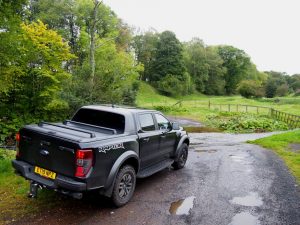 The high performance 2.5-inch (63.5 mm) diameter dampers are supported by aluminium control arms, with protruding shock absorber towers at the front. A new coilover rear suspension arrangement features an integrated Watt's linkage that allows the axle to move up and down with very little lateral movement.
Coupled with a 6-Mode 'All Terrain Management' system, this makes the Raptor just about unstoppable if taken off road. The six Modes feature a 'Normal' mode for comfort, fuel economy and driveability while 'Sport' mode sharpens up on-road response. The 'Grass/Gravel/Snow' mode is designed for off-road slippery and uneven surface conditions, while 'Mud/Sand' takes that a bit further to cope with deep, soft surfaces like loose sand and mud. The 'Rock' mode is designed for low-speed rocky terrain where throttle control and precision are required and the fun sounding 'Baja' setting is for ultimate performance.
Unfortunately we don't have many deserts in Scotland so if you are tempted to go dune bashing around Scotland's coast, best not!
Even so, off road performance is impressive, so don't be fooled by the four off-road tow hooks that are part of the Raptor's equipment. These are more likely to be used pulling out other folk than getting the Raptor unstuck.
On the other hand, its road manners require respect, especially with those chunky, knobbly tyres! On a frosty morning trip to the Scottish Borders, the tail end got a bit skittish at times and the auto 'box is not quite as quick as the sporting driver might like! Even on wet rather than icy roads, the car demands respect, but power slides can be provoked if on a private stretch of road with nothing coming the other way. For that reason, I would prefer a manual shift. Having said that, a change of tyres would reduce the beast's capacity to increase one's pulse and heart rate.
I daresay a bit of weight in the back might have helped under those conditions, but the pickup weighs two and half tonnes as it is, so it's no lightweight. As it's a double cab, payload is only 620 kgs but towing capacity is 2500 kgs so the car qualifies as a commercial vehicle allowing business buyers to re-claim the VAT.
The loadbed itself is one and a half metres long so there's room for only one pallet unless you lower the tailgate while the cargo floor itself is some 906mm which is a fair old height if lifting a bag of spuds off the ground to put in the back. Maybe carry some Max Strength Nurofen Joint & Back Pain Relief Max Gel in the glovebox in case you get over ambitious with the weight lifting. A neat touch is the effective loadbed illumination which is built into the aerodynamic 'sports' hoop behind the cab.
It won't suit everyone, especially the short, the overweight and the elderly. Indeed, some folk might need to carry a footstool to clamber up and into the thing despite the fact that it has strengthened alloy side steps.
Me? I loved it. Just one drawback. The price. It costs a lot of money, but you do get a lot of truck.
Review Date: October 09, 2019
Price: £48,474 (as tested)
Engine: 1996cc, 4 cylinder, turbo diesel
Power: 210 bhp
Transmission: 10 speed automatic
Wheel Base: 3220mm
Overall Length: 5363mm (with towbar)
Overall width: 2180mm
Loadfloor length: 1575mm
Loadspace width: 1560mm
Loadspace height: 561mm
Payload: 620 kgs
Kerb weight/GVW: 2510kgs/3130kgs
Towing Capacity:2500kgs