… Range Rover Autobiography …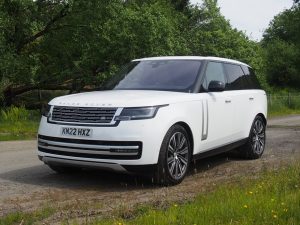 The new Range Rover is like driving a cloud on a breeze, or if you hit the accelerator, on a tornado. When it comes to wafting along British roads in splendid isolation, this is a serious wafter, possibly the ultimate wafter.
I'm not being flippant. If you thought the previous generation offered a smooth, insulated ride, then this latest example has refined that even further. There is absolutely no need to spend any more money on a luxury limousine than the price of a Range Rover.
It's odd how the original farmer's friend has evolved from country gent 'Defender' to prime ministerial transport. It was the V8 power, the commodious interior and the comfy seats that sparked off a whole generation of lookalikes and competitors. It just seemed that suddenly every off roading manufacturer was creating 'luxury' off roaders. It could be argued that the Americans started the trend with their 'Wagoneers' but Range Rover took this to a whole new level in Europe.
The original Ranger Rover looked the part though with its rugged good looks but successive model introductions have seen huge change over the past 40 odd years. This latest is the most extreme yet. Make that extremely smooth. The only things that stick out or protrude from the sleek, svelte new shape are the door mirrors, and I suppose also the door handles but they retract when the vehicle is started or locked, creating a smooth exterior with very clean lines.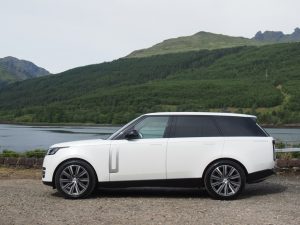 The designers have deliberately gone for the clean and uncluttered look, and even the various sensors are disguised in the grille so that the bumpers are unpierced. This of course might well appeal to the sleek and glossy individuals who grace the pages of gossip mags and newspaper columns, but to the great outdoors folk, it's no longer a vehicle they would be comfortable taking across grouse moors. On the other hand, there is nothing to snag on brambles or gorse bushes!
The end result is a drag coefficient of 0.30, making this the most aerodynamically efficient luxury SUV in the world.
Not only do you get limo-like ride comfort, but the driver gets a much more imposing, and therefore safer, view of the road ahead and the scenery around while it is much easier to retain one's dignity when alighting or boarding.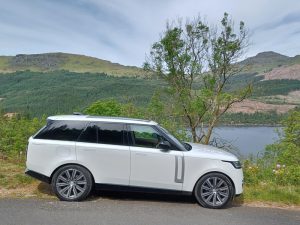 That's down to the air suspension which provides variable ride height with four stages of elevation. Automatic Access Height allows customers to elegantly enter and exit the vehicle by lowering the vehicle by 50mm while Active Speed Lowering drops the body height by 16mm when cruising at above 65 mph. In off-road situations, the body can be raised by 75mm and again by an additional 60mm to provide superior ground clearance. It even has a wading depth of 900mm for those who live on an island!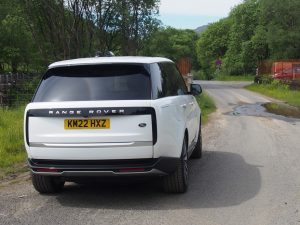 Even so, no-one would dare take such a paint job anywhere near rocky streams or forests anyway which is a shame because despite its almost graceful looks this is as butch and as capable off road as any Range Rover gone before.
As one who constantly criticises oversized wheels and the resultant poorer ride quality, the 22 inch wheels certainly raised eyebrows – and concerns. And yet the Pirelli Scorpion Zero 265/45 tyres transmitted nothing through the body or steering column. It was like driving a hovercraft, only one that responded directly and immediately to driver input. And there's no need to worry about scuffing the giant alloys. The car has four wheel steering which allows a turning circle of less than 11 metres.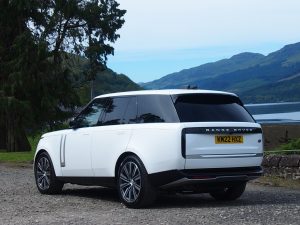 Land Rover have even thought of those unfamiliar with such bulk who might be daunted by tight spaces in the dark by fitting 'manoeuvring lights'. These will help drivers complete low-speed manoeuvres in dimly lit surroundings. They create a carpet of light around the perimeter of the vehicle, working with the 3D Surround Camera system to provide effortless precision control.
That's all very well, but there's another surprise when you step aboard and fire it up. There's no fire! The silence is disturbing. There's no induction noise, no 4, 6 or even 8 pot beat and certainly no electrical hum, so what's going on? As Simon & Garfunkel would have it, this is the sound of silence.
What lies under the bonnet is down to pure guesswork because there is no discernible engine note. In this case you only know it has a 3 litre twin turbo straight six mild hybrid diesel when you hit the loud pedal. Nought to 60 in under 6 seconds and a top speed of 145 mph can be achieved in almost complete and undramatic silence. And just to make sure no unwanted noise strays into cabin, the engineers have introduced a next-generation noise-cancelling system through the headrest speakers.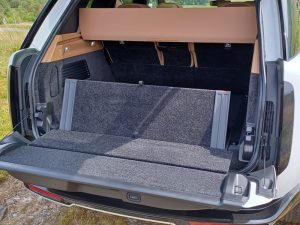 There is another nod to the Range Rover's heritage. The rear portion of the boot floor folds out to make an outwardly rear facing perch for spectating at outdoor events, and it even has a cup (or champagne glass) recess at each end.
Of course, all this doesn't come cheap. Prices start at a whisker under six figures and can rise above £150,000, whereas the test Autobiography spec vehicle had a more modest price tag of around £120,000. Fuel economy will be of little concern to those contemplating such a purchase but Land Rover reckon a figure of around 35 mpg can be achieved if driven sensibly which is surprisingly good for a vehicle weighing around two and half tonnes.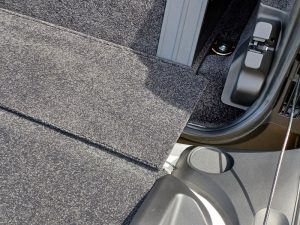 If I had the budget to buy a long, low, luxury status symbol, there would still be no reason to do so, because the Range Rover is more practical and provides equivalent levels of prestige and luxury – and can still go places a limo can't. It can also pull 3500 kgs.
And why would you need such a towing capacity? That's for the car trailer with the exotic or classic automotive treasure inside it that can also be afforded by not buying a limo!
Range Rover Autobiography 3 litre Diesel MHEV AWD
Review Date: 28 June 2022
Price: £122,850 (as tested)
Engine: 2997cc, 6 cylinder twin turbo diesel with 350 bhp
Performance: 0-62 mph in 5.8 secs, flat out at 145 mph
Economy: 35.6 mpg (combined)
Emissions: 208 g/km
[Back to Top]