… Ford Puma ST …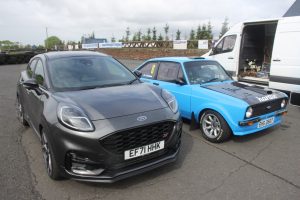 When Ford and M-Sport first announced that the Puma would form the basis of their 2022 WRC contender more than a few folk thought they were off their heads. Then they revealed it!
It was, and is, quite a looker. Physically it's not that much different in size to the current Fiesta, but it is in fact longer, wider and taller. And it's SUV shaped as opposed to saloon car shaped. That was deliberate of course as Ford is in the business of selling cars, not rally cars – and there is a difference.
With public tastes now favouring more practical, family friendly SUVs as opposed to regular 'traditional' saloons, it made marketing sense for Ford to use rallying to promote the image of a sporting SUV. So the job was handed over to M-Sport
Weight wasn't an issue because rally cars are built to regulated limits, but the Puma is 117 mm (4.6 inches) longer, 70 mm (2.75 ins) wider and only 64 mm (2.5 ins) taller than the current Fiesta. The wheelbase is also slightly longer by 95 mm (3.7 ins) but this also helps to create more space within the profile to insert the latest in hybrid powertrains and incorporate all the four wheel drive trickery.
So what might have seemed a daft idea to begin with makes sense, not just in rally conversion terms, but in terms of promoting 'Ford the brand' and SUVs as more than just a family holdall on wheels.
With the Puma ST, Ford also has a reputation to live up to which originated with its 'RS' branding and now the 'ST' performance badge, just don't expect a WRC replica to drive on the public road. That reputation has been graced and enhanced by a whole series of manufacturer modified cars over recent years which have delighted generations of driving and sporting enthusiasts, and this latest Puma is no exception.
The Puma has a Tardis like quality to it. Seen in isolation it looks quite big and sturdy, but stand next to it and it's most definitely not lardy and bloated.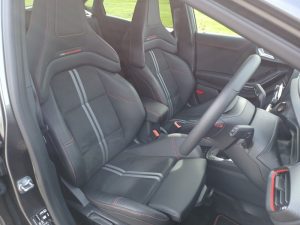 Inside the car, the extra dimensions do make a difference in terms of passenger accommodation and comfort, but this being the ST, the front seats are rally inspired 'buckets'. The high side bolsters make getting in and out quite a sprachle for the elderly and unfit but well worth it once strapped in and ready to go. A car always feels faster with decent seats and driving position, doesn't it?
It doesn't disappoint. With a 'mere' 197 bhp from the three cylinder 1.5 litre turbo EcoBoost motor doesn't seem a lot these days but in a car that handles so sweetly it's all you need for serious sporting fun and sheer driving enjoyment. It's docile enough for the weekly shop or daily school run, but at weekends it's just the best excuse for avoiding mowing the lawn or visiting the in-laws.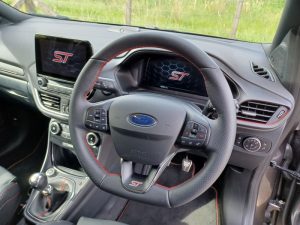 Admittedly the suspension is quite firm, but it is well damped, although the Michelin Pilot Sport shod 19 inch alloys do let you know when you hit bumps and pot holes on the road. On the other hand it grips like a toddler to a toffee apple. So whilst it may not provide the smoothest ride on the commuter run it does seem to get better the faster you go. And if that's not enough, the 'Sport' mode sharpens everything up and makes it even more responsive to driver input. Making it even more tractable, the generous torque spread allows it to pull well right through the rev range so you don't have to scream the nuts off it to make rapid progress.
And there's more. The test car had the ST Performance Pack option which includes a Quaife Limited-Slip Differential and Launch Control, with Shift Light and Indicator. It also had the 'Magnetic' body colour option at £425.00 and Handsfree power tailgate at £350.00
Fuel consumption figures are truly meaningless in a car like this with its appetite for fast fun. In fact the actual average fuel consumption of 34 mpg during the appraisal period is somewhat lower than Ford's own figures! On the other hand it could have been much worse – if there were no national speed limits.
Of course it won't suit everybody, no car does, but I loved it.
Ford Puma ST
Review Date: 08 June 2022
Price: £31,850 (as tested)
Engine: 1497cc, 3 cylinder turbo petrol with 197 bhp
Performance: 0-62 mph in 6.7 secs, flat out at 137 mph
Economy: 41.5 mpg (combined)
Emissions: 155 g/km
[Back to Top]

**