… Mazda CX-5 …
This the Mazda CX-5.
So what?
It's the 2022 CX-5.
It looks the same as the 2021 CX-5.
But it's different.
Get away with you, it's just the same.
Nope, it's definitely different.
Most cars get a face lift during their production run to try and keep them fresh and up with the times in an ever changing, fast moving world, but in the case of the CX-5 it wasn't so much a facelift as a cosmetic makeover.
The front and rear bumpers have been re-designed and incorporate new headlight and taillight clusters and there's a new three-dimensional grille which features wee subtle colour touches to indicate the specific model trim. Blink and you'll miss them, but the whole effect is cleaner.
However the only thing I have an issue with is the colour. Battleship grey. Even when it's polished it still doesn't look right on a handsome car. Add shiny black wheels and I just don't get it. What's wrong with a nice red car sitting on a set of silver Minilites?
Somebody, somewhere must have woken up one morning and thought battleship grey was 'the new black'. Either that or they found a large stock of WWII paint in an old corrugated tin shed somewhere and then foisted it on an unsuspecting and gullible public in the name of 'fashion' and who slavishly and mindlessly follow any new fad promoted by social media influencers.
Nope, grey is not my idea of a colour for a car as good looking as the CX-5 – or so says someone who once thought the height of male fashion was paisley pattern shirts and matching ties, with velvet flared trousers and suede wooden heeled boots. Pure dead gallous, eh?
Of course that's a purely personal view and other colours are available!
Which is good news for the more sensible members of the great British public because the Mazda CX-5 is a sensible car. The 2WD (4WD is an option) test car came with the sensible 2 litre Skyactiv-G Petrol engine with 163 bhp, although there are other petrol and diesel options and of course electricity!
The word 'sensible' with regard to the petrol (and diesel) engine has been used deliberately as this reflects the fact that despite what governments are trying to inflict on motorists, fossil fuels still represent the more practical and easy, everyday option. Anyone who is reliant on the public charging infrastructure will need to have the fortitude of a knight and the patience of a saint.
Of course this will all be sorted in time, but for those trying to go about their business in the present day, electric cars users will continue to face shortcomings in the availability and reliability of the public service. In these circumstances, a home charger is a must.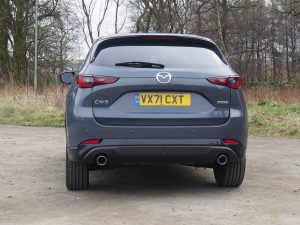 I digress, the petrol powered CX-5 is a delight to drive with the SUV style accommodating up to five adults comfortably inside. The boot is a sensible size too and the floor is level with the rear bumper although the floor can be lifted to reveal a deeper well to increase boot space.
The reason I like flat bumper-level floors is that they provide a place to sit with the tailgate up to act as a sunshade or umbrella. That of course will have little appeal for those not engaged in outdoor pursuits or taking the family for picnics.
The car's interior has been tickled too with a new dash-top 10.25 inch display which is controlled by a 'Multimedia Commander' rotary dial between the seats. It also links up with the MazdaApp on smartphones to control some of the functions.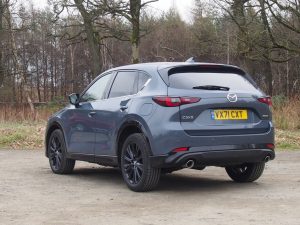 Seating and decoration remains unchanged, thanks goodness. It would hard to improve. The Mazda design department has created a sumptuous and stylish red-stitched black leather interior with sufficient chrome highlights and honeycomb texture embellishments to provide a really classy interior. One to enjoy while sitting waiting outside the hairdresser's – for ages! And the six speaker infotainment system has been improved too.
Equally impressive is the drive quality, even on 19 inch wheels. The seats are supremely comfortable but so is the ride with only the worst of British pot holes interrupting the serenity.
It's not the fastest of SUVs but if 163 bhp isn't enough there is always the 192 bhp version, but for most folk, 163 is perfectly adequate and combined with its surefooted handling will add some pleasure to even the most boring of journeys.
The over riding feel is one of tautness and well builtness. It just feels so good and the doors shut quietly with a satisfying solidity. Pedal and steering weights are perfect and the six speed gearshift is just so slick and clickety. Fuel consumption is perfectly acceptable at just over 40 mpg with plenty of filling stations around – for the moment – for a quick re-fill and back on the road in minutes instead of hours.
Apart from the colour, the only thing I didn't like was having to hand it back after a week of motoring bliss at a fraction of the cost of some of those other larger off-road monsters so beloved of the jingling jewellery set.
All it needs is a coat of red paint and silver Minilites. Purr-fect.
Mazda CX-5
Review Date: 25 May 2022
Price: £34,750 (as tested)
Engine: 1998cc, 4 cylinder petrol with 163 bhp
Performance: 0-62 mph in 10.5 secs, flat out at 125 mph
Economy: 41.5 mpg (combined)
Emissions: 153 g/km
[Back to Top]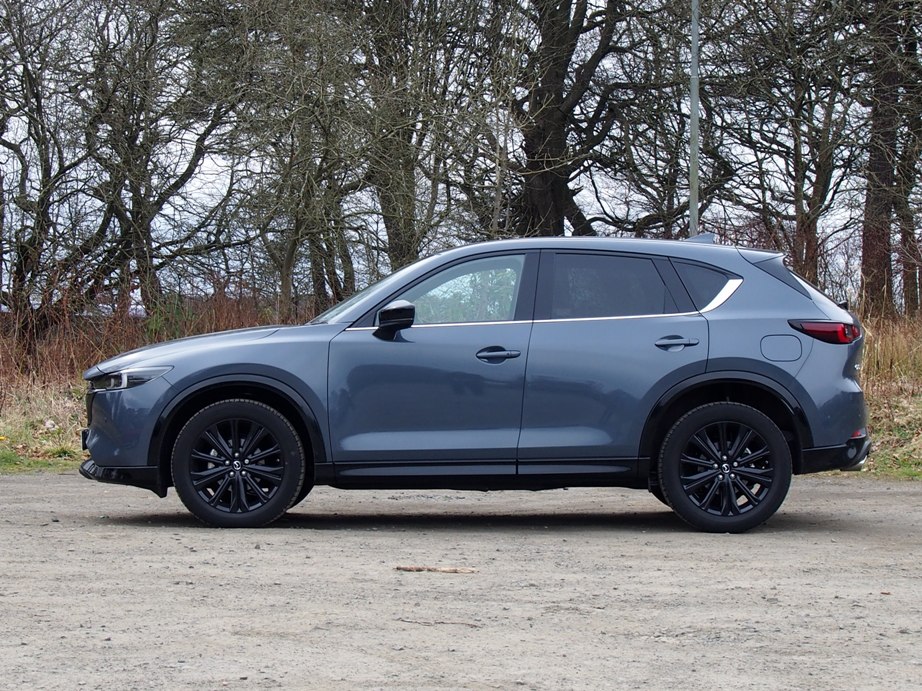 **