… Cupra Born V3 …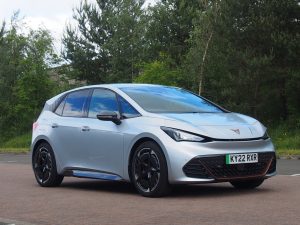 When I first saw pictures of the Cupra Born I thought it looked a very smart, but very small, city type car. Not so. Once seen in the metal it offers up a rather bigger impression. That's down to the fact it was sitting on 20 inch wheels which rather tended to fool the eye and the brain. Very clever.
However there's still plenty of room inside and it's also very comfortable. This being a Cupra, it's more of a sporty saloon than a weekend shopper although it can fulfil both roles with ease and satisfaction.
The interior is very smart with its black leather and bronze trim finish enhanced by the bronze coloured stitching in the leather seats and steering wheel. In fact, bronze seems to be a permanent design feature of the Cupra brand with other exterior bronze coloured trim highlights matching the badge on the bonnet. Makes a change from chrome, eh? That also gives an idea of where SEAT wants to take the brand – upmarket!
And yet the price is reasonable – for an electric car. Under 40 grand for a quick and roomy family saloon.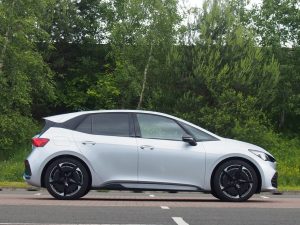 Performance from the 201 bhp electric motor delivers a nought to 60 mph time of just over 7 seconds while the top speed is limited to 99 mph. That in theory should give a range of some 260 miles depending of course on how it is driven.
And this now being a standalone 'sporty' brand of the SEAT empire will tempt certain drivers to exploit the performance. And yes, it's quick and handles well which further entices drivers to enjoy themselves – at the expense of range. Mind you, that's no different from petrol or diesel powered cars, the harder you drive the lower the fuel consumption. It's just that in electric cars the difference can be much more dramatic.
Therein lies the ongoing dilemma for potential car buyers. Internal combustion or electricity?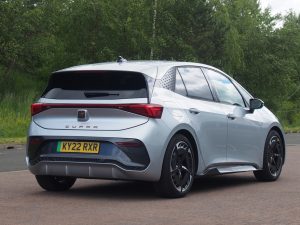 If I was a commuter facing a twice daily commute of anything up to 80 or 100 miles then I would plump for an electric car – with two provisos. I would need a domestic charger at home and access to another at my place of employment. Dependency on the current public infrastructure is not an option.
Recent experience has highlighted a growing number of electric cars on the road which means more demand on the public charging network and that's the biggest problem facing potential buyers. The installation of new public charge points is not keeping pace with the demand for new electric cars. Hence the need to have a custom home charger as opposed to depending on the domestic three pin supply.
I did try charging the car up on the standard domestic supply but it took a full ten and a half hours to top up a 40% 'fill' whereas one of the newer type high speed chargers can deliver an 80% charge in under an hour.
There is another issue concerning electric cars. When a 12v battery goes flat a push start will get you underway again, not so with an electric car. Of course 12v batteries rarely go flat if a car is used regularly but there are so many electronic and safety features built in these days that there can be a constant drain on the battery. It's the same with electric cars. I was away for three days whilst I had the Cupra and left it showing a 50% charge. When I returned home and started it up it showed a 48% charge.
I like electric cars and I really liked this Cupra Born but it wouldn't suit my lifestyle and I suspect the lifestyle of many other current road users. For local and commuter use they make perfect sense but for those who frequently travel longer than average distances and often at odd times of the day, night or weekend, electric cars are quite impractical.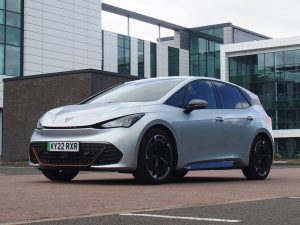 Prices start from just under £35,000 but this was the top of the range V3 version with its electrically adjustable heated front seats with built-in massage function, Head-Up display, heated windscreen washer nozzles and 20 inch wheels shod with 215/45 Continental Eco Contact 6 tyres, plus an ever growing list of additional built-in electronic driving aid and safety functions that seemingly come with every new car nowadays.
Best choice on that front would be a hybrid but until prices become a bit more reasonable (affordable?) I'll stick to petrol or diesel, but even this choice has its limitations. As electric cars become more popular and the public charging infrastructure catches up then the number of petrol and diesel dispensing outlets will diminish. Furthermore, if the refineries reduce their capacity to make such fuels then they will become more expensive to produce and of course prices at the pump will rise further.
In other words, the motorist is caught between a rock and a hard place, or between a banker and a bank robber.
Cupra Born
Review Date: 17 July 2022
Price: £38,955 (as tested)
Engine: 169kW electric motor with 201bhp
Performance: 0-62 mph in 7.3 secs, flat out at 99 mph
Range: 260 miles (claimed)
CO2 emissions: 0 k/gm
[Back to Top]