… Kia Sportage GT Line S HEV …
The first Kia Sportage, launched all those years ago way back in the last century (1995 to be precise!), wasn't much of a looker, neither was the second generation car, which was what you might call utilitarian, but what it had going for it was a reputation for reliability. It was also very reasonably priced, two traits which appeal to the average Scottish buyer!
However, the third generation launched some 12 years back hit the sweet spot. Its looks alone tempted folk into the showrooms and then the fourth generation improved on that. This was one of the best looking compact SUVs on the market but it was so desirable that prices started creeping up, not just brand new, but it was holding its own in the used car markets too.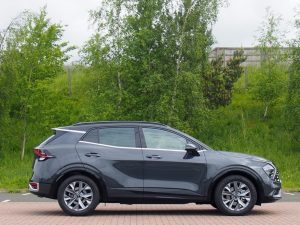 And now we have the fifth generation. Just when you thought it couldn't be improved upon, Kia have done it again, the new Sportage is really quite striking. This is catwalk quality at High Street prices. And it should give all the other SUV manufacturers concern that Kia is a contender.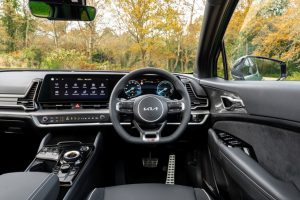 The only criticism I have is the dashboard display which gives the impression that it has been nicked from an I-Max cinema. The huge twin 12.3-inch touchscreens offer a curved panoramic array of information behind the steering wheel and offers up so many options that it would take an advanced seven year old to help out doddery auld gits to find a specific function.
I was accosted, in the nicest possible way, by a young lady in a car park asking where and when I had purchased 'my' brand new and shiny Kia Sportage. Apparently when she ordered her new car she was told there was an eight week waiting list. That was fine she thought, but twelve weeks later, she was still waiting and no new good news on the horizon. Of course I was far too gentlemanly to ask for her telephone number – naturally, for the sole reason of asking when she finally got her car.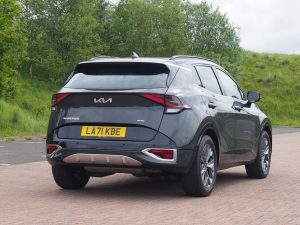 But this is not a Kia problem, this is a worldwide car manufacturer problem. There's no real issue about actually building cars, it is all about securing the necessary parts and materials, from micro chips to raw steel, and everything in between.
Anyway, I asked her why she chose the Kia, and her first response was the looks followed by the interior. The fact that she liked the touchscreen display just proves the fact that she was indeed a 'young lady' and not one of those new-technology-hating members of the older generation who fear such brash and bewildering displays of colour and choice.
Anyway, she asked if she could have a look round 'mine' to remind herself what she had bought. It only served to deepen her disappointment further!
It also proves that the subject of touchscreens is indeed a personal thing. I don't like them because of their imprecision. Of course they work if you stab the right area accurately, but when driving a moving vehicle, searching for and selecting such actions can be distracting.
However, Kia have thoughtfully included a sub-panel for heating controls with a twist knob at each end for temperature control. Very sensible. I suppose the older you get the more tactile you want.
Anyway, that was the only criticism. The Sportage is a solid, well built, comfortable and well equipped car in which to ride and this GT Line hybrid model had much to offer. The 226 bhp power comes from a 178 bhp, 1.6 litre T-GDi petrol engine supported by a 44.2 kW electric motor which makes for lively performance at one end, but also rather more frugal motoring at the other. It's not a sports car, but it is a sporty SUV.
This top of the range model comes with a whole host of extras and 'driving aids' such as Kia's 'Remote Smart Parking Assist' (RSPA) system. This enables the vehicle to park itself all on its own whether or not the driver is in the vehicle. Using surround view cameras and ultrasonic sensors, the Sportage can be driven forwards or backwards in and out of a suitable parking space with automatic control of accelerator, brakes and gearshift. Eerie, but it works!
Kia reckon that a cautious driver can get well over 50 mpg with the car whereas I was returning 44 mpg which I reckon would be more like the genuine everyday average. That does however demonstrate the potential for those seeking to eke out the family budget. Towing capacity is 1650 kgs.
There is one more thing, each new Kia comes with a 7 year manufacturer warranty. I'd have one like a shot.
Kia Sportage GT Line S HEV
Review Date: 20 July 2022
Price: £38,655 (as tested)
Engine: 1598cc, 4 cylinder petrol/electric motor with 226 bhp
Performance: 0-60 mph in 7.7 secs, flat out at 120 mph
Economy: 48.7 mpg (combined)
Emissions: 132 g/km
[Back to Top]