… BMW 223i MSport Active Tourer …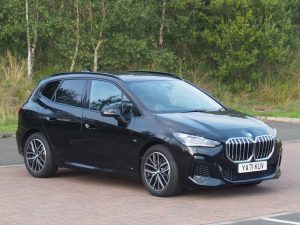 It's a personal view of course, but the BMW Active Tourer is not the prettiest flower in BMW's window box, but you can't argue with its sheer practicality. This is an MPV as opposed to an SUV and all the better for it.
The high waist line and the extra large grille on the front just look out of proportion, but then what do I know, I'm not a highly paid artistic vehicle designer? And somebody way above my pay grade must have signed it off thinking it was an attractive vehicle. It must be, BMW have sold over 40,000 of them so far.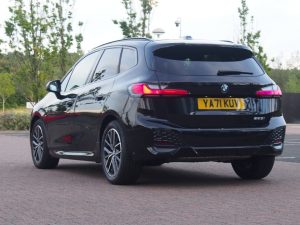 Having struggled recently to get a fold up pram into the back of a rival saloon car boot, the BMW will just about swallow anything you chuck at it. And if you need more room, the rear seat can slide forward to create even more space. As it was it took the pram, a stroller and a trike plus the obligatory bag of toddler essentials for any day trip. And there was still room for a picnic bag!
But don't get the idea this is simply a family hold-all on wheels. On the bootlid was a wee tri-colour badge with the letter 'M'. In this case the 'M' stands not for modesty, but for madness. In other words, it was surprisingly rapid once wife and weans were out of sight.
The Active Tourer is different for another reason. The first version of this car introduced seven years ago was BMW's first front wheel drive motor car and the new Series 2 continues that tradition. That is no doubt part of the car's appeal, for there are still many folk who don't care for rear wheel drive machinery when it's wet, icy or snowy.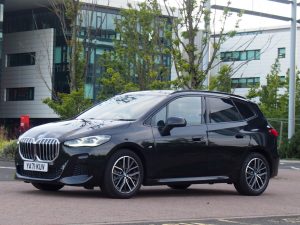 And yet the seven speed dual clutch auto with paddle shift will appeal to the performance motorist who can appreciate a 7 second nought to 60 mph time with the added boost of an 18 bhp mild hybrid electric motor. The transmission offers a pretty sharp response most of the time but like many automatic units these days it can catch you out when slowing down or when the stop-start system complicates matters and cuts in unexpectedly. The temptation here is to switch that off every time you start it up!
Ride quality is on the firm side for a family-friendly saloon, even with the dampers on their softest setting. No doubt the fitting of 18 inch rims with 225/50 Bridgestone Turanza tyres were a nod to style and performance rather than comfort and practicality. Yet at no time did it feel uncomfortable thanks to the seats.
Another thing which might deter some punters while attracting others is BMW's preference for touchscreen functions rather than buttons or switches. The on-screen options work well, but it's finding the bluidy rascals when you most want/need them that can be infuriating. No doubt familiarity with ownership will overcome that frustration but many manufacturers seem to be hellbent on outdoing each other these days with their 'intelligent' dash displays!
Speaking of automotive intelligence, I'm no fan of 'intelligent' lighting either. I reckon I'm a better judge of when to dip headlamps and when to use full beam than any electronic brain, especially on Scotland's undulating roads. But BMW is no different from any current manufacturer with their own versions of such systems and I suppose we'll all just have to get used to being regularly blinded by oncoming traffic with their bright, white LED lighting systems.
Those niggles apart, I really liked the car and enjoyed it's practicality and performance, and even if you don't like the looks, the neighbours will still notice the badge and the grilled when it is sitting in the driveway.
BMW 223i MSport Active Tourer
Review Date: 28 September 2022
Price: £38,370 (as tested)
Engine: 1998cc, 4 cylinder petrol with 215 bhp
Performance: 0-62 mph in 7.0 secs, flat out at 149 mph
Economy: 42.8 mpg
Emissions: 137 g/km
[Back to Top]