… Dacia Jogger …
Value for money motoring. Remember when that was a catchy phrase? Those days are long gone. It's not just the purchase price of cars though, everything has gone up, from garage servicing charges to the price of parts and accessories. Consumables like filters, exhausts, tyres and of course fuel are just getting more expensive by the day.
And despite all the government assurances, electric cars will be no different. Already we see 'fuel' charges increasing on a regular basis especially as government incentives are reduced and disappear altogether.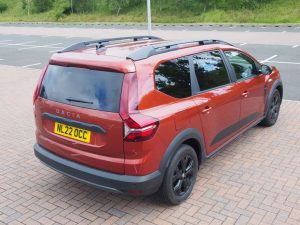 The worst of it is, the motorist can do nothing about it. All we get are excuses about the rising costs of raw materials and wages, and of course environmental concerns. That final point is perhaps the only one against which we can't argue but some countries are bearing the brunt more than others.
The big problem is trying to balance present needs against future targets. It's all very well if one country is doing its bit to reduce pollution whereas others are still belching coal smoke into the atmosphere – and we're buying their goods.
We need a world plan, not just a national plan.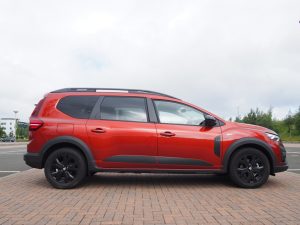 In the meantime, life has to go on, although we must all endeavour to make our own personal contribution until such times as the politicians come up with their grand plan to save the world.
In the meantime, personal transport is essential for modern life, both domestic and commercial, as food, clothing and manufactured goods still have to be collected and delivered.
Which is where the Dacia Jogger comes in. Seven seats and sensible fuel economy at an acceptable price. What more does a big family need? OK, it won't look as good parked amongst the fleet of chelsea tractors and tarmac adventurers at the school drop-off points but it will fulfil the same function while allowing the owner to feel smug about the price of the vehicle and it's comparable frugality.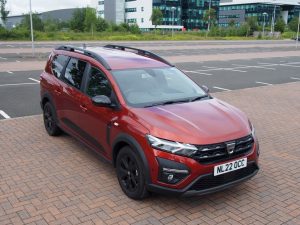 That aside, the Dacia has a charm of its own and it comes with no lack of modern life essentials such as an 8 inch touchscreen with various media options, DAB radio, SatNav and wireless smartphone integration offering Apple CarPlay and Android connections plus Bluetooth. Anything more than that is just showing off!
Having said that, the Spec List also includes keyless entry, electrically adjustable and heated door mirrors, electric windows, climate control and a height and reach adjustable steering wheel.
It also has all the safety driving aids that we have come to expect in modern cars so there are no price short cuts there. Of course it has anti-lock brakes and AEBS, but it also has hill start assist and an emergency call button as well as front and rear parking sensors and a reverse camera!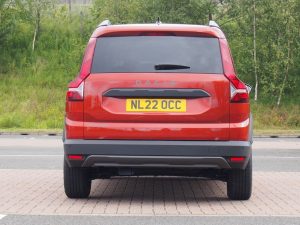 There are Isofix child seat fixing points on both the middle row outer seats and that should do most families, shouldn't it? Another practical family issue is the removable rear seats. They don't just fold flat into the floor, they can be unclipped and taken out to ensure maximum boot capacity. That might also be attractive to the self employed tradesperson too.
Dacia haven't forgotten about kerb appeal either, and have introduced a new grille and identity badge with LED lights, dark glass and 16 inch black alloy wheels. The interior hasn't been forgotten either and there is a tasteful fabric insert in the door pulls and across the fascia to break up the black plastic finish.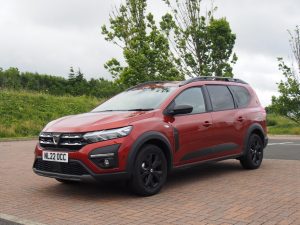 The one litre petrol engine might not appeal to the sporting motorist but if that's what is wanted then the buyer is looking at the wrong machine. This is a terrific family runabout that will also handle the annual holiday motorway cruise with its six speed gearbox ensuring decent fuel consumption in the region of 46 mpg.
Plus it drives and handles well. What more could one ask, it's as near as damn it to 'value for money' motoring these days with prices starting at just over £15,000 for the entry level seven seater. I really like it.
Dacia Jogger Extreme SE TCe 110
Review Date: 15 July 2022
Price: £19,640 (as tested)
Engine: 999cc, 3 cylinder petrol with 109 bhp
Performance: 0-62 mph in 11.2 secs, flat out at 114 mph
Economy: 48.7 mpg (combined)
Emissions: 130 g/km
[Back to Top]