… Skoda Fabia Hatch SE L …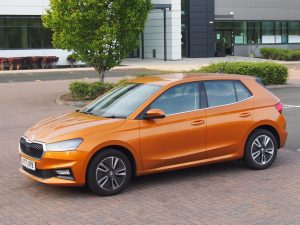 There's much to like about the Skoda Fabia, and nothing to dislike. In fact this is a great wee car and although Skodas are no longer cheap, it is more than competitive with other 1 litre cars on offer. So why would someone pick this ahead of the rest?
If you want a fuss-free, good handling, zippy little motor with room enough for four and a decent enough boot considering its size then stick it at the top of your list and judge the rest of its rivals against it.
Skoda has always built good small cars, and even though it is dependent on its VW parent for most of the greasy bits (or grease-free bits these days!) it still has a charm and a character of its own.
It looks good without being cute and is well equipped inside. That includes the controls. There is a centrally mounted touchscreen full of menus and functions but underneath that is a decent set of buttons and knobs for the basic needs such as heating, ventilation and window demisters. It also has the radio controls on the steering wheel, so a more sensible approach to in-car controls than many of its rivals.
As for the interior itself, some folk might think it dark and a bit drab, but I don't. I prefer a dark interior. There is little I hate worse in a family car than light coloured fabric seats with matching light coloured carpets. The clue here is in the use of the word 'family'. Having seen and cleaned up after just one grandson, imagine the mess that two or three babies, weans or toddlers could create inside a light coloured car.
Nope, the textile microsuede grey and black finish inside the Fabia is just perfect with the overall effect being lifted tastefully by some different shades of grey and other fabrics plus a dash of chrome and shiny plastic here and there. So you can keep your fawn and white fabrics for the sockless, loafer brigade who frequent the southern European Mediterranean states.
Whilst in moaning mode, I appreciated the onboard Amundsen navigation system, as used across the whole VW/Audi group, as a much better choice than that Dutch outfit whom I had a run in with many years ago and which was never resolved. So much for customer service. I digress, the Skoda system worked perfectly well, so no complaints.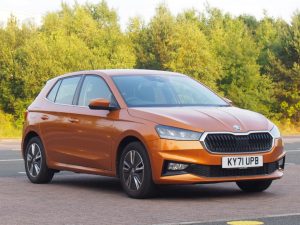 As for the business end, there are no grumbles there either. The three cylinder, one litre motor pushes out a respectable 108 bhp which is more than adequate these days for a small family car. In the test car it was mated to a 7 speed DSG gearbox providing two-pedal motoring, again ideal for the family on the move and responsive enough for a wee bit of fun now and again with its sub ten second nought to 60 time. It's also pretty frugal with a consumption in excess of 50 mpg easy to obtain on a regular basis.
It also comes fully equipped with all the new electronic 'driving aids' that are so beloved by today's safety campaigners and car designers including 'Lane Assist' which has a rather more insistent approach to keeping between the white lines than I do!
So how's that for a car review? Just one wee criticism, otherwise a perfectly good choice for the folks who just want civilised transport in a comfortable and reliable manner.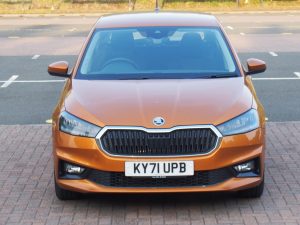 Prices start from around £21,000 but the test car had a few sensible extras adding another £3000 or so and which included that nice golden metallic paint colour plus parking sensors, keyless entry and Hill-Hold Assist, a tow bar and a steel spare wheel!
And there's more. There are two wee 'extras' which don't really amount to much but for Scottish drivers, it's the thought that counts. There's an ice scraper tucked inside the fuel filler cap for those frosty mornings and an umbrella slid inside the driver's door for when the rain gets just that wee bit heavier to cope with than a bunnet and anorak.
Skoda Fabia Hatch SE L
Review Date: 14 August 2022
Price: £24,865 (as tested)
Engine: 999cc, 3 cylinder petrol with 108 bhp
Performance: 0-62 mph in 9.9 secs, flat out at 127 mph
Economy: 50.4 mpg
Emissions: 128 g/km
[Back to Top]