… Toyota Hilux Invincible X Double Cab …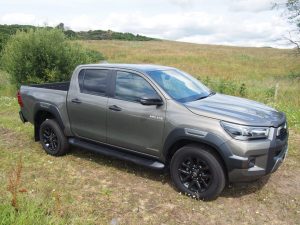 Unlike some other pickup manufacturers which are 'downsizing' their engines in the pursuit of lower emissions and better fuel economy, Toyota has retained a big and beefy 2.8 litre four cylinder unit. This is entirely sensible especially for those who need a work truck, one that can comfortably tow 3.5 tonnes.
However the new Hilux shouldn't be regarded simply as a work truck, it can easily fulfil the roles of domestic family car, lifestyle vehicle and funbus before donning work clothes on a Monday morning and getting back to work.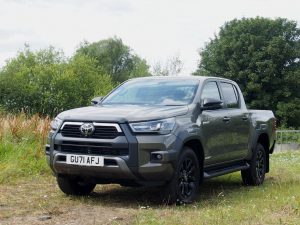 The assumption that a bigger engine will mean bigger fuel bills is not necessarily true. It all depends on how the vehicle will be used and driven. A smaller engine doing the same job as a larger capacity unit will have to work harder and therefore require more fuel. On that basis a 2.8 litre work truck may well be no more expensive to run than a rival 2 litre pickup. You pays your money and makes your choice!
Toyota claim a fuel consumption figure of around 29 mpg on the combined WLTP figures whereas some rivals suggest users should expect 33 top 35 mpg. However, these figures do not account for a driver towing a 3.5 tonne fully loaded plant trailer or an enclosed car trailer with some expensive kit inside. So think carefully about what a vehicle will be used for before buying.
And if you do opt for the Hilux you won't be disappointed. To simply regard it as a work truck is unfair. This is as roomy and comfortable as many so-called executive business saloons. Those who think the suspension is firm should try a 'luxury' saloon riding on 18 or 19 inch alloys with skimpy low profile tyres before making their minds up.
Of course the suspension is firm and gives a jiggly ride over rough and uneven surfaces but on the motorway, a pickup can be every bit as comfortable as a saloon. However the real upside comes when you need to go off road to visit a site or simply exploit the vehicle's natural ability when winter comes, whether heavy rain or snow.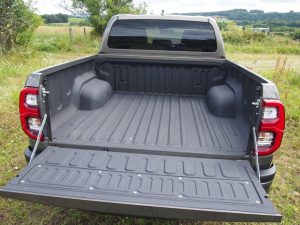 Pickups are now desirable status vehicles in their own right, no longer the sort of agricultural devices that TV presenters try to kill in the pursuit of entertainment, and the Hilux is no exception. It's an imposing machine on the road or in the driveway and whether carrying bicycles in the loadbed or a one tonne bag of topsoil, or pulling a caravan or a two tonne tracked trencher, this is a car for all reasons.
Neither has Toyota skimped on the interior or modern safety requirements. The test vehicle had a full leather interior and leather rimmed steering wheel plus an eight inch touchscreen with SatNav and smartphone integration as well as a cooled upper glovebox to keep the weans' drinks cool! It also had a 220v three pin socket and the usual 12v USB and USB ports.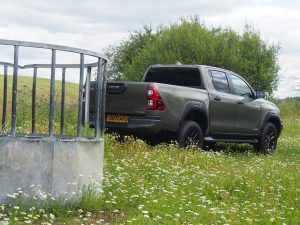 Naturally, it comes with 4WD plus locking rear differential, front and rear parking sensors and 360 degree camera visibility. Also of practical value it has Trailer Sway Assist with vehicle stability control, Downhill Assist plus Hill-Start Assist and active traction control. So if you get this vehicle stuck anywhere, just give up and find another job!
It also has all the 'driver aids' that we have come to expect on new cars these days including pre-collision systems with pedestrian and cyclist detection, lane departure warning and road sign assist.
It won't suit everyone of course and most folks will want/need a loadbed cover or canopy of some sort, and that will add to the price, but for those who live an active/outdoor/leisure lifestyle, it's hard to beat. It is effortless and pleasurable to drive and most folks will quickly adjust to the height and the bulk.
I'd love one, but at nearly 40 grand it's not for everyone, although this one had the optional £608 metallic paint finish and 500 quid spray-on liner in the loadbed.
Toyota Hilux Invincible X Double Cab
Review Date: 07 Aug 2022
Price: £39,482 (as tested)
Engine: 2755cc, 4 cylinder turbo diesel with 201 bhp
Performance: 0-62 mph in 10.7secs, flat out at 109 mph
Economy: 29.0 mpg
Emissions: 248 g/km
[Back to Top]