… Vauxhall Vivaro Life Elite (Long) 2.0 TD …

As far as I am concerned the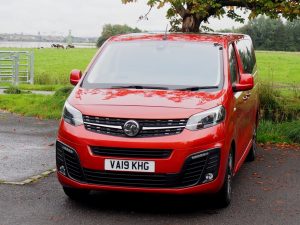 Vauxhall Vivaro Life is the ideal family/holiday/business car, so there is no need to go any further. That's all you need to know.
But for those who may doubt such a profound statement, perhaps a word or two of explanation. First of all, it comes in two body lengths, 4956 or 5306 mm, which can accommodate five, six, seven, eight or nine seats depending on how big a family you have or how many folk you need to transport to work, weekend football matches or on golf trips.
If that makes it sound like an awfy big vehicle, the SWB version is only 60mm longer than a Vauxhall Insigina. So although it looks big, it isn't really, it's just a bit taller and squarer.
That size has other advantages too. Not only does the driver sit up higher and have a better view of all that is going on in our crowded streets and busy motorways, but the passengers too can enjoy a view over the car roofs around them. There's headroom, shoulder room and elbow room to spare too, and if you go for the three rows of seats option, you can always separate the kids if they're giving you a hard time.
And don't go thinking it's just a van with seats, it's more of an estate car with higher roof. The Vivaro Life has all the creature comforts you would expect of an executive car. The Vivaro Life 'Elite' model has all the smart technology you'd expect these days with an intuitive 7-inch touchscreen, Android Auto, Apple CarPlay and smart navigation system. Vauxhall Connect and panoramic rear-view camera are also included.
The spec includes keyless open and start, xenon headlights, head-up display, blind spot alert and a range of state-of-the-art driver assistance and safety features plus Vauxhall Connect. This enables e-call with automatic emergency response.
Even with the privacy glass option, the interior is light and airy thanks to the panoramic roof which also has sliding blinds. Completing the package are dual electric sliding doors for access to the rear cabin, with intelligent sensors that give hands-free access.
And the 'piece de resistance'? It has a split tailgate with an opening rear window for quick and easy access to luggage space. That feature is a boon, especially if someone parks too close to your rear end and the lift up tailgate doesn't have enough clearance to open fully. But don't go thinking a vehicle with a big tailgate is chore. It's the opposite. It provides shelter in the rain when changing clothes and a flat boot floor to sit on when changing footwear. That makes it the ideal vehicle for rally spectating, even when it's hissing down!
And there's more. This is easy to drive and as much fun as any other sensible motor car. The 2 litre turbo diesel pumps out a vigorous 148 bhp managed by a slick and stubby gearshift beside the steering wheel – none of your floor-mounted waggly gearsticks here! Vauxhall also reckons that an average of 40+ mpg is easily achievable and up to 46 mpg if you're careful.
Of course, it's no sports car but it gets off its mark quite quickly and will do 'the ton' quite effortlessly if you do find an unfettered stretch of road.
Prices start at £27,760, but the huge specification list can whisk you beyond 45 grand. If that's the case, what you will end up with is not a dual purpose machine, but a treble purpose machine for family use, sporting pursuits and business needs.
It might not have the street cred of a luxury motor or a 4×4, but when it comes to sheer practicality and functionality, it beats just about everything else hands down.
I love it and I'd have one like a shot.
Review Date: October 10, 2019
Price: £45,310 (as tested)
Engine: 1997cc, 4 cylinder turbo diesel with 148 bhp
Performance: 0-62 mph in 12.0 secs, flat out at 105 mph
Economy: 46 mpg (combined)
CO2 emissions: 149 k/gm