… Mazda 3 Skyactiv-X 2.0 …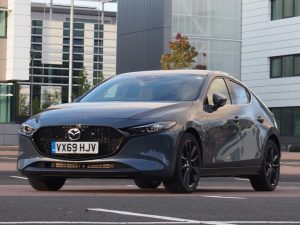 It's a petrol, Jim, but not as we know it. A rather strange opening gambit perhaps, but there is a sound reason. Mazda's new Skyactiv-X petrol engine features Spark Controlled Compression Ignition (SPCCI). For the uninitiated, it's the world's first petrol engine to exploit the benefits of compression ignition.
In other words, this is a petrol engine that uses fuel as sparingly as a diesel motor. Mazda themselves reckon a Combined cycle of 52.3 mpg. That's pretty damn good for a 2 litre engine producing 178 bhp. And there's more, this is the GT Sport model. Now you can feel a bit more smug when driving quickly and enjoying yourself!
And we'd best enjoy it while we can, if governments around the world have their way and start to electrify us – automotively speaking.
And therein lies the problem. Vehicle manufacturers are at the butt end of legislation. They are an easy target. Yes, their products consume fossil fuels, but not so long ago, this was the only viable source of energy to transport food and goods around the world, whether on land, sea or air. These companies had to invest billions in manufacturing plants, R&D, selling and supporting their vital products and then got thumped by the various tax men around the globe.
If these same Governments were to exert the same energy and a wee bit of enterprise on the internet giants then perhaps the world could yet be a better place.
But no, it's too easy to hit a sitting target. Sadly, scant regard has been paid to the efforts of the vehicle manufacturers over the years constantly working to improve and refine petrol, diesel, gas and hydrogen technology as the world's leaders race to embrace electricity. A utopian target perhaps, but where is all the electrical generation coming from? More to the point, where are all the exotic materials coming from that are required to make batteries? Out of sight, out of mind, eh?
What's needed is a bit of common sense, but given what's going on, even in our own great British democracy these days, that is a sadly lacking commodity. We need a gradual transfer from fossil fuels to electricity so that the process can be managed and we're not left with a gap whereby transport comes to a halt, and life as we know it gets a bit more difficult.
In the meantime, companies like Mazda are making things better and the new Skyactiv-X technology marks yet another step forward. Trouble is they're not getting the recognition. This enforced rush to adopt the new technology hasn't been fully thought through. It's just a slogan to appease the masses – well, they'll all have time to think about it when they're sitting battery-dead in a queue waiting for their turn to plug into a charger and then sit for another 4 hours while they 're-fuel'!
Oops, I got a bit carried away. Back to the new Mazda3, which also incorporates the Mazda M Hybrid 24V mild-hybrid system that recycles recovered kinetic energy. A belt-driven integrated starter generator (ISG) converts the energy in the 600kJ lithium-ion battery, while the DC-DC converter supplies it to the cars electrical equipment, further improving efficiency.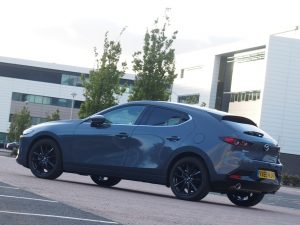 Outwardly the new Mazda looks little different from the 3 it replaces. Neither are there any wings, sideskirts or airdams to denote a sporty 'GT' and given the performance, it could almost be classed as a 'Q' car.
That's another thing to like, the sporting driver can make good progress without attracting the wrong type of attention. Which brings me to another point, the new car uses Mazda's i-Activ all wheel drive system. That means it easily handles the power and goes as well as it looks. Seriously, the grip and handling are mighty impressive.
Inside the car, comfort is assured with a well equipped interior and all the usual, and now expected, electronics and connectivity so 'essential' to modern life, such as a seven-inch colour TFT driver instrument display and the latest version of the Mazda Connect infotainment system. It also has a windscreen projecting colour head-up display with traffic sign recognition, adaptive cruise Control and LED headlights. Every model also features navigation, Apple CarPlay/Android Auto and an advanced eight speaker audio system.
If there is a 'but' it's a very minor one. I don't like the engine note. It's more of a drone than a 4 cylinder beat, but you can't have everything. It's not noisy, but on start up and when working hard the sound is discernible although not intrusive. However, I did wonder if the 215/45×18 Toyo Proxes had anything to do with it, transmitting a bit of road noise. On the other hand, these Toyos do hang on a bit if you get a mite enthusiastic!
Prices start from £23,555 for the 3 Skyactiv-X and go up to £31,295 for what could be described as a pretty warm hatch, as opposed to a hot hatch. Whatever, it adds a bit of variety and individuality to a sector where the more popular hot hatches, simply due to their proliferation, almost fail to raise a glance.
I like it, but it's not for me. I prefer the CX3.
Review Date: October 31, 2019
Price: 26,675 (as tested)
Engine: 1998cc, 4 cylinder SPCCI petrol with 178 bhp
Performance: 0-62 mph in 8.2 secs, flat out at 134 mph
Economy: 48.7 mpg (combined)
CO2 emissions: 103 k/gm