… Audi A4 Allroad 40 TDI quattro …
The most difficult question that a journalist writing about cars and motoring can be asked is: "What car should I buy?" There are many variations on the theme, like: "I'm thinking of changing/buying a new car, what do you recommend?" or, "What's the best car on the road?"
Unfortunately, there is no easy answer. Where do you start? Everyone has their own needs and desires and that's before even considering what the Government may have in store for our motoring future. They seem to change their minds as often as the weather these days.
The easy answer is to deny that you are a motoring journalist, run away from them, or tell them you don't speak English and therefore don't understand the question. There are so many things to consider before responding to what might appear to be an innocuous and innocent request for advice. Like price, performance, handling, comfort, economy, gadgets, reliability, fuel choice and marque preference. These days you can add another item like 'green credentials' or perhaps even poseability if you want to make a statement or stand out from the neighbours!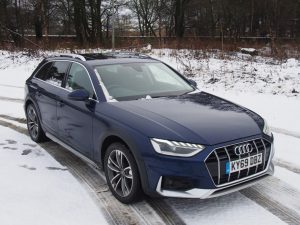 There is also the question of size. Given the way new housing developments are being squeezed on to ever smaller plots and estates, will it fit in the driveway beside the house or even inside the garage if you have one? The mind boggles.
That's like asking a kid in an old-fashioned sweetie shop, with glass jars lining the shop walls floor to ceiling, which tasty treat he or she would like. Crikey, you could be there for days.
And that's before you get to the crux of the question. There are just so many damned good cars out these days.
Take the Audi A4 Allroad quattro for instance. It is one of the many cars that could fit all of the above selection criteria. Plus it has one more advantage, it has four wheel drive. For folk living in the far north, all wheel drive could actually be top of the spec. list for when the snow falls, ice forms or roads get flooded.
If indeed there are so many cars in this category, what would make the Audi A4 stand out from its rivals? Quality of fit and finish and interior furniture does give it an edge and it looks quite smart without being ostentatious. Those four rings on the grille also give it added attraction.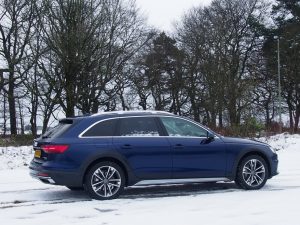 That's all very well, but where this car shines is on the road and on the move. It's just such an enjoyable and rewarding machine to drive and makes the most of its modest (by performance car standards) diesel powered 188 bhp. The 7 speed S tronic shift is also one of the better automated transmissions which even the most ardent manual-shift purist might just sneakily enjoy.
And then it snowed. The big surprise here was just how surefooted the Audi was in shallow fresh and wet snow, slush and puddled conditions. That wasn't just down to the quattro all wheel drive transmission but it was effectively helped with its 245/45 x 18 Michelin Pilot Alpin PA4 tyres. Honestly, I was impressed without trying to explore the combination's adhesive limits and grip levels although I stayed within that area between 'safe' and just approaching 'butt clenching' mode!
In the dry, grip levels are that much higher even with the 'Winter' spec tyres while comfort and road noise wasn't an issue as it is with some other brands of Winter knobblies.
During the week of very mixed driving conditions, the Audi the 2 litre motor returned 41.5 mpg completing just about all the 'ideal car' criteria a potential owner could wish for.
Price is another issue of course and budgets will determine what potential owners can buy. The entry level price for the 2 litre Audi A4 Allroad is £40,825 but the test car had an additional nine grandsworth of extras including Driver and Parking assistance packs, advanced key with remote tailgate opening and a Panoramic glass sunroof. It also had the latest wireless charging pad for smartphones.
Still, you get an awfy lot of car for 50 grand. Fast, comfortable and safe. Me? I loved it and would have one like a shot – even without all the extras.
Review Date: January 31, 2020
Price: £49,800 (as tested)
Engine: 1968cc, 4 cylinder turbo diesel with 188 bhp
Performance: 0-62 mph in 7.9 secs, flat out at 137 mph
Economy: 41.5 mpg (actual)
CO2 emissions: 136 k/gm