… Vauxhall Astra Elite NAV 1.2T …
If Brexit ever happens we might just be thankful that Vauxhall is still building cars and vans in the UK. When the Tunnel is filled in, the ports closed and the airport runways have trenches dug across them at least we'll still be able to drive around, albeit in a very restricted range of vehicles!
Of course, that's not going to happen. Common sense will prevail and we will all buddy up with the Euro folks and be best of friends. Or maybe not, we are after all dependent on our elected representatives to stop bluidy squabbling and get it sorted.
If motor manufacturers took as long as politicians to sort things out then we'd probably all still be riding horses. The town and city centres would be a lot more polluted for sure, but at least our allotments would be fruitful and rosebeds would look beautiful and smell divine.
Such Utopia, eh? Fortunately for us, the world's vehicle manufacturers are a bit more decisive and they just get on with the job whatever is chucked at them. That includes ever tightening emissions targets, stricter health and safety regulations and ensuring that cars nowadays are much more reliable than ever before and are stuffed with electronic aids which make driving safer and in many cases more enjoyable.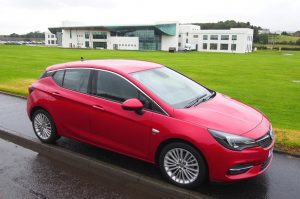 Such a machine is the new Astra. What was already an impressive family saloon has been further refined. The aerodynamics have been tweaked and these include moving vanes in the radiator grille which automatically open and close to improve frontal airflow. Taking inspiration from F1, even the rear axle control arms have been shaped to reduce turbulence.
Vauxhall haven't forgotten that driving used to be, and still should be, a pleasure with changes to the chassis for better handling, new dampers which provide greater bump control, and the steering which was already pretty good benefitting from new calibration. The result of that is a better feel at higher speeds.
The new 143 bhp, 1.2 litre turbocharged engine enhances the experience further providing a fair bit of zest with improved fuel efficiency, although it will take a longer appraisal than this recent test launch drive to fully assess economy. The six speed gearbox on the test car was a smooth as the aerodynamics – with the option of a seven-speed CVT or a new nine-speed automatic, which is a first in the Astra.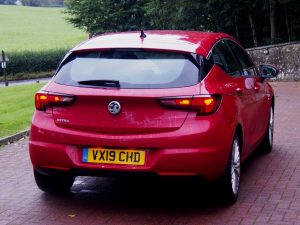 Inside the car drivers and passengers will benefit from smarter, faster and more intuitive Multimedia Radio, Multimedia Navi and Multimedia Navi Pro systems. Naturally, these are compatible with Apple CarPlay and Android Auto while the top-of-the-line Multimedia Navi Pro has an eight-inch colour touchscreen which can be operated by voice commands. Connected navigation services with real-time traffic information and online map updates also help, just don't fall out with the SatNav lady, she will remain completely unflustered.
Options include an E-Call emergency call function which can be activated by pressing the red button or will operate automatically If the seatbelt tensioners or airbags are deployed.
A new higher resolution digital front camera now recognises pedestrians as well as vehicles, and will recognise and show traffic signs as symbols on the display. The rear view camera is also more powerful, and is integrated into the new Multimedia Navi Pro infotainment system. This worthwhile option gives a much clearer picture both in daylight and in darkness.
As well as USB and 12v ports, selective models include inductive charging for smartphones while the new top of the range cars can have a 7 speaker Bose sound system to tickle your eardrums.
And as Autumn leads into winter, the new heated windscreen (on selected models) should be a must for rainy days and frosty mornings.
The result is an already excellent car has been made even better, and what's more it looks as good as it goes. Prices start from £18,000 and go all the way up to £29,000.
I really like it. I just think it looks a treat on its multi spoke alloys and that 'C' pillar detail with its contrasting fill separating the roof and body colour. Or am I just easy pleased?
Review Date: September 30, 2019
Price: £26,210 (as tested)
Engine: 1199cc, 3 cylinder turbo petrol with 143 bhp
Performance: 0-62 mph in 8.8 secs, flat out at 137 mph
Economy: 47.9 mpg (combined)
CO2 emissions: 99 k/gm