(Click on image above to enlarge)
SsangYong Korando TGDi Ultimate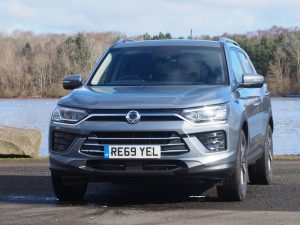 It may have an unusual name, but then we said that about Suzuki, Toyota, Honda and Datsun when they first appeared on our shores, and just look at them now. Given how practical and well equipped this latest SsangYong Korando is, it won't be long before the name simply rolls off the tongue. On the other hand, that acceptability may be more readily received when it is explained that SsangYong is Korean for 'double dragon'. Kind of puts a new light on the moniker, eh?
However, don't go thinking this a fire breathing flier of a machine. Nope, it's more of a Golden Retriever than flying dragon in performance and manner.
This is an unpretentious, but awfy well equipped, SUV and yet it could match some of the better known 'luxury' brands at twice the price for kit and comfort.
It won't have the power of some of these more expensive machines, but anyone buying a SsangYong isn't in the market for a big, bad-ass off-roader, or desperate for a prestige badge on the driveway. Nope, they have looked at the car through non-rose coloured glasses and seen what's on offer for the money – and gone for it!
For a start the choice of engines is a more modest 134 bhp, 1.6 diesel, or 161 bhp, 1.5 GDI-turbo petrol engine. And for a car which weighs just over 1700 kgs that's more than enough power for the majority of potential buyers.
The test car came with the petrol option and was a treat to drive. It's no rocket ship, just a sensible, comfortable road cruiser with power enough if you're in a hurry. Although there is a 4WD option, this was the 2WD version, and it came with a 6spd auto 'box with a manual sequential change option and steering wheel paddles. It also had a selector dial for Normal, Sport or Winter mode and Hill Descent Control.
Fitted with Korean brand 235/50 x 19 Nexen N'Priz All Season tyres it offered a decent ride. The suspension is a bit on the soft side, but it doesn't wallow and felt pretty sure-footed on tarmac and competent on non-tarmac surfaces. All too often, 19 inch rims and tyres transfer bumps and shudders to the occupants, but the Korando offered a surprisingly pliant ride. Ideal for all but extreme conditions.
Where the car excelled was in the interior equipment. The Ultimate comes with heated/cooling front seats inside a very roomy cabin. An advanced infotainment system included a DAB radio, Bluetooth and MP3 connectivity, with Apple CarPlay and Android Auto plus SatNav accessed through a 9 inch touchscreen. Other features included a rearview reversing camera, remote power tailgate – and an electronic parking brake!
Naturally it also has a full list of acronyms to describe all the electronic safety aids which manage Stability, Traction Control and Rollover Protection with Electronic Brakeforce Distribution. Warning functions include Forward Collision, Autonomous Emergency Braking, Lane Departure, Lane keeping, Front Vehicle and Safety Distance Alert, plus Driver Attention Alert and an Emergency Stop Signal. Phew!
I mention all of this because it is included in the price which is the other more welcome surprise.
Just one wee niggle though. Also included in the price is a positive symphony of audio alerts. It plays a tune when you start it, buzzes when you change lanes, bongs when using the indicators and beeps when you get to close to other objects – and then when you get near a Speed Camera, the front door bell, rings! In fact you can also change the mood music from a piano concerto, classic violin to what might be called 'trendy', although goodness knows what trend it was following. If you can't stand any of those, there is a 'Nature' tune – water dripping! Fortunately there is a volume control for all of these and time was well spent muting the accompanying soundtrack. Or you could just leave them all switched on to ensure that the driver never falls asleep at the wheel. Sometimes too much is too good!
And the price, all this could be yours for £27,995, although Korando prices start from just under 20 grand. That's a lot of car for the money.
SsangYong Korando TGDi Ultimate
Review Date: May 29, 2020
Price: £27,995 (as tested)
Engine: 1497cc, 4 cylinder turbo petrol with 161 bhp
Performance: 0-62 mph in 12.0 secs, flat out at 117 mph
Economy: 39.8 mpg
CO2 emissions: 162 k/gm