… Hyundai Ioniq 5 …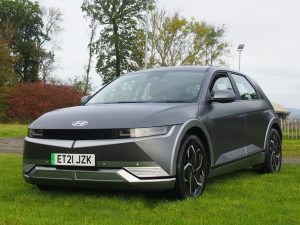 If ever a car was designed to make me switch to electricity then the Ioniq 5 comes close, awfy close. As far as current electric cars go this is one of the best and it would be a tough decision to choose between the Skoda Enyaq and Hyundai's Ionic 5. The decider might have something to do with the fact that the Skoda looks like a 'normal car and little different from many other practical cars around it, whereas the Ionic is really quite distinctive. It might not be to everyone's taste but I really like the shape and overall looks.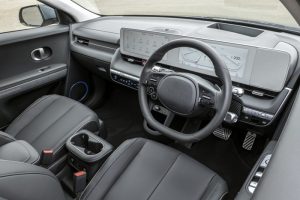 Of course there is more to it than appearance. The interior is extremely roomy and comfortable and right from the moment the dashboard lights up you realise this is something different. Not quite Starship Enterprise but a more modest representation.
That difference has to be applauded because the vast majority of ICE (internal combustion engine) cars these days have a sameness about them. A driver's binnacle dead ahead, a central high mounted touchscreen and a gearshift of some description in the centre console.
There's no gearlever as such on the Ioniq 5, just an extra stalk on the column which selects Park, Neutral, Forward or Reverse. Simple, and clean. That leaves a flat floor across the front footwells and easy enough to slide across if the numpty next to you in the car park has parked too close to open the driver's door!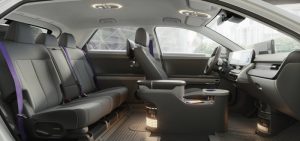 It's the same in the back, where the three seat bench has a flat floor which will stop the middle wean fighting for floor space with his/her siblings trying to put a foot down on either side of the tunnel. Admittedly front wheel drive cars don't suffer the same problem but quite often there is a central hump on the floor through which the exhaust system is routed – but you don't need an exhaust pipe or catalytic converter on an electric car.
In fact I don't really think it needs the central console storage box and drinks can holder between the front seats either. Without that, the front seat passenger could easily slip into the rear. Anyone who has kids will realise why that might be a good idea! Anyway, there's a big enough boot to store all the travel, family or domestic essentials.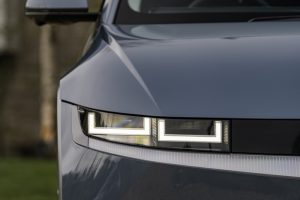 Outwardly, the sculpted flanks and sharp linear edges front and rear make the car stand out, plus the square front lights mounted in the narrow 'grille' and the chequer board strip of rear lights enhance the look. Perhaps not to everyone's taste, but I really liked it.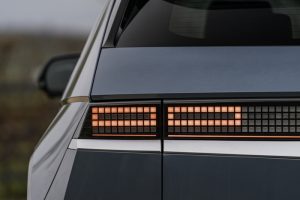 As for driving the car, it does what electric cars do best. Glide simply and easily from one destination to the next. Switch on, select Drive and set off. All the benefits of personal transport without the noise and the simplicity of two pedal, or in some cases, single pedal motoring. Press the accelerator to go, lift off to stop.
The drive itself is a dreamlike experience with nary a bump or thump shuddering through the chassis although other sounds become all too apparent. The noise of the engine doesn't drown out the squabbling weans while wind and tyre noise can now become audible which wasn't previously apparent so just turn up the radio volume! Katherine Jenkins or the late lamented Meatloaf should do the trick, or may some real musicians like Status Quo!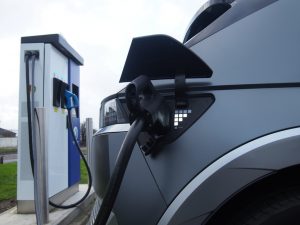 The only drawback of course is the whole business of charging up the battery pack. With a full charge a driver can expect around 240 miles (300 with the bigger battery pack) of range in ordinary circumstances. Obviously cold, wet weather may affect that as lights, wipers, heaters and all the other powered gubbins' take their toll but that can be managed by planning routes via public charging stations.
Or maybe not. The upsurge in electrical vehicle popularity and ownership means that quite often, chargers can sometimes already be in use when you get there, and that is if they are working. From personal experience that isn't always the case, and then of course there are the different types of chargers. The high speed job will give a decent charge in 30 minutes or an hour which isn't so bad, but some of the older jobs require 4-6 hours or a full overnight plug in.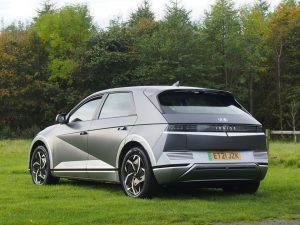 The best way round this is to have a high speed charger installed at home, and if you have a regular place of work, ask the employers to invest in enough units to cover staff needs. Sorted.
If you don't have a high speed home charger then I would advise against buying an electric car no matter how good it is. Just suppose you arrive home from work and you are plugged into the very slow, three pin plug, 240v domestic supply which should charge it up ready for work in the morning. Then comes the midnight emergency phone call from a member of the family who needs urgent help. It happened to a friend of mine and he had to call a taxi. Hardly ideal.
Having said that, the Ioniq 5 does comes with either a 58kWh or 73kWh battery pack with Hyundai claiming that the car can be re-charged from 10 to 80 per cent in as little as 18 minutes, so that does represent a big step forward, but these high speed chargers are still few and far between at present.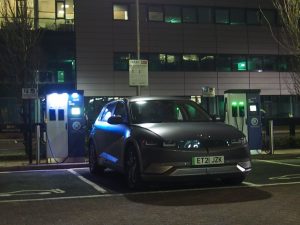 Anyway, when the Hyundai press car needed a full charge I checked my Zap-Map app which reported that the high speed chargers at two of the three local public sites which I use regularly were out of service but the third one was OK – but it charged 30p per kWh (13 quid for about 200 miles range) whereas the other two were free units in public car parks., Odd that, eh? So that's why any electric car buyer needs a home based high speed charger.
Fuelling an ICE motor car is still a very much quicker and easier process and that will no doubt continue to sway public buying trends for a while yet. The public electricity charging infrastructure still has a long way to go to meet current needs, never mind future demands.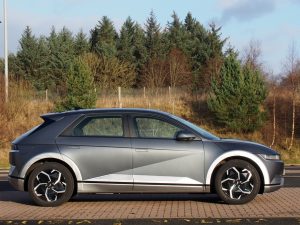 As mentioned there is a choice of two battery packs, but there is also a choice of 3 engine configurations! The standard car has one 125 kW rear mounted motor driving the rear wheels and producing some 168 bhp, but there is a more powerful option with 240 bhp, while the top of the range job has an additional front mounted motor pushing power output up to 300 bhp.
I really enjoyed my week with the Ioniq 5 and on the basis of that experience my resistance to electric cars has been somewhat reduced, but for regular high mileage users electric cars are not quite there yet. However for purely local and/or commuting use the argument is much easier to justify. Pity, I really liked the Ioniq 5.
Hyundai Ioniq 5
Review Date: 29 January 2022
Price: from £37,420
Engine: 125kW electric motor with 240 bhp
Performance: 0-62 mph in 8.5 secs, flat out at 115 mph
Range: 240 miles (claimed)
CO2 emissions: 0 k/gm
[Back to Top]