Range Rover Evoque D180S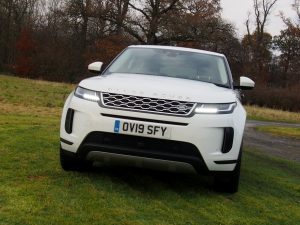 Hard to believe that it's now 8 years since the first Evoque appeared on our streets. It caused quite a stir back then with its squat stance and well raked roof line. It really stood out from all the other compact SUVs. And to an extent it still does, but it just doesn't generate the same excitement as the original did at launch.
For instance, when I first drove the car back then I stopped at the general store in the village to buy the morning papers. When I came out, I found the local hairdresser standing beside the Evoque waiting for me. "What's this?" she asked, "You must let me look inside it," she commanded. She was impressed. She bought a silver one with the black roof!
Although it's fashionable to be derogatory about calling some vehicles a 'hairdresser's car', the Evoque ill deserves such an 'exclusive' tag. Its appeal is much wider than that. On another occasion I was in the local filling station when a young Mum asked me what it was like and I suppose that said more about the car's attraction than when I was stopped the first time.
It's a compact SUV, and therein lies its principal appeal. The bigger models in the RR range like the Rover and the Discovery can be a bit intimidating to drive because of their sheer bulk and the difficulty of finding big enough parking spaces at times. Whereas, the Evoque with its compact dimensions gives its owners the prestige of the Land Rover badge with the ease of driving a smaller car.
And yet, it's not actually a small car. It is 'bucket and sponge' sized as I would call it. That refers simply to the fact that it's easy to wash at home without the need for a step ladder to reach the roof.
This latest version is 1mm longer and 4mm wider than the Mk1, so it hasn't suffered from the industry practice of making every new model bigger than the one it replaces. Even so, the Evoque is a full sized four seater, and a decent five seater when needed, family car with all the confidence instilling boost of the RR drivetrain.
The multi option drive mode selector on the RR range is a pretty familiar feature of the RR range these days. However it can induce a sense of over assurance in its users, especially living in the frozen north of Britain where its go anywhere capability in all conditions is allied to such practical extras as heated door mirrors, heated windscreens and washer jets and of, course heated front seats!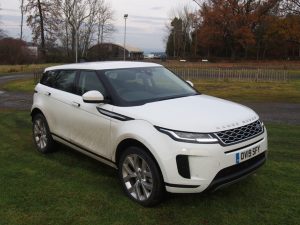 The car's reputation for its on road manners and off road ability allied to its size can therefore enhance an added sense of confidence in new drivers. In fact, it may tempt some to be over ambitious in their own off road driving ability or driving on slippery surfaces. That can be said of all four wheel drive machines though, so the fact that LR has added a little extra 'heft' to the steering to provide even better feedback to the driver is helpful. Neither does it feel top heavy and it does feel a bit firmer and more stable on its improved suspension. In other words, this is perhaps the ideal vehicle to let a newcomer loose in AWD while providing the more experienced with all the legendary go-anywhere ability that we have come to expect of the marque.
Land Rover's own new Ingenium 180hp litre 4 cylinder turbo diesel provides enough power for a sub 9 second, 0 to 60 mph time for the 1.8 tonne machine, so it's no slouch. Over 200 miles the car returned 39 mpg in very mixed driving conditions. The 9 speed auto 'box takes much of the traffic crawl boredom out of commuting, but enthusiastic drivers may yet prefer a manual gearbox.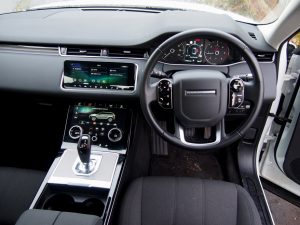 Inside the car it has a proper Range Rover family look to it with twin flush mounted touchscreens hidden in the central dash and a twin dial dash ahead of the driver. LR has a nice wee trick up its sleeve for those on their first acquaintance with the marque's products. There is no driver information on display when the driver first climbs aboard. That in itself is not unusual these days with the rapid advance of electronics and LED screens but the blank high central console looks uninviting till the ignition is turned on. Then the two touch screens appear out of the darkness glowing into life. Lovely touch.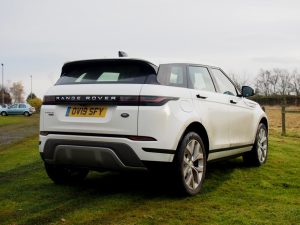 There is another gadget which may tickle a newcomer's fancy. Land Rover's Clearsight rearview mirror has a backwards-facing camera on the roof. It can switch over to become a widescreen video display when you twist the anti-dazzle knob on the bottom.
Driver and passenger comfort is expected and delivered making this a very attractive machine, but at a cost. Although priced from £39,000, the test car had another £10,000 worth of extras. That might make folk look at other compact SUV competitors.
Although the new Evoque may not excite or arouse as much interest as it did at launch, it could be argued that LR have still got it right. Why change something that people like and continues to do well just for the sake of change? Besides a major re-style well add more to the initial cost.
Whatever, I like it, and I'd be perfectly happy, with one in my driveway – especially if it's snowing.
Review Date: November 27, 2019
Price: £40,995 (as tested)
Engine: 1999cc, 4 cylinder turbo diesel with 180 hp
Performance: 0-62 mph in 8.8 secs, flat out at 127 mph
Economy: 41.3 mpg (combined)
CO2 emissions: 150 k/gm