Skoda Kamiq SE L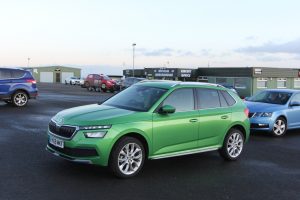 The test car was delivered while I was out, but I knew something was up when the neighbour winked at me and said "Good afternoon Kermit". Not quite knowing what to expect, I rounded the back of the house to find it sitting there in the drive – glowing. It was certainly green. Very green. But after a week with the Skoda Kamiq that is the worst that could be said about it.
Actually I didn't mind the metallic green paint personally, even if it did attract attention and comment, because I reckon it complemented the car's looks. The sculpted flanks and green and chrome highlights certainly made the Kamiq stand out from all the other compact SUVs, and there is a lot of variety in the market these days. It really is a good looking family car.
Although the Kamiq range starts from just over £16,000, this was the SE L version and was priced at £23,230 including a few extras like that 600 quid paint job.
It came with the 3 cylinder 1 litre TSI petrol engine which was good for 114bhp and had the 7 speed DSG gearbox. That confirmed that this car was built for basic transport needs rather than speed. And yet it was sprightly enough.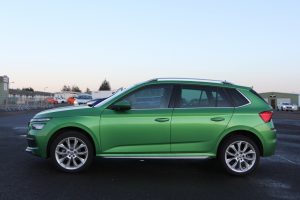 Skoda are getting themselves a reputation for building taut good handling motor cars these days and this is no exception. The 10 second nought to 60 time ensures this is no fire breather, but it gets off its mark smartly and is quick enough through the automated gearbox to be entertaining.
That is complemented by a ride on the firm side of comfortable and if you do want to press on a bit harder, then switch to 'S' mode. It doesn't make a huge difference, just sharpens everything up. The 18 inch rims were shod with Goodyear Eagle F1 tyres and unlike some other 18 inchers offered up a more supple shock-free ride, only the worst of the winter potholes upsetting its composure.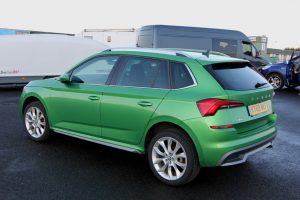 However, people will buy this for its practicality and here it scores highly. There is plenty of leg room and headroom both front and rear, even for tall folks, the seats are comfortable and the interior is attractive if a bit dark. Underneath the tailgate the boot is more than adequate for the small family's needs.
There is nothing remarkable about the Kamiq, but that could be regarded as a 'selling point'. The people who buy compact SUVs are usually those who want and rely on practical and usable everyday transport. Fuel economy was pretty much average for this size of engine, and during a week of mixed driving conditions, it averaged 45 mpg.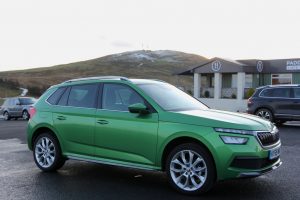 Like every other manufacturer these days, Skoda is getting its customers used to the idea of autonomous cars one day taking control of our roads and the Kamiq comes with a whole array of electronic aids that tantalise its drivers with a glimpse of the future. Along with Cruise Control, there was a Driver Fatigue sensor, Lane Assist, Blind Spot detection and a DAB/Bluetooth 8 speaker infotainment system with Smartlink which features 'gesture control' whilst an extra 300 quid added a rear-view parking camera.
In its SE L trim, the Skoda is already very well equipped with SatNav, dual zone climate control, privacy glass, bright reading lights, a multi function steering wheel and height adjustable front seats. It also comes with an umbrella fitted inside the driver's door trim.
What more could anyone want? With its excellent road manners, smooth shifting auto 'box and willing wee engine, I really liked it, and would be perfectly happy to have one sitting in the drive at home. Perhaps not quite in such a bright shade of green though!
Review Date: February 26, 2020
Price: £24,800 (as tested)
Engine: 999cc, 3 cylinder petrol with 114 bhp
Performance: 0-62 mph in 10 secs, flat out at 119 mph
Economy: 45.0 mpg (actual)
CO2 emissions: 113 k/gm
[Back to Top]