… Ford EcoSport Active …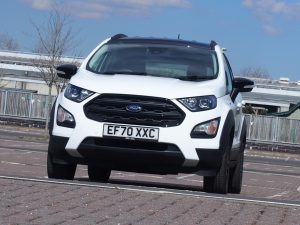 Ford is awfy good at coming up with cars and derivatives of cars that you didn't think were needed until you try one. Just when you thought the EcoSport was all the small SUV that a family needed, they bring out a sporty looking ST Line job and now an Active model variant.
There is no difference in the interior spec or the drivetrain. It still comes in 2WD with a 1 litre EcoBoost engine and 6 speed gearbox, but outwardly the Active sits slightly higher off the ground and has additional body protection.
That might just seem at first glance to be more of a styling exercise and additional sales ploy because it is not four wheel drive and is not intended to take explorers up the Nile looking for its source or even up the Clyde looking for a spring.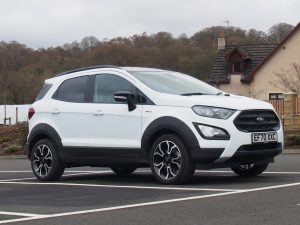 Nope, this makes sense as a family car. If you're taking the kids hiking or mountain biking, the extra ground clearance will be appreciated at the off-road gravel surfaced car parks or if you want to park up at the side of a country road near the beach or a stream for a picnic.
Similarly, the additional plastic protection around the arches stops the paintwork getting scuffed by bramble bushes and gorse. It might even help when avoiding parking scars at urban retail park car parks where careless folk are opening doors and pushing trolleys around. Also, anyone with small kids or grandweans riding around on trikes or electric scooters will be only too familiar with the consequences of youthful exuberance and expensive paintwork.
And besides, it gives the wee car more of a chunky look, so that can't be bad either. The only thing I'm not sold on is the side hinged tailgate. I know it's a small car, but that door is still pretty big if you are parked close to a wall or have someone parked up close behind you.
There's plenty of room for four grown up passengers although the boot isn't huge. It's not deep but the extra height of the SUV shape will appeal to busy Mums and harassed Dads when buggies or lawnmowers have to be transported.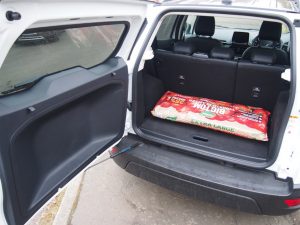 Another thoughtful touch is the two-height floor. In its standard position the floor is level with the door opening so that stuff doesn't have to be lifted in or out over a sill. It could even be used as a perfectly acceptable seat when parents need a wee rest or junior's wet shoes and socks need to be changed. Taking the floor out reveals a deeper well adding an extra 4 inches or so to the usable height.
The 1 litre power unit provides more than adequate power for a family runabout with 124 bhp and makes it feel quite nippy and nimble. Ride quality is on the firm side with a bit of harshness felt over uneven surfaces. As no fan of low profile tyres, except for sports use, I of course partially blame the stylish 18 inch alloys.
Ford reckon fuel consumption should average around 47 mpg but I didn't get much more than 40 during a week's use.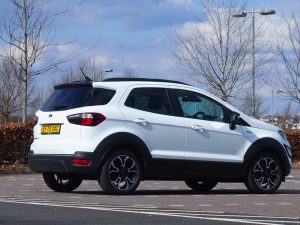 Nothing is cheap these days and the EcoSport Active comes with a price tag of £21,645 for a well equipped family holdall although the test car had over two thousand poundsworth of extras including 500 quid for High intensity Discharge headlamps and the Driver Assistance pack which includes Driver Alert, Blind Spot Monitoring, Cross Traffic Alert and front parking sensors. The 300 quid Winter pack had heated front seats and steering wheel. It also had a premium B&Q sound system while the Frozen White colour was also an extra.
I still think it's a great wee car, not just for families but for SUV users who need, or just want, to downsize. The compact square shape also makes it a lot easier to park and the slightly higher ride height will appeal to those with dodgy knees to clamber in and out more easily.
Going 'active' is therefore not a sales ploy, the Ecosport Active has been cleverly thought through and eminently practical.
Ford EcoSport Active
Review Date: 26 April 2021
Price: £23,895 (as tested)
Engine: 998cc, 3 cylinder turbo petrol with 124 bhp
Performance: 0-62 mph in 11.0 secs, flat out at 111 mph
Economy: 47.1 mpg (combined)
Emissions: 137
[Back to Top]