… Ineos Grenadier …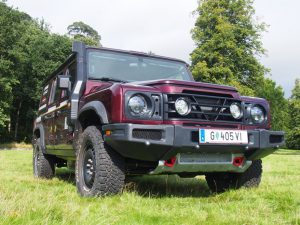 Like most of you I only know what I've read in the press about this brand new vehicle so it was with some scepticism that I attended a recent presentation event. Some of the press reporting so far has been sensational, sceptical, even derogatory whilst some has been supportive and informative. On a personal basis? I was impressed, and I like it.
The team make no apologies for its styling, having drawn on Defender, G-Wagon and Jeep for ideas and inspiration. The result is a creation that will appeal to those who want a traditional looking vehicle that is not entirely dependent on electronics and software. What they've designed and built is an extremely practical, functional and adaptable 4×4 vehicle with go-anywhere ability.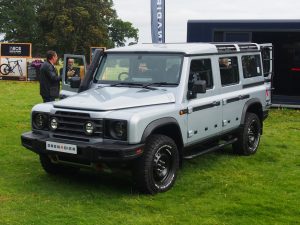 There were three vehicles on show, two prototypes for demonstration drives and one static vehicle which will be pretty close to the final customer offer. The bodywork and drivetrain is more or less finalised whilst the interior still needs some tweaks but is almost there. As an exercise, this pre-launch presentation was indeed worthwhile and the feedback the team gets from it will no doubt help to finalise the customer spec.
On the basis that these were purely prototypes there were still some parts which were not quite finished. For instance the Hi-Lo range selector was milled from a solid billet of aluminium (I wasn't allowed to take pics!) but by goad it looked guid! Both the test driver and myself agreed it looked just the dog's b*ll*cks. The same with the grab handles, they were solid lumps of milled alloy with a knurled finish which felt just so good to grip but wouldn't be allowed under Euro NCAP safety rules – more's the pity.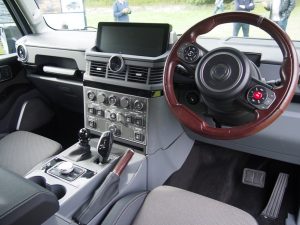 Some parts of the dash were non functional having been made by a 3d printer but it showed the thinking, big buttons and proper switches. There is a vertical control panel in the middle of the dash topped with a 12.3 inch touchscreen which can also be controlled by a rotary dial on the transmission tunnel. Although sourced through BMW, the Grenadiers has its own graphics. A centrally roof mounted switch panel on the roof houses additional controls and switches and looks like something out of a light aircraft.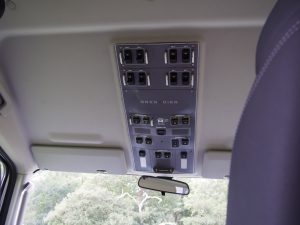 SatNav comes courtesy of Apple CarPlay or Android Auto connectivity and should feature an off-road pathfinder.
The seats are made from a washable but soft and comfortable material and the commercial versions of the vehicle will come with rubber mats and floor drains with bungs to let the water out after an internal hosedown! Equally functional is the saddle leather rimmed steering wheel – a finish chosen by the Boss himself!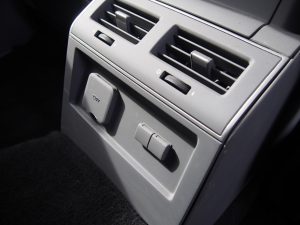 Storage inside is pretty good and should keep the small stuff like keys and wallets secure when venturing into bandit territory! Given the interior restrictions, additional cubby holes can be found around the vehicle. For instance there is a storage area within the tailgate-mounted spare wheel's hub. Not only that, those rails along the vehicle's flanks are similar to the loading rails you see inside racked vans so that you can securely hang kit and boxes on the outside, and of course the roof has been constructed to take a variety of roof racks and weights.
The rear seat backs fold down, but not flat to the floor although the floor behind the rear seat can accommodate a standard metric pallet, hence the asymmetrical rear doors as opposed to a tailgate.
Unlike other vehicles of this ilk, there is bags of head, shoulder and leg room so there's little chance of accidentally impregnating a passenger. Both front seat occupants can keep a safe distance! There's even enough space to rest your elbows on the central armrest and door frame. The guys and guyesses seem to have thought of everything.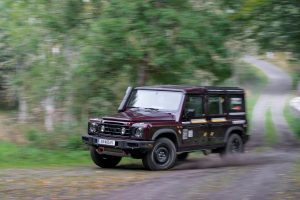 The steel and galvanised steel body is bolted to a ladder frame and suspended on coil springs with beefy (so they don't overheat) specially designed shock absorbers. Ineos has designed its own permanent four-wheel drive system with shiftable low range and a central locking diff. Power comes from a 3 litre straight six BMW turbo petrol with 281bhp and 450Nm. of torque, or turbo diesel with 246bhp and 550Nm mated to an 8 speed auto 'box with sequential shift over-ride. And it's got a manual cable operated handbrake on the rear wheels.
Anyway, I had a good session with one of the chief development engineers (and ardent rally fan) who explained what was still to be done. At present the wheelbase is 116 inches although that may yet change slightly, and the track has yet to be determined. But really, at this stage is all just detail stuff to be finally decided.
On the question of where it will be built, much has already been said, including quite a lot by folk with more opinions than facts. Apparently the deal to buy the factory in Wales was on the point of being signed when there was a hiccup. I don't know what went wrong and I expect few outside the company know either, but the decision was then made to buy a factory in Moselle, France at Hambach.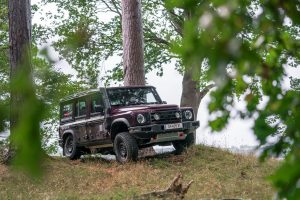 This was a Mercedes-Benz facility employing some 3,000 workers and was building Smart cars. As part of the deal, Ineos will continue to build Smarts there and produce other ancillary M-B parts.
That means the plant will continue to operate as a vehicle building concern and gradually assume the build of the Grenadier working up to a planned 6,000 units per year. It may not be a popular move, but it was certainly astute as the fledgling company has gained a modern, working factory already up and running with trained staff on site.
The price hasn't been finalised yet either, but the target is around £40,000 plus VAT for the two seat commercial and more for the 5 seat commercial and passenger models. That's not bad for a solid, well built, non squeaky, non rattly, non draughty, all terrain machine and the ride quality ain't half bad! It'll do for me.
[Back to Top]