… Mazda MX-30 …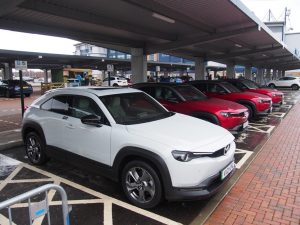 There's more to Falkirk than canal lifts (the Falkirk Wheel) and huge horses' heids (the Kelpies). It currently has the largest electric vehicle (EV) charging station in Scotland. Located beside Falkirk Stadium and just a mile from Junction 6 on the M9, the new facility has capacity for 26 electric vehicles. That brings the number of charging bays in the Falkirk and Grangemouth area to 68.
I wouldn't call Falkirk a hot bed of innovation, but the Council is way ahead of many others around Scotland in terms of its 'green' credentials. It also has a huge and growing network of cycle paths and green spaces and has its own e-bike hire scheme with 11 locations around the area. Two years ago it was crowned 'Britain's Best Walking Neighbourhood' by the Ramblers Association. An example many other Councils could follow.
Run by Chargeplace Scotland the new EV charging facility has its own solar canopy comprising 1272 panels which generate around 30% of the site's required electricity. Funding for the £1.4m project came from Falkirk Council and the Scottish Government, and the European Regional Development Fund through Transport Scotland's Low Carbon Travel and Transport Challenge Fund.
There was even a 'chuck wagon' close by where waiting motorists could have an impressive cheese topped proper beefburger and a cup of tea. Unknowingly, the burger came with an overly generous splatter of mayonnaise – it dripped!
Anyway, the reason for the visit was pretty obvious. Half a dozen shiny new Mazda MX-30 compact SUVs were lined up awaiting representatives from the Scottish motoring press. And just when you think all compact SUVs look very similar these days, along comes the MX-30. This is something that Mazda are very good at, making cars look different.
Having said that, it's a tough job being a car designer these days. There's only so much that can be done to change a silhouette i.e. it has to have four wheels, space for an engine, a boot and a cabin that can accommodate four or five adults. That pretty much determines the external dimensions and to a degree dictates the eventual design. It's also the reason that many compact SUVs look so similar with their high riding stance, slab sides, blunt noses and sloping tailgate.
That's an over simplification of course, because many of the designs try hard to look different with various embellishments. Then along comes Mazda and kicks the ball over the bar again. The Mazda is all of the above and yet the sculpted sides, glass area, front grille and rear end treatment all contrive to make this car stand out from the crowd.
It doesn't stop there either. It's just as different inside, once you open the doors that is. The front doors open wide, almost to right angles, while the rear doors are rear hinged and open up to reveal a pillarless access to the interior. An arrangement reminiscent of Mazda's RX-8 sports coupe.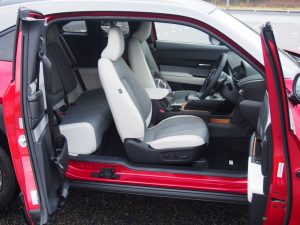 The truth is I don't see the point of this on the MX-30. In the sports coupe it made sense because clambering into the rear of a 2+2 sports coupe can be quite inelegant to say the least but even without the main 'B' pillar, it doesn't leave a lot of room for an adult frame to squeeze through. On the other hand, if you have ever tried to lift and strap a baby into a rear mounted car seat, a front hinged rear door coupled with an awkwardly sloping roofline can be quite restrictive. It looks as though it's a job which might be just a tad easier on the MX-30. Hopefully I'll get to try that out in due course!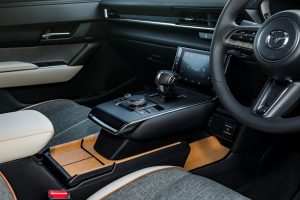 Mazda have also gone to town on the interior decoration with a light tan cork finish on the 'floating' central console between the front seats. This houses the stubby motion shifter, rotary control dial, various functions and a touchscreen with more screens above and in front of the driver. All very futuristic.
Which begs the question. If this electric motor doesn't have a gearbox why does it have 'shift' paddles behind the steering wheel? These paddle shifters allow the driver to adjust the powertrain's torque characteristics and the amount of energy regeneration both when the motor pedal is not operated, and under braking. There are five selectable settings with the paddle shifters – two levels up and two down from the default 'D' level, which have an impact on both the motor pedal's on and off positions. Regardless of the speed level selected, the only thing the paddle shifters change is the ease with which the driver can change vehicle speeds.
For example, when driving downhill, using the left paddle generates a feeling of 'drag' as it increases energy recuperation. To some drivers that will give added confidence and control when driving downhill. Alternatively, the right paddle 'frees up' running resistance and energy recuperation. The right paddle also helps to impede deceleration on Motorways, allowing the driver to more easily travel at a set speed without using the foot pedals. Again, it all seems very futuristic but then that's where 21st century motoring is headed these days.
Mazda are also pretty strong on the safety message. Whereas those of us involved in motor sport are only too well aware of the dangers of electric motors and battery packs in competition machinery, the general public are not quite so well informed. However, Mazda have addressed this with a safety system that shuts down the power the instant a collision is detected. In addition, the battery packs are encased in high-strength material and surrounded by a rigid frame. This is intended to protect passengers from potential secondary injuries caused by exposure to high-voltage power.
Regardless of all this thought, design and engineering, the end result is a good looking, perfectly enjoyable and comfortable driving machine. There is only one wee drawback. On a full charge, range is around 124 miles, which is a bit less than many of its rivals. On that basis it is best suited for local commuters, school runners and those with a wall charger at home and at work.
Prices start from £27,495 inclusive of OLED grant with three grades of trim and finish available from SE-L Lux to Sport Lux and GT Sport Tech which has heated seats and steering wheel as well as an inverter for a 3 pin socket. All the comforts of home, and more.
Otherwise this is a most desirable and ever so slightly quirky machine.
Mazda MX-30 e-Skyactiv GT Sport Tech
Review Date: 25 March 2021
Price: £29,845 (as tested)
Engine: 107 kWh electric motor with 143 bhp
Performance: 0-62 mph in 9.7 secs, top speed 87 mph
Range: 124 miles (claimed)
CO2 emissions: 0 k/gm
[Back to Top]