… Vauxhall Combo Life XL, 1.5L … By Combo to Kintyre …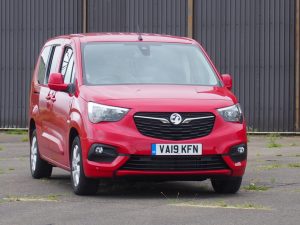 The Vauxhall Combo Life is just about the perfect 'family car'. It may lack the style and panache of an SUV or estate, but it more than makes up for it in sheer practicality. The interior is spacious and the boot is square shaped just like the van on which it is based. Great for packing away travelling essentials.
As such it provided the ideal transport for the annual visit to the Mach1 Stages Rally at Campbeltown. There was room for camera bags and computer stuff as well as the overnight bag, sleeping bag, pillows and towel needed for the 'self-catering' facilities, plus the picnic hamper to fuel the inner man! There was room too for a full size bicycle and those other Scottish rallying necessities, a full complement of wet weather gear, boots and umbrella – just in case!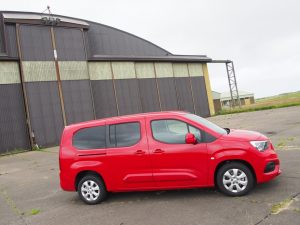 This was the 4.75 metre XL 'extended' length version compared to the regular 4.4 metre long vehicle and came with 7 seats. The middle row of seats fold almost flat to the floor but the two rear seats are removable although the seat backs can be folded down and tipped forward if you don't want to take them out.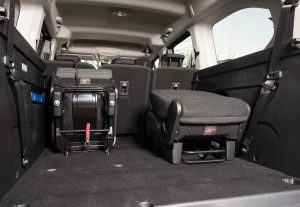 However, care is required when removing these seats to free up loadspace. Don't lift the seats out just by the backs, reach down and grip the seat cushions. When I lifted the first seat out by the backrest, the cushion swung down and the rails scraped the bumper! I was pretty annoyed with myself. Silly mistake, I thought the seats would have locked in the folded position. They don't, so be careful.
There was however one other gripe, the wee engine. This would be OK for those living in an urban environment tootling around schools and shopping malls but for those folk who live in more rural areas, especially on the tourist trails, a bit more poke is needed.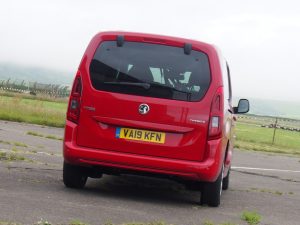 The test vehicle had the 1.5 litre Turbo Diesel Blueinjection unit and despite the variable turbine geometry turbocharging technology, power output was a very modest 100 PS, although there is a 130 PS version, and two petrol engines to choose from. It also had just the 5 speed gearbox whereas the other models have 6 speed units although there is an 8 speed automatic on the top of the range Combo Life.
That meant all overtaking manoeuvres had to be planned well in advance. Even passing a tractor, never mind the summer procession of caravans, motorhomes and camping trailers. I know these people have every right to be on the road but they shouldn't be sightseeing while they are driving. Instead of gawping at castles and gazing at mountain tops they should be keeping between the white lines, admittedly a more difficult task on Scotland's narrow roads which often don't have any!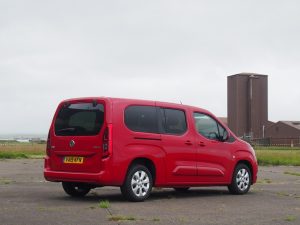 Under most everyday conditions the car is nippy enough, but for more relaxed country cruising, a wee bit more poke and a 6 speed 'box would be a better choice. That's not so much a criticism, more a question of punters being a bit more thoughtful about what they need and careful what they specify. On the other hand, economy is impressive, the 350 mile round trip to Campbeltown barely needed half a tank. Vauxhall claim a 65 mpg average figure and I was getting 52 mph when pressing on and nearer 60 when cruising.
At times it can be easier to pass a truck than a caravan given the fact that most lorry drivers are a bit more aware of what's behind and around them on the roads. It's the slowcoaches who give responsible caravan owners and motorhome drivers a bad rep. They're not all bad, just the ones in front of me! Having said that, the 'sit up higher' driving position was much appreciated on Argyll's winding roads.
Gripes apart I would be perfectly happy with a Combo Life. It suits my lifestyle to a 'T' although I would be looking for the more powerful 130 PS diesel. Mind you, even that might have to be reviewed these days with the Government trying to 'criminalise' diesel cars. The 1.2 litre petrol options offer similar 110 and 130 PS outputs but with slightly poorer fuel economy recording just over 50 mpg as opposed to just over 60 mpg.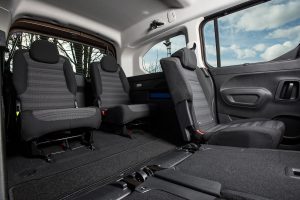 Prices start at just short of £20,000 which might seem a lot for a compact van with seats, but when you look at the sheer practicality of the 7 seater with lots of separate storage bins and internal space, and it's quick conversion to a 'proper' van with 2,693 litres of loadspace and a 3050mm maximum load length, the concept makes sense. Ideal for a bloke with loads of 'stuff' or a couple with loads of weans!
One suggestion for Vauxhall. How about a 1.6 litre Bi-Turbo unit? I'd be up for that, big time.
Review Date: July 25, 2019
Price: £22,765
Engine: 1499cc, 4 cylinder turbo diesel with 99 bhp
Performance: 0-62 mph in 13.0 secs, flat out at 109 mph
Economy: 65 mpg (combined)
CO2 emissions: 115 k/gm