… Qashqai Tekna DIG-T …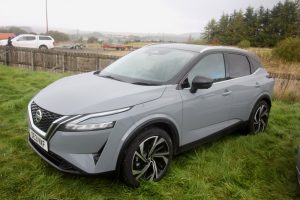 This Nissan Qashqai wasn't the first Crossover/SUV hatchback on the market, not by a long chalk, but it was the first of the breed that really caught the public's imagination with its mix of compact exterior dimensions matched to a very roomy interior and offered drivers a better view of the road ahead.
The first Qashqai didn't look very exciting when it was launched 15 years ago, but for young Mums with car seats, prams and push chairs, it was a godsend, and other every day users quickly cottoned on. Nissan had a winner on its hands.
Fast forward to the current machine and it really has stepped up its style. This is a smart looking car while retaining all of its original practicality. For instance, the rear passenger doors open almost to 90 degrees. Anyone who has struggled with squealing toddlers and bulky baby seats will appreciate only too well the advantages of a rear door which opens wide making the whole process of installing such a seat, then hoiking the sprachling toddler into it and belting them up. That alone will win customers.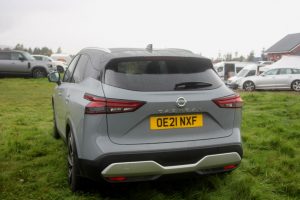 The boot will come in for praise too. It has a two-level floor. The top level meets the rear door lip providing a flat floor from bumper to seat which would allow folk to sit and have their picnic or get their kit on or off for sports or recreational pursuits whereas lifting it out creates a much deeper and bigger space for carrying stuff.
Of course, the Qashqai is much more than a baby carriage. This is a sensible roomy conveyance for 4/5 people and their luggage and comes fitted with a vast array of electronic gadgets and safety aids as seems to be case in these ever changing Health & Safety, molly coddling times. Having said that, I did appreciate the 3 mode massaging, heated front seats and the heated steering wheel!
In that way the Qashqai is no different from any other modern car. Every new model features some new electronic contrivance or safety aid and each new automotive advance a further step towards full autonomy. The day will yet come when a human in charge of a car will become an offence!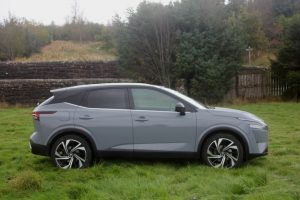 For some folk that day can't come soon enough, but the shape and looks of cars will change again to appeal to these non-driving users. In the meantime, there still needs to be a human behind the wheel not a robot. So it's good to know that the Qashqai is enjoyable to drive with no vices or bad manners. Even on its 20 inch wheels, the ride quality is good and won't upset the rear seat passengers over country roads. The test car was not a four wheel drive version but it did have an electronic Limited Slip Differential and this can make all the difference for folk living in rural areas or urbanites encountering slippery and snow covered roads.
The 1.3 turbo petrol engine has enough poke to enjoy the handling and the six speed gearbox is pleasant to use while the slightly higher seating position gives a decent view of the road ahead. Fuel economy was acceptable with 41 mpg achieved during the week long test.
Prices for the Qashqai start at around £25,000 although they can exceed £38,000 depending on final spec.
This is a thoroughly likeable car but the test car had an optional 1145 quid two tone paint job. For that sort of money, I'd want something a bit brighter than battleship grey. Nissan calls it 'Ceramic Grey Pearlescent' and for sure they are only responding to fashion, but who determines fashion these days? Possibly someone with tattoos and metal decorations on their faces and ear lobes.
The Nissan Qashqai is far too sensible a motor car to need such fancies and fripperies, but then what do I know? I still think jeans look much smarter without frayed holes, rips and tatters.
Qashqai Tekna DIG-T
Review Date: 24 October 2021
Price: £34,175 (as tested)
Engine: 1332cc, 4 cylinder petrol with 156 bhp
Performance: 0-62 mph in 9.5 secs, flat out at 128 mph
Economy: 41.2 mpg
Emissions: 146 g/km
[Back to Top]