… Mazda 6, 2.5 SkyActiv G …
As the age of electricity draws ever nearer so the differences between cars and manufacturers will become ever smaller. We've already seen and are still seeing huge conglomerates buying up the smaller car manufacturers with some sticking with the product or absorbing it into their ranges and simply changing the grilles and the badges. The end result may be a familiar brand and name but the buyer has no idea who made it or where.
Which is just one of the reasons I like Mazda. So far, it has been left alone. Perhaps that's one of the reasons we still have the MX-5. There are very few major manufacturers creating small affordable two seater sporting convertibles these days. Yes, it's a small market, but for teenagers who just want to be alone or older couples who just want to re-live their youth for a little while longer and everyone in between who simply enjoys and appreciates open topped motoring with a bit of zest, then long may the MX-5 continue.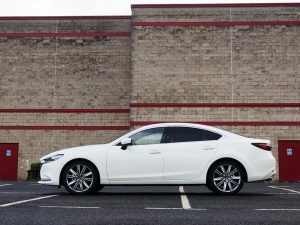 And so it is with the Mazda 6. A four seater for grown ups. A 'grand tourer' with appeal and character. A car that will look good sitting in anyone's driveway. And perhaps more importantly, different to what the majority of others have in their driveways. If you want something of equal quality to the more usual German or British executive saloons, but still exudes an aura of class and competence, then the 6 will do the job. It carries an air of exclusivity about it.
Even with 191 bhp this is no tarmac tearaway. For a car this size performance is rather more modest with an 8 second 0 to 60 mph time but stick it into cruise control, open up the sun roof and it will eat up the miles in as relaxed a fashion as any 'staycationer' or North Coast 500 sightseer would want.
Neither is the suspension rock hard, the Mazda will cosset and caress where others will bump and thump, even with its Bridgestone shod 19 inch wheels.
If there is a niggle, it's the 6 speed automatic gearbox. Maybe I just want perfection, like the paddle shift on an R5 rally car, but the Mazda 'box is no better (or worse!) than most other executive/family saloons. It can be slow and jerky at times when slowing down, especially if you then change your mind and want to speed up, whereby the electronics seem to want to have a wee think before obeying. Even when using the 'Sport' button the operation is pretty much seamless but not quite perfect. Most of the time it's fine and the majority of sensible everyday drivers won't notice any issues but the performance driver might just expect more.
Otherwise this is a well built good looking machine. It's the same inside. There is a nice mix of wood effect, leather and chrome on the dash and door trims. The leather seats are shapely and comfortable and there is a decent sized boot in the rear for all the touring essentials and luggage.
Oh, and one other thing. I know it's not meant to be a performance car but I would really like a more pleasing engine note from that 2.5 litre four cylinder non turbo. Or is that asking too much. That is one if the joys of current diesel and petrol power, there is a mechanical heartbeat, which for some, may not always be pleasant but it is reassuring. When the noise stops you know you have a problem. However, with the soul-less drive of an electric car one more of motoring life's little pleasures has gone.
So enjoy the Mazda 6 while you can. I know I did.
Mazda 6, 2.5 SkyActiv G
Review Date: 24 May 2021
Price: £32,355
Engine: 2488cc, 4 cylinder petrol with 191 bhp
Performance: 0-62 mph in 8.1 secs, flat out at 138 mph
Economy: 42.2 mpg (combined)
Emissions: EU6D
[Back to Top]