… Ford Puma ST-Line X mHEV…
Once upon a time, Ford produced a two door coupe with sporting potential. It was called the Puma. The first of these front wheel drive machines had a 1.4 litre engine and later a 1.6 litre unit which Ford took rallying. There was even a 1.7 litre Ford Racing Puma with 17 inch wheels (as opposed to the standard 15 inch) but it just didn't take off.
Looking back now, the one-make Ford Puma rallying series was not quite as successful as hoped and production ceased after less than 140,000 were built. The main reasons appear to have been that the cars were expensive and the rear axles were a bit too weak to go rallying without major modifications.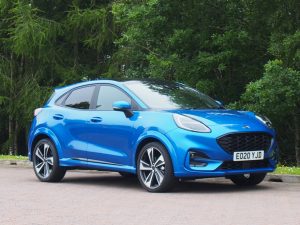 That was over 20 years ago (1997) and Ford has resurrected the name for a new Puma. The two door adolescent has now grown up and matured into 4 four door adult, and the Coupe has been transformed into a 'compact crossover' SUV.
The car is bigger, but the engine is smaller. The one litre Ecoboost turbo petrol comes in a choice of 125 or 153 bhp versions and both with mild hybrid power units. Note the use of the word 'mild' in that description. Anyone would be hard pushed to determine if this actually offers any significant fuel savings or emissions reduction unless they owned it for at least a few weeks.
The car won't actually drive under electric power alone, think more of the 48V electric starter-generator as assisting the engine, not replacing it. However, combined with Ecoboost's cylinder deactivation technology, Ford reckon that it offers more positives than negatives.
The Puma's sporting appeal has matured too, less boy racer and more man 'with stuff'. From the fast and furious motor sporting arena to domestic runabout and holdall. To that end, Ford has made much of its 'megabox' equipped boot. A fancy name for a deep well in the boot where a spare wheel may once have resided in past times.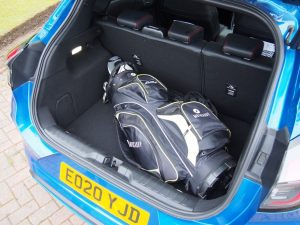 But scoff at your peril, this well actually accommodates two upright golf bags leaving enough room at the side for shoes, clothing, towels and of course bunnets. Or you can get one golf bag upright and carry your collapsible trolley – and still close the tailgate without the need to fold down the rear seats. So now you know who the car is aimed at.
However, in these politically correct times it should perhaps be pointed out that this 'megabox' is not to be used for the transport of noisy weans or yapping dugs!
Then again, this is a Ford. And as we all know, the Ford boffins love to tinker with even the most mundane and practical of vehicles so that those who simply enjoy the pleasure of driving can still derive some enjoyment from their married, mid life chores and duties.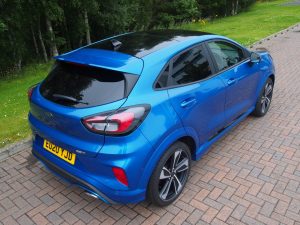 The entry level model has a mere 124 bhp, but the test car had the 153 bhp unit, and what a difference. With a nought to 60 time of 8.9 seconds it doesn't sound particularly fast, but that bald statistic is very deceptive, because the thing drives like it thinks it's a Fiesta. The six speed gearbox is a just mechanical jewel and once on the move, the engine is powerful enough and the agile handling good enough to put a smile on even the most jaded of faces.
In other words, if a change of life and new domestic duties demand that handling and pace be replaced with comfort and accommodation, fear not, the Puma might just be the answer.
The base model price is £23,770 for this car, but the test car had the ST-Line X pack and glorious Desert Island Blue paint which added another four grand plus to the job. For that you get all the styling extras, driver assistance pack, parking sensors and rear camera, powered tailgate and 18 inch alloys – to name but a few.
In other words, it ended up a fiver short of £28,000. That's a lot for a compact crossover, but then you do get a lot for the money. Ford reckons that longer term use might return up to 54.3 mpg, although in actual every day running for a week, the car was returning 43 mpg. Actually that's not too bad for a 1 litre three cylinder engine these days, although one does have to admit that figure could have been improved very easily – if it wasn't just such a joy to drive quickly!
Still, if you buy it for your partner, point out the practicality and just don't mention the fun. I loved it.
Ford Puma ST-Line X mHEV
Review Date: 22 July, 2020
Price: £27,995 (as tested)
Engine: 999cc, 3 cylinder turbo petrol with 153 bhp
Performance: 0-62 mph in 8.9 secs, flat out at 124 mph
Economy: 43 mpg (actual)
CO2 emissions: 101 k/gm
[Back to Top]