… Ford Fiesta Vignale …
To class the Ford Fiesta Vignale simply as a luxury car for older people is to do it a great injustice and also to the elder generation. This is a luxury car for anyone who wants something nifty, nice to drive, easy to park and just as at home fighting for space on the tarmac traffic commute as it is heading out for an enjoyable drive in the country.
Although perhaps ideally suited to those current owners of luxury cars who want to down-size, it is just as much an aspirational car for those who started their driving life in a bargain bucket bought after passing their test.
The Ford Fiesta Vignale simply shrugs off all the labels that one could apply, asserting its right to be called, the simple, economical and vice-free little driver that goes as good as it looks.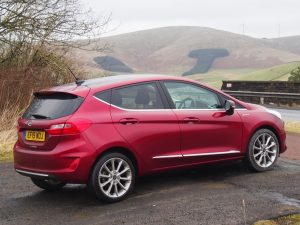 At first glance there is very little difference between the Vignale and the standard range but the front grille gives the game away. Opening the door confirms that with Vignale threshold plates and front and rear floor mats. The 'look' is finished off with black leather seats and a leather trimmed steering wheel.
The in-car equipment also meets higher expectations with an 8 inch dash mounted touchscreen panel which gives access to most functions including the ten speaker B&O premium sound system with Ford's SYNC3 and smartphone connectivity. Many of the functions can be addressed and controlled by voice recognition in addition to the more usual pinch and swipe gestures.
Perhaps heralding the advance of fully autonomous cars, Ford keeps building in more 'aids' to their products helping to familiarise current drivers with what the future holds. In this case, the Vignale comes with Traffic Sign recognition, Driver Alert, Lane-Keeping Alert and Aid, Speed Limiter and Tyre Pressure Monitoring System although the test car also had a few more useful extras.
These included the £350 Blind Spot Information System with Cross Traffic Alert and the £200 Driver Assistance Pack comprising Pre-Collision Assist with Pedestrian Detection, Distance Alert and Adaptive Cruise Control. Enhancing this additional driver aid pack was the £200 hands-free Advanced Auto Park with front parking sensors. Regardless of what the enthusiast motorist might think, this will undoubtedly make driving on our congested roads safer for many folk.
Of course such automated and helpful systems might appeal more to the elderly, but it also makes life easier for those who see the car simply as a means of personal transport, whether commuting, on the school run or the weekly shopping trip. Oh, and there was one more 'driver aid' – a proper handbrake! None of this electric button operated nonsense.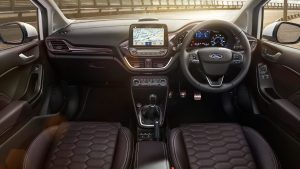 And yet all this 'stuff' doesn't mask the fact that the Fiesta is a wee cracker of a car to drive. It's still one the best small cars on the market. The test car had the 1 litre, 3 cylinder engine with 123 bhp, which may not sound much, but in a car which weighs just a little over a tonne that's more than enough to put the excitement into enticement.
Nought to 60 in 10 seconds may not sound awfy quick these days but it's certainly quick enough to get you to the chip shop ahead of Usain Bolt. It's the way that wee engine delivers the revs fed by one of the slickest 6 speed shifters in existence that delivers the fun. That and the taut handling, delightfully direct steering and it's tenacious grip on terra firma could paste a grin on a plaster bust.
Enhancing the performance is the driving position and the seats. Even for a burly six footer, the seats fit without pinching and the driving position is more touring-car than hunched. The trouble is, if you work the wee engine hard enough the economy will suffer, but at last you will enjoy yourself, and there's little enough of that to be had these days. Ford claims 60mpg on the combined cycle, although I barely managed 40, but maybe that was the price of enjoying myself.
The 'base' model Vignale costs £21,520 but this one had the extras mentioned above plus that luscious ruby red paint job (£500), full LED headlamps (£600) and door edge protectors (£100) which added another two grand.
This is a car for those who like driving – and also those who hate commuting. Me? I'd have one in my drive any day of the week.
Review Date: January 22, 2020
Price: £23,470 (as tested)
Engine: 998cc, 3 cylinder petrol with 123 bhp
Performance: 0-62 mph in 10.0 secs, flat out at 121 mph
Economy: 60.1 mpg (combined)
CO2 emissions: 107 k/gm