… BMW 420D M Sport Coupe …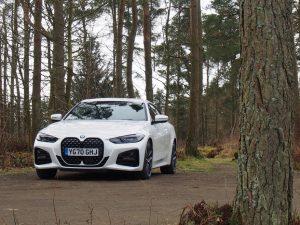 The BMW 420D M Sport Coupe is not just a driving machine, it is a driver's machine. Subtle difference I know but it's the sort of car that could tempt you from the straight and narrow.
Imagine emerging from the house of a morning, anticipating a day of work ahead and it's cold, wet and windy. With a handsome looking coupe like this sitting there looking sleek, sultry and poised for action, it would be hard to resist the temptation and say: "To heck with this, I'm off," jump in the car and head for the French Riviera, or Rome, or Naples, or maybe even Spain or Portugal. And take the tourist route, not the most direct camera and speed-cop infested autoroutes.
That feeling is reinforced when you climb aboard, sink into its luxurious leather caress and grasp the thick leather rimmed steering wheel with its leather trimmed centre boss. This is the sort of steering wheel you want to take to bed with you. Sack the Teddy and cosset the wheel. It really is quite seductive and tempting, feelings which are probably exaggerated because of Covid Lockdown. But then when you drive the car, no excuse is needed.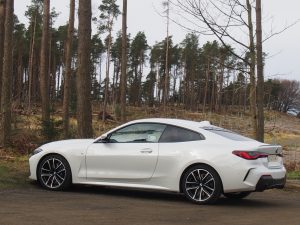 Another attraction is the diesel powerplant under the sculpted bonnet. With a full tank of fuel, you might not need to stop for a fill-up till you reach Paris. That's not to suggest it is slow, because the twin turbo two litre engine is far from leisurely. It offers quick response and smooth power, all the way from rest to limit bursting speeds.
Mild hybrid technology incorporates a 48V starter-generator which ensures even sharper power delivery combined with reduced fuel consumption and emissions. This also increases the scope for utilising Brake Energy Regeneration which can then be fed back into the 12V electrical system or used for generating additional drive power. When the car is accelerating, the generator can provide an electric 11hp boost.
While most folk would be perfectly content to sit back and let the eight-speed Steptronic transmission do the work, there's a pair of paddles behind the steering wheel when the driver wants to take control. Having said that, this latest automatic transmission has been revised to provide even sharper shift characteristics, although there is still nothing quite like choosing your own gears and speeds on challenging roads.
Although most certainly not a trackday car, it also has Launch Control and a brand-new Sprint function, designed to deliver maximised performance when overtaking.
The power and response is matched by superior handling, emphasised by the 'M' badge on the boot. The track is slightly wider, the wheelbase slightly longer and the centre of gravity is slightly lower than previous models and that combined with the ideal 50:50 weight distribution split has resulted in a superb handling and agile motor.
The double-joint spring strut front axle and five-link rear axle and stiffer M Sport dampers provide a firm yet comfortable ride and still manages to absorb shocks and reduces body movement when cornering. Firmer anti-roll bars and increased negative wheel camber further improves the car's impressive stability on the road.
The M Sport differential and BMW's DSC system optimises the transfer of power to the road by adjusting the distribution of drive to the rear wheels. This enables better acceleration out of corners and improves handling when negotiating a quick series of bends. It also improves directional stability when changing lanes at the same time as braking.
The Servotronic speed-sensitive Electric Power Steering is touch perfect with the 255/35 by 19 Pirelli P Zeros providing a reassuring sense of intimate attachment to terra firma.
The new 4 Series coupe also gives a glimpse of what is to come with many safety measures being introduced now to familiarise, and give confidence to, drivers as they will be employed when fully automated driving replaces humans.
The standard and optional Intelligent Driver Assistance systems can process camera images and the data gathered by ultrasonic and radar sensors to monitor the vehicle's surroundings will warn the inattentive driver of potential hazards. The idea being to minimise the risk of an accident with corrective braking or steering inputs.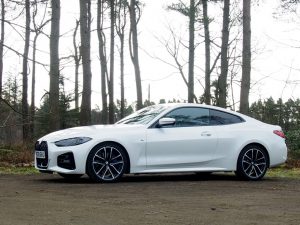 The system also incorporates front collision and person warning with city braking function that can detect vehicles, pedestrians and cyclists. Speed Limit Info, including no-overtaking indicator and the Lane Departure Warning system with lane return by steering assistance, are also standard.
The Driving Assistant Professional is a complete package of measures which takes all the elements of the Intelligent Driving Assistant (above) and combines them with Active Cruise Control. This system takes its bearings from road markings and vehicles driving ahead courtesy of the data from a trifocal camera and a front range radar, enabling it to work with the driver to help centre the vehicle in the detected lane with corrective steering inputs.
If you don't like all this new-fangled 'driver assistance' technology, tough, the world's governments seem hell bent on progress towards personal transport without the personal touch and the motor manufacturers have to get on with it. The challenge here is to provide to-day's drivers and enthusiasts with machines which provide tactile and visceral enjoyment while implementing the technology that will allow robots, or robotised vehicles, to take over the dirge of commuter driving
The fact that BMW has achieved this by making a machine that wants to be enjoyed and driven now, but will also pave the way towards driverless cars is quite remarkable. Future generations may appreciate the idea of impersonal private transport rather more than the current generation who prefer a more tactile experience and trust their own skill and judgement.
To those of us who don't know any better, and have little confidence in this so-called 'artificial intelligence' in a computer chip which can be hacked by a kid in a bedroom thousands of miles away, that day is still quite far off.
A day that many of us won't be around to see – thank goodness. In the meantime, enjoy such cars as the BMW 420D M Sport while you can.
BMW G22 420D M Sport Coupe B47 2.0D
Review Date: 21 March 2021
Price: £50,140
Engine: 1995cc, 4 cylinder diesel with 188 bhp
Performance: 0-62 mph in 7.1 secs, flat out at 149 mph
Economy: 67.3-72.4 mpg (claimed)
Emissions: 103-112 g/km
[Back to Top]