… Volvo V60 D4 AWD Cross Country Plus …
You've probably seen the adverts or come across them in office furniture catalogues, but there does seem to be a demand these days for office chairs made from car seats. Even before the 'gaming generation' came along there were companies out there converting sports car bucket seats, racing car competition seats, executive saloon car seats into office chairs and even bench seats into sofas. I reckon some of those early 'converters' were inspired by Volvo.
Ever since I owned and ran my own Volvo 740 estate car I have thought about such extravagances, and I was reminded of this recently when I climbed aboard the latest V60 D4 AWD Cross Country Plus from Volvo.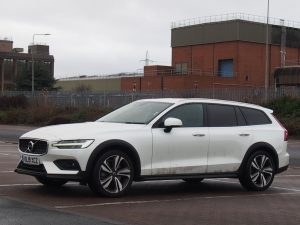 On first acquaintance with a big Volvo the first few moments should be spent adjusting the seat and savouring its innate comfort. The electric driver's seat has an extending thigh cushion and lumbar adjustment as well as the usual height, rake and reach controls. Once the ideal driving position has been found and the first trial run taken, there comes a second dilemma. How do I get two of these seats – one for the office and one for the TV lounge at home?
Forget the idea of cruising down through France and Spain to the Mediterranean in an exotic sports car, luxury limo or van-based camper. If you want to enjoy the drive in supreme comfort, let a Volvo take the strain. It's supremely comfortable, quick and quiet and has all the room you need for luggage.
Compared to an exotic Italian supercar which barely has room for anything more than a thong and a toothbrush, the Volvo estate has more than enough for all your summer gear which will usually include everything from swimsuits and sandals to oilskins and wellies. And there's a bonus, there will still be room for family souvenirs and gifts for the weans on the drive back home.
If you're preference is Winter delights, the intelligent four wheel drive system will ensure a confident drive to and from your favoured French, Swiss or Austrian resort. And there's a another bonus, if you get it wrong on the ski slope or mess it up in the snowboard arena you won't be stranded abroad. There's room in the footwell for a stookie clad foot while the other operates the two pedals and lets the 8 speed automatic gearbox take care of progress. It could save the embarrassing call home to get someone to fly out to drive you back!
Need more? Even with a 190hp, four cylinder, 2 litre turbo diesel, fuel stops en route will be fewer than in many other cars. Exceeding 40mpg is easy and getting around 50mpg should be the target on long cross continental motorway cruises. Why compromise when there is such an attractive alternative?
And then there is safety. Say no more. It's a Volvo. Although the controls are light and responsive, the car weighs nearly two tonnes so if you encounter any eedjits on the road, rest assured there are fewer safer cabins to be inside.
Naturally, such opulence doesn't come cheap and yet the V60 range starts from just over £34,000, although the test car had quite a few options which lifted the price to just over £47,000! That included a thousand pound Winter Pack with heated steering wheel and wiper blades and a headlight cleaning system. It also featured a head-up display which meant you didn't need to take your eyes off the road when conditions turned tricky.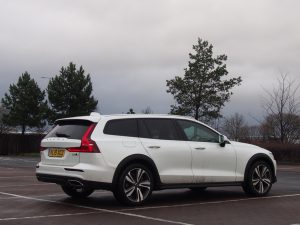 Another grand was spent on the 'hidden' tow bar. Why so costly? A button inside the tailgate drops and swings down the swan-neck tow ball which then locks into place. Very neat. And with a towing limit of 2 tonnes, very desirable. Luxury service barge anyone?
In other words the V60 is just what you would expect from a Volvo estate car – bags of room for all occupants and plenty of room for goods and chattels.
Would I have one? Absoloootly!
Review Date: December 21, 2019
Price: £47,130 (as tested)
Engine: 1969cc, 4 cylinder turbo diesel with 190 bhp
Performance: 0-62 mph in 7.6 secs, flat out at 130 mph
Economy: 48 mpg (combined)
CO2 emissions: 143 k/gm