… Honda CR-V i-MMD Hybrid …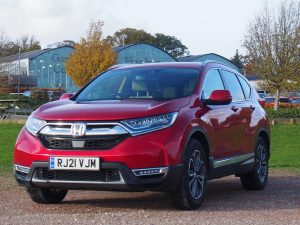 When it comes to family cars, the Honda CR-V is hard to beat. This is a thoroughly likeable and eminently practical motor car. It's also very pleasant to drive, comfortable to sit in and offers a real feeling of security with its solid build and four wheel drive system. This latest version is also a Hybrid, but a mild hybrid. That means you can't plug it in to recharge it.
This latest CR-V Hybrid version has a 2 litre petrol engine with two electric motors. One of the electric motors is used purely for propulsion whilst the other is a generator. This might sound rather odd, but the petrol engine operates on the Atkinson internal combustion cycle principle. The trick here is that instead of closing the intake valve in the Atkinson engine it stays open slightly longer. With less pressure in the cylinder, the piston doesn't have to work as hard to overcome friction, which in turn improves fuel efficiency. So although the car relies primarily on its petrol power the electric motor can provide additional power as and when needed.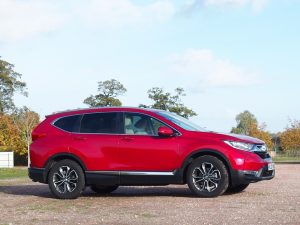 The CVT transmission itself is operated simply by switches rather than a 'gearlever' while the regeneration side of things is managed by paddles behind the steering wheel. The driver can use these paddles to set the required amount of retardation which in turn generates more electrical power to charge up the battery pack. In full retardation mode the driver can actually drive the car quite safely without having to use the brakes as a simple 'lifting-off' of the accelerator creates sufficient 'regeneration drag' to bring the car to a halt. Admittedly it takes a little skill and practice to make best use of the system, but it can be fun!
That all might sound a tad complicated but the end result is a very smooth delivery of power thanks to Honda's own unique 'intelligent Multi-Mode Drive' which manages the whole power delivery system while the driver just gets on with steering and stopping. And it's all pretty much silent.
However, the driver can opt for one of three 'driving modes' depending on his or her mood – EV, Econ and Sport.
In other words, to 'charge up' this electrically powered vehicle you don't plug yourself into the mains for hours on end, simply fill up with petrol as normal at a filling station and then make your own electricity on the move. Simples, eh?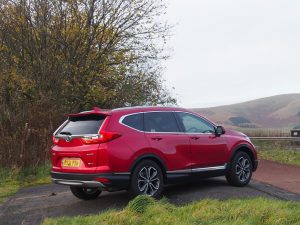 Honda claims a fuel consumption figure in excess of 50 mpg but I couldn't better much more than low 40s over a week of use, so it does beg the question where is the fuel and environment savings? There is of course the chance to use electrical power alone, but this is short range and best suited for those on a regular traffic jammed or busy commute. I suppose it does offer slightly better overall fuel consumption figures and much reduced CO2 emissions than other SUVs of its size and on that basis it has to be good, even if not as good as one might expect.
One drawback which might put off some folk is the towing limit which is a rather disappointing 750 kgs.
No doubt the technology will improve but having had a lot of experience of the public charging infrastructure in central Scotland over recent months, I know which system I would prefer!
Technology aside, it's the rest of the car that completes the appealing package. It's not the quickest SUV around but it is just about the most relaxing to drive and combined with comfortable seats and a roomy interior this is a nice place to be. Add to that a fairly soft and pretty supple suspension which allows the occupants to waft along in almost complete silence and enjoy the 9 speaker plus Sub Woofer DAB radio entertainment system.
That's all pretty good but it's Honda's attention to detail that carries the day. For instance, the centrally mounted sunglasses holder above the windscreen has two drop down positions. Fully open allows access to the contents but locked in the half open position reveals one of those wide angle curved 'child-view' rear mirrors which allows the driver to keep an eye on squabbling weans in the back seat or baby asleep in the child seat.
As an alternative to full electric or 'normal' combustion engine the new Honda i-MMD Hybrid provides another novel and interesting option for anyone looking for a new car. It has all the convenience of a petrol powered motor with the power and silence of a electric propulsion, and whilst it doesn't offer the same fuel consumption savings as a fully electric motor, it does offer a noticeable improvement.
Prices for the 2WD versions start from around £30,000 but the top spec 4WD models can cost up to ten grand more.
There is one other point to bear in mind. Many of the public chargers which I use are now sporting a sticker which states how much each kWh (kilowatt hour) of electricity will cost. Currently it's 30p but with the Government and private companies in charge of pricing, there is only one way that is likely to go – once we're all converted and held captive!
And given the current state of public charging in Scotland, this Honda will do for me!
Honda CR-V i-MMD Hybrid
Review Date: 20 November 2021
Price: £40,420 (as tested)
Engine: 1993cc, 4 cylinder petrol (144 bhp) with two electric motors
Performance: 0-62 mph in 9.2 secs, flat out at 112 mph
Economy: 51.4 mpg
Emissions: 126 g/km
[Back to Top]