Ford Mondeo Vignale
The trip to Mull for the Mull Hire Targa Rally was accomplished in style and comfort thanks to the Vignale edition of Ford's Mondeo. The 'Vignale' label is fairly new and signifies a rather more luxurious and refined premium product as Ford continues to prove that its products are indeed worthy of being considered by the posh and the snobbish whose badge of choice usually emanates from the teutonic region of Europe. For the old hands amongst you, think 'Ghia'!
The luxury diamond stitched leather interior is complemented by a machine that manages to combine effortless and comfortable cruising while offering the sporting driver a car that is swift, responsive and sublime on the corners and bends that decorate the road to up the side of Loch Lomond to Crianlarich and thence westwards to Oban.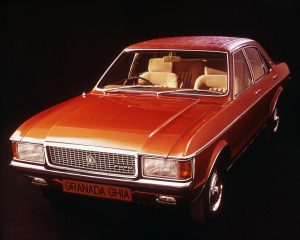 Oddly enough, it did indeed remind me of the 1970s Ford Granada. The Ford Consul and Granada were big comfy motor cars too, but the top of the range Ghia added a dose of armchair velour plushness, wood and leather trim, along with additional 'luxuries' like a rev counter, oil pressure gauge, ammeter, rear ventilation control and a larger centre console!
Fast forward 45 years and the latest Vignale would bemuse a Ghia owner. We tend to take such things as air con, electric windows and fully electronic dashboard not to mention SatNav, reversing cameras and automatic collision avoidance for granted these days, but back in the day this would have been more Star Wars than Captain Scarlet.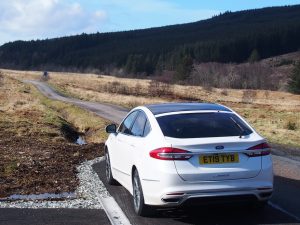 The Mondeo is not supposed to be a sports car, but there's no hiding the fact that this machine has ambitions beyond its status. It might only have 187 bhp and struggle to beat a 9 second 0 to 60 time but on the move, progress is quick and smooth. The 2 litre diesel turbo has enough mid range urge to sweep through a series of bends with impressive urgency when required whilst the 235/40 x 19 provide confident grip without jarring over pot holes and bumps.
The turn-in is crisp, the grip reassuring and the acceleration via the 8 speed auto 'box out the other side is both encouraging and enjoyable. Mind you, using the 'S' mode and the paddles adds to the fun, although at the expense of fuel consumption!
On the other hand, if you just want to sit back and take in the sights, there are few more comfortable places to be. The cabin offers plenty of leg, shoulder and headroom for four while five wouldn't be too uncomfortable.
The only niggle I had was that the driver's electric seat needed just a tiny bit more adjustment. Perhaps it was down to 'newness' as the appraisal car had only done a few thousand miles and the double stitched diamond leather cushion was still a bit firm. For sure the seat was comfy but it was a just a tad too high, even at its lowest motorised setting, for a tall driver with long-ish legs.
The sloping tail enclosed a huge boot which was just as well as the annual Mull trip requires an awfy lot of kit. Besides computers and cameras there is a need for several changes of gear, from wellies and sou-westers to shorts and sandals, plus of course umbrellas and a fleece or two. Mull tends to have its has its own unpredictable climate regularly confounding anything that Carol the BBC weather lady predicts- or guesses!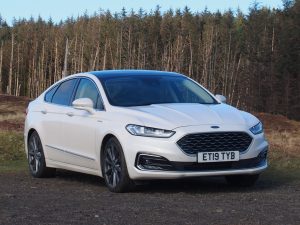 It's a big car, 90mm longer and 25mm wider than a Focus, but it doesn't feel big, although there were one or two sharp intakes of breath on Mull's single track roads.
True enough, over four days, the glorious weather on arrival did indeed turn to rain showers by close of play although the air-con coped admirably with the condensation inside the car when driving and splashing around.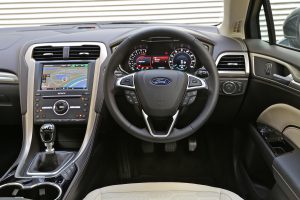 The Platinum White paint finish added £250 and the Panorama roof and rear sun blinds added £650 to the £32,240 price, but given the pace, space and comfort of this machine, it's more than a match for anything in its class.
I liked it.
Ford Mondeo Vignale 2.0l EcoBlue
Review Date: March 20, 2020
Price: £33,140 (as tested)
Engine: 1996cc, 4 cylinder turbo diesel with 187 bhp
Performance: 0-62 mph in 8.9 secs, flat out at 138 mph
Economy: 46.3 (actual)
CO2 emissions: 131 k/gm