… Skoda Octavia vRS TDI 4×4 …
Over the past few months as the Government ramps up its intentions to have us all electrically driven by 2030 and the world's car manufacturers struggle to keep up with, never mind get ahead of, legislation, I have been driving quite a few more electric cars.
At the moment I have a love/hate relationship with them. There's no getting away from the fact that electric cars can be every bit as enjoyable to drive as any other form of automotive machine and on that basis they are very easy to like. If you have a home charger and one at your place of work then that's the ideal set-up but if dependent on public refuelling/charge up points then the electric car thing can become a frustration at best and anxiety trigger at worst.
Over recent months I have visited some strange and lonely places to hang about while getting charged up, but that situation is improving. I have four choices locally, one of which is brand new and one has been extended so the infrastructure is gradually improving. Trouble is, the number of electric cars and vans requiring access is also growing.
So just as I am thinking all is well with the world and petrol and diesel vehicles are nasty horrible devices along comes something like the Skoda Octavia vRS Estate and all the doubts and hopes fly out the window. Opinions are turned on their head. Again.
As far as estate cars go, this has to be one of the best. It's the ideal long distance tourer with a huge boot/luggage space for the 'grand tour'. Whether camping, beach combing, hillwalking, sea diving or car booting this has all the space you need.
It begs the question, what's the point of a sports or 'supercar' these days? Quite a few have barely more load carrying capacity than a man-bag with room for a monokini, credit card and toothbrush.
Then there is the issue of speed cameras. France is festooned with the beggars. It's almost as though they don't want the fast living and well heeled to visit Nice and Monaco any more.
On that basis any car will do for a cross continental excursion since maximum speeds are limited and urban limits and congestion charges hit everyone. With that in mind the best choice is a comfortable cruiser with bags of room for all the luggage on the way out and all the tourist tat and souvenirs on the way back, not to mention supplies of the local wine or beer. Just slide back the sun roof and enjoy the trip.
That's where the estate car comes in and if you have one that can cruise easily and frugally at 70 mph while providing all the comforts of a car costing twice or even three time as much then you might just have the Skoda Octavia vRS in mind. The test car also came with the all wheel drive option so if you were planning a winter trip, rest assured, this will get you closer to the slopes.
With a full tank range of 600 miles plus, it really is a car for all seasons, holiday camping carrier or winter ski holiday holdall. On the motorway cruise I was getting 57 mpg and 48 dotting around town, and that could be bettered quite easily by someone in less hurry.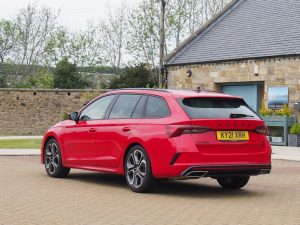 It can also double up as a weekly business commuter and weekend fun wagon. That's because it has performance to match the badge. The 0-60 time is indecent for a diesel machine covering the sprint from rest to 60 in just over 7 seconds and if you do take it to track days, the suspension is firm and predictable while attempts to reach the top speed of 152 mph can be made without the threat of Mr Plod paying a visit. The 7 speed DSG gearbox also takes the strain on long trips while adding a little extra zest to quick road trips and track days.
Even with 19 inch rims, the ride is on the comfortable side of firm and there's plenty of grip courtesy of the 225/40 Goodyear Eagle F1 tyres. I've always reckoned the Goodyear option is bit a kinder to one's posterior when choosing low profile tyres.
This is a thoroughly likeable car to live with and enjoyable to drive and just another reason to delay the switch to electricity. It's fast , frugal and fun. It's got oodles of space inside and a quite luxurious comfortable interior. It's also got four wheel drive.
And then there's the price. As I said, just when you think electricity has got this automotive business licked, along comes a car like the Skoda Octavia vRS. At 34 grand it will also give those electric cars a decent run for their money!
Skoda Octavia vRS TDI 4×4 Estate
Review Date: 20 June 2021
Price: £34,315 (as tested)
Engine: 1968cc, 4 cylinder diesel with 197 bhp
Performance: 0-62 mph in 7.4 secs, flat out at 152 mph
Economy: 48.3 mpg (combined)
Emissions: 132 g/km
[Back to Top]