Audi Q2 35 TFSI 150PS S Line S tronic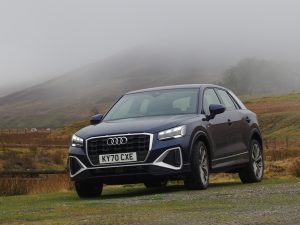 Introduced 5 years ago, the Audi Q2 marked another step towards the increasing public preference for and adoption of SUV styling over the traditional three box saloon and hatchback configurations. Considering the wide range of saloons, hatchbacks, crossovers and SUVs on offer, the fact that this is Audi's third best selling model highlights the shift.
Driving this change must be the sheer practicality of such cars. They sit slightly higher on the road compared to traditional saloons which makes getting in and out a lot easier and once inside the higher roof line makes them feel bigger and more spacious. The higher boot floor also takes some of the heft out of loading and unloading heavy bags and luggage.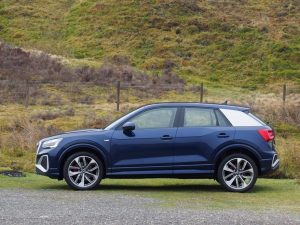 This latest Q2 from Audi takes the concept a stage further adding the company's renowned build quality and thoughtful design to an even more appealing vehicle.
That also adds to the initial expense with the Q2 range starting from around £30,000 while the test car had nearly £10,000 worth of 'extras' bringing the price to just over £40,000! That won't concern traditional Audi buyers too much but it might make other folk want to look around a bit more to see what else is on offer at that size.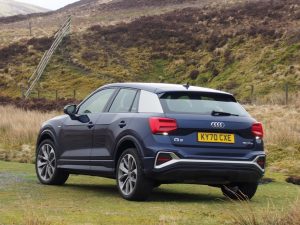 On that basis, it's better to have a serious think when looking down the options list. For instance, the £1250 spent on the 19 inch rims and tyres has more to do with fashion and looks than practicality and comfort. That's not to suggest the suspension can't cope, because the ride, although firm, is pretty well composed at all times. The damping absorbs most of the undulations and shocks and it's only when riding over rippled or rough surfaces that a harshness is felt.
In fairness to Audi, the test car was still running on Pirelli Winter 240 SottoZero Serie II 235/40 x 19 tyres, the low profile sidewalls no doubt contributing to the harshness over poor surfaces. So unless you're going to visit Santa, stick with a set of 18s or 17s and a tyre with sidewalls! This is however, a minor complaint, because the standard suspension is really pretty good even on winding country roads.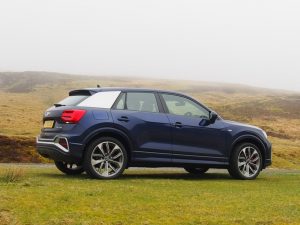 Enhancing that pleasure is the 1.5 litre turbocharged 4 cylinder TFSI engine producing some 148 bhp which is good for a sub 9 second 0 to 60 time. That doesn't sound too quick, but it is quite perky on the move and since the car handles so well, it can be fun to drive. It can also be quite relaxing with its 7 speed S tronic gearbox, or if you want to add a little chilli to the mix, switch it into Sports mode for added fun. Then once you hit the motorway or A road, switch back into Normal and it's as smooth as you like for the cruise home. Smooth enough to allow the kids in the back to eat their ice cream without dunking their faces in it.
Audi reckon fuel consumption to be around 44 mpg in general use although during the test week the car was averaging 37 mpg, but then again, it spent quite a bit of time in 'Sport' mode!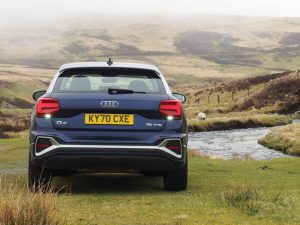 This latest Q2 also had new (optional on lower specs) )adaptive Matrix LED headlights with LED rear lights and dynamic indicators. The new-look grille was also fitted into a re-styled front end and matching rear end which helps to make this compact SUV stand out from the crowd. It really is a smart looking motor especially in the Navarra Blue body colour.
The boot is quite shallow but of more importance was the (optional) space-saver spare wheel and jack at £125 under the floor, rather than the almost standard bottle of skoosh and compressor these days. Given the quality of the roads in Scotland, I'd rather have a spare wheel, or space-saver at least, any day.
The result is what you'd expect from Audi. A stylish, good looking car that's reasonably quick, handles well and is pretty comfortable inside. I really liked it.
Audi Q2 35 TFSI 150PS S Line S tronic
Review Date: 20 April 2021
Price: £40,025 (as tested)
Engine: 1498cc, 4 cylinder turbo petrol with 148 bhp
Performance: 0-62 mph in 8.6 secs, flat out at 135 mph
Economy: 44.8 mpg (combined)
Emissions: 144
[Back to Top]