Hyundai Santa Fe
At 4.7 mtrs (15 feet) in length and 1.9 wide (6ft) the Hyndai Santa Fe is not for the faint hearted. It's as big as a Transit, a proper one that is, the old school square boxy ones. But what you get in the Santa Fe are seven seats and acres of room for 6/7 people, or for two people and all their goods and chattels with the rear seats folded down.
It's also remarkably comfy, and that's despite running on 19 inch rims. That's helped by the Contisport Contact 235/55 tyres which have a decent sidewall compared to some of the rubber thongs that adorn other large cars and their 19 or 20 inch rims. Hyundai have gone for comfort with the Santa Fe and they have succeeded.
Enhancing the experience is the kit already loaded up on board. If you think the Korean manufacturer can't match the best of the Euro-istas, think again. To start with it's got electrically operated and heated front seats and the two outer seats in the middle row are heated too, so if you do have to take the in-laws out, there will be no complaints from the back! It's also got a heated steering wheel and the electric folding door mirrors are heated as well, a boon on frosty mornings.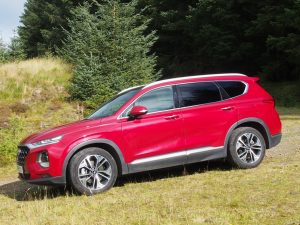 It's got parking sensors front and rear and a rear mounted camera with reversing guide. It even has an all round camera view, not the sort of thing you might expect to find in one of these so-called 'non premium' large 4x4s'. But really, the Santa Fe is a match for anything out of England's or Germany's executive stables.
The big car rides well and drives well but it's not quick. Who cares? You don't buy this for track days, this is a car for day long cruising in comfort or tackling access to the ski slopes or shooting moors. A sub nought to 60mph can be achieved and its top speed is in the realms of 127mph, but where it excels is through the gears. Once the turbo starts spinning up the pace belies its size!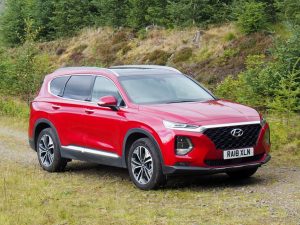 Ensuring that forward momentum is obtained in all conditions, the car uses Hyundai's newly developed HTRAC system. The name comes from the Hyundai 'H' and the first part of the word 'traction'. This monitors and adjusts the variable torque control which ensures the agile handling and enhanced torque application depending on wheel grip and vehicle speed.
In combination with the drive modes, HTRAC improves acceleration, stability and fuel efficiency. The system increases traction on snow, gravel and on regular road surfaces while enhancing cornering performance. There are three new Drive modes, starting with 'Sport' which delivers improved acceleration with up to 50 per cent torque distributed to the rear wheels. In 'Comfort' mode, it offers improved stability with up to 35 per cent torque distributed to the rear wheels. 'Eco' mode provides improved fuel efficiency by sending between 80 per cent and 100 per cent of torque to the front wheels. And for added security, in slippery conditions the system automatically distributes power to all four wheels, for optimum stability.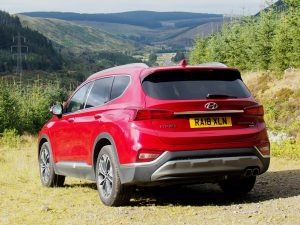 Also, for added comfort, there is an optional 'self-leveliser' which controls the continuous ride height regardless of the vehicle loading by a self-contained damping and levelling control.
It's not just a big and comfy cruiser, it has a very practical side to its nature. The 8 speed automatic version can tow up to 2 tonnes while the 6 speed manual version has a towing capacity of 2.5t. There is just one downside to the 200PS, 2.2litre motor and that is emissions. The car sits in the 171-190 VED tax band so check that out too when comparing other cars. And if you specify the over-40 grand top-range model that will incur another annual charge so be prepared for that too.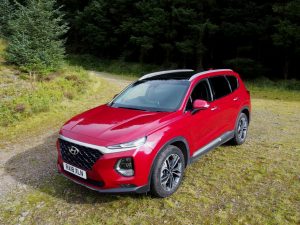 Ok ,so you will pay around £41,000/£42,000 for this top spec vehicle, but the range starts from just over £31,000 so they are well worth a look. But if you still baulk at the thought of 40 grand then just compare the spec with other similar sized vehicles that you might be contemplating and then compare the Price Lists. It also comes with a 5 year unlimited mileage warranty.
You get a lot of car for the money. And a highly desirable car at that.
Review Date: September 19, 2019
Price: £40,685 (as tested)
Engine: 2199cc, 4 cylinder turbo diesel with 197 hp
Performance: 0-62 mph in 9.4 secs, flat out at 127 mph
Economy: 47.0 mpg (combined)
CO2 emissions: 174 k/gm