Nissan Juke Tekna …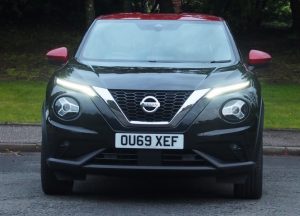 Hard to believe but the original Nissan Juke was launched almost ten years ago now, and hasn't the ugly duckling turned into a handsome swan? Maybe that's a bit harsh, but the original car with its bug-eyed headlamps and bulging haunches looked different at best, and at worst? Just looked odd. And yet it was an instant hit with the buying public. It wasn't quite as roomy inside as the exterior suggested, but it paved the way for small SUVs to become more widely accepted.
The latest version has taken that initial appeal and re-fashioned the styling which might just make it appeal to an even wider audience. The result is a rather more sophisticated machine which has matured its cheeky looks and created more room inside while retaining its compact exterior dimensions.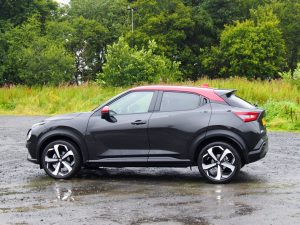 Under the bonnet there's just one engine choice, a 1 litre, 3 cylinder job with a choice of 7 speed auto, or 6 speed manual at 3 grand less. Why bother with a range of engines when electrical motors are galloping silently over the horizon? This will do all it needs to do until the electrical option arrives.
The latest DIG-T engine delivers some 115bhp which offers a decent turn of performance in a car which weighs just under 1300kgs. Nissan reckon that is should achieve a 'combined' fuel consumption figure of 44mpg but in real world motoring, I was getting around 39mpg which is par for the course these days for a 1 litre engine.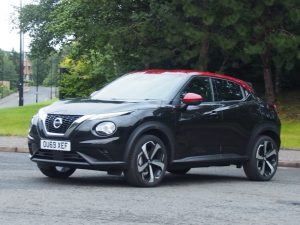 Perhaps that figure could have been bettered, but the car is such a delight to drive that perhaps average speeds were higher during the appraisal than they might have been commuting around town!
That's also down to the 'Sport' mode in the auto'box (with paddles) and an overboost function which increases torque momentarily from 133 lbs ft (180Nm) to 148lbs ft (200Nm). It doesn't make a huge difference but it feels and sounds better. The 10 seconds plus dash from rest to 60mph actually feels quicker than the clock would suggest and would theoretically propel it onwards to 112 mph if you hired a race circuit for an afternoon!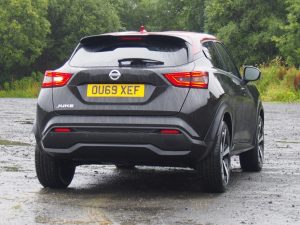 But that's not what the new Juke is about. Perhaps the biggest improvements over the old car is the bigger boot. I don't know if you've noticed but prams, push chairs and carry cots are getting bigger these days. Despite their lightweight materials and collapsible packaging all the acoutrements of 'bringing up baby' are pretty bulky and with push chair and baby box inside it doesn't leave much room for the weekly shop.
Nissan has addressed this with a 'flexible floor' which either runs level with the top of the rear bumper or opens up to reveal a much deeper recess making the boot itself 'taller'. A big help.
The suspension is on the firm side of comfortable which reduces roll on the corners, and although well damped, controlling compression and rebound, it does transmit bumps and ridges to the passengers. That might also be down to the choice of 19 inch rims on the test car, but that's a matter of personal taste. Good looks, or ride comfort, you decide. That's not to say the ride is bad but it's no better than its compact SUV rivals.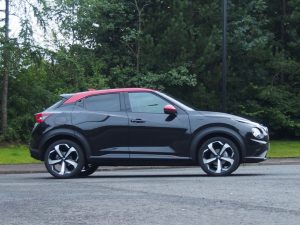 Prices start from just over £17,000 for the entry level machine but the Tekna test car was priced at just under £24,000 with almost a thousand pounds extra for the Fuji red roof and mirrors and shark fin antennae. Inside the car the leather and alcantera seats provided comfortable accommodation for four (five at a squeeze) and came with all the electronic driving aids that are pretty much standard on all new cars these days.
This includes Nissan's own Pro-PILOT system which combines intelligent cruise control with 'Lane Keep Assist' and 'Traffic Jam Pilot' which works eerily well, until the road runs out of white lines! Which kind of highlights what motor manufacturers have to deal with in their quest to build fully autonomous cars – an ageing and deteriorating highways infrastructure!
The cheeky looking tyke has matured into a rather more sophisticated adult, and is all the better, and more likeable, for it.
Nissan Juke Tekna
Review Date: Aug 19, 2020
Price: £24,870 (as tested)
Engine: 999cc, 3 cylinder petrol with 115 bhp
Performance: 0-62 mph in 10.7 secs, flat out at 112 mph
Economy: 47.9 mpg (combined)
CO2 emissions: 116 k/gm
Insurance Group: 13
[Back to Top]