Ford Fiesta Active mHEV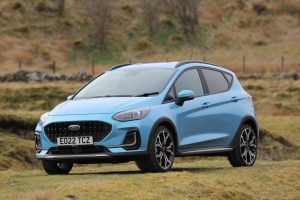 To say that the Ford Fiesta is one of my favourite small cars is not entirely accurate. That's because there is not just ONE Ford Fiesta, there are several, the Fiesta, Fiesta Active, Vignale and ST, and within those there are multifarious options to further confuse the potential purchaser. However, spend a bit of time with the Spec sheets and you could end up with your ideal small car.
Having said that, it could be argued there is no need for an estate version because the Ford Courier Tourneo is the front half of a Fiesta and the rear half of a van with extra seats.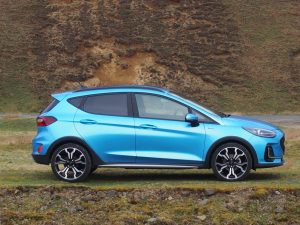 I suppose you could call the Fiesta, the 'people's car', because for most folk there will be one car and spec to suit specific needs and tastes. All you have to do is go into the Ford website and lose yourself in the various Trend and Titanium models and options to find it.
Personal preference would probably have the 197 bhp ST version, it's a hoot. But for more sensible everyday and all weather use the Fiesta Active would be the choice for many. That's down to its various built in 'Driving Modes', one of which is the 'Trail Mode' and complemented by a 'Slippery Mode' both designed to keep drivers going whether it's muddy and rough off-road, or merely snowy and ice covered on-road.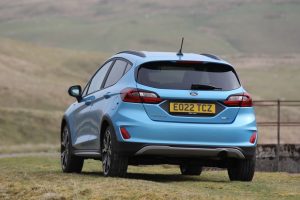 The other advantage of the Active is that it has a little more ground clearance than the normal saloon. A couple of inches may not sound much but for certain sections of the population that can actually be quite crucial.
For instance I took an elderly friend out for our regular curry night and when I turned up in the Fiesta, he said "I'll never get in that, but if I do I'll never get out." He did and he did.
Aided by a wide front door and not too steeply angled front A pillar he was able to reverse into the seat, swing his legs in and shout "Wagons ho!" That's an in-joke. His wife doesn't like curries, and takeaways apparently don't taste the same as sitting-in, hence the regular curry outings!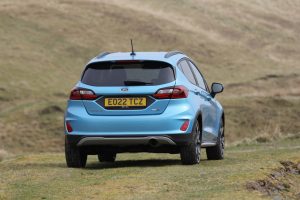 To then label the Fiesta as an old person's car is quite wrong because it's ideal for a youngster's first car too. That's down to the nimble handling and peppy performance plus it's easy to park and will turn on a sixpence, and if you don't have a tanner, a small copper will do. Even the basic 95 bhp one litre three-pot offers oodles of fun and safe handling and now there is a rage of hybrid options being added to the list.
These EcoBoost Hybrid models have a belt-driven integrated starter/generator (BISG) in place of the standard alternator, enabling recovery and storage of energy during braking and coasting to charge a 48-volt lithium-ion, air-cooled battery pack.
The BISG also acts as a motor, integrating with the engine and using the stored energy to provide torque assistance during normal driving and acceleration, as well as running the vehicle's electrical ancillaries. The technology can restart the engine in just 350 milliseconds, enabling the Auto Start-Stop system to turn off the engine even when coasting to a stop below 25 km/h (15 mph). Ford reckons this can provide a 5 per cent improvement on fuel consumption compared with a non-hybrid 123 bhp one litre EcoBoost engine, with savings of up to 10 per cent in city driving.
There is even a 7 speed auto option but really the six speed manual gearbox is such a wee sweetie that's half the fun of the drive.
My elderly friend probably wouldn't like the back seat. Although there's plenty of room once inside it would be more of a sprachle getting in as the rear doors are not quite as wide as the front. Having said that, this is a roomy four seater small car with a modest boot.
The test car was a top of the range Active Vignale version with the 153 bhp motor and it's simply a joy to drive. Good seats, ideal driving position, a six speed 'box that clicks into gear like a Swiss watch and steering that 'talks' to the driver. It's no road burner although a sub nine second nought to 60 mph time is pretty smart enough, but it's speed through the gears making that little three cylinder job sing is a real treat for the ears.
Fuel consumption isn't too bad although many folk seem to expect better. There is a common view that the smaller the engine the better the fuel consumption, that only works up to a point. Every engine has to haul a load and the heavier the load the harder it has to work, hence more fuel is consumed. Therefore compromises have to be made whether vehicles are over-engined or under-engined.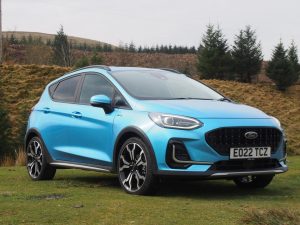 In the case of the Fiesta, the one litre engine is a good match although it might not be ideal for an S-Max or a Custom van. Ford claim a fuel consumption of over 50 mpg whereas I was getting around 45 mpg but that had more to do with my driving style. If driven more moderately and sensibly, in excess of 50 mpg can be achieved, but if enjoyment is the driving factor (!) then expect that figure to fall. And it fell with me! It really is a treat to drive.
Base price for the Active Vignale is £24,440 whereas the test car came with extras including new 'smart' matrix LED headlamps, the Driver Assistance Pack, Parking Pack and B&O premium sound system adding over two and half thousand to the price.
The Fiesta Active is a real all rounder. It's not just for the elderly or the young, it would be great for small families too.
A modern day Morris 1000?
One more thing. That little jewel of an engine was designed by a Scotsman!
Ford Fiesta Active Vignale mHEV
Review Date: 18 April 2022
Price: £27,040 (as tested)
Engine: 998cc, 3 cylinder petrol with 153 bhp
Performance: 0-62 mph in 8.9 secs, flat out at 136 mph
Economy: 53.3 mpg (combined)
Emissions: 120 g/km
[Back to Top]