… SsangYong Musso Rhino …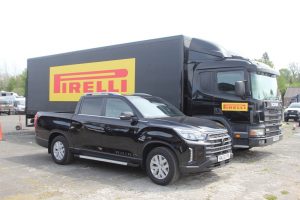 This top of the range version of the SsangYong Musso is well named the 'Rhino' with its almost unmatched ability to carry and tow. SsangYong reckon it is the only UK-spec pickup that can carry a full one tonne load in the back while towing at its maximum capacity of 3.5 tonnes. With a gross train weight of 6.9 tonnes and a total local capacity of 4640 kgs, I'm inclined to agree.
However, that ability comes at a price. This being the most serious workhorse of the range, it has a leaf-sprung rear end as opposed to the standard rear multi-link independent suspension as fitted to the other models in the line-up. In other words this has gone beyond the leisure and lifestyle market appeal in favour of carrying more weight and working even harder.
In doing so it has lost a bit of ride comfort at the expense of increasing workload but it has lost none of its interior comforts. Those who might prefer rubber mats and tough fabric seats will just have to be careful with workboots on the floor and overalls on the leather.
The seats in fact come with heating and cooling elements and are matched with a heated leather rimmed steering wheel plus all the expected 'extras' these days such as aircon, phone connectivity, SatNav and the reversing camera which is especially welcome. This LWB Rhino version of the Musso is 410mm (16 inches) longer than the standard pickup which is just slightly over 5 metres.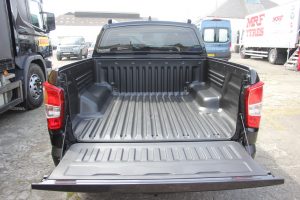 That provides an impressive loadbox volume which is 1610 mm (63 inches) long, as opposed to 1300mm (51 inches) on the other models, although it is the same width as the others at 1570 mm (61 inches) between the wheel arches and 570mm (22 inches) deep.
The 2.2 litre, e-XDi220 diesel engine produces 199 bhp with 441 Nm torque at 1,600 to 2,600 rpm although I didn't get a chance to try it out fully loaded – that would take a longer test appraisal session. It's matched up to a six speed automatic transmission which is designed to cope with work demands rather than sporting needs although it does have a 'Sports' setting which is 'unambitious' in its claims! There is however a wee thumb switch on the side of the 'gearshift' which allows manual gear selection when and if required.
Given the leaf sprung rear end this is a not a vehicle to be hustled around country roads. It's perfectly OK on smooth tarmac but where the roads are lumpy and bumpy it can send shudders through the body and steering, but that's the difference between vehicles designed for leisure lifestyle appeal as opposed to serious business use. So if you're travelling across country just back off the loud pedal and enjoy the scenery.
I suspect that those who criticise ride quality haven't quite appreciated the reason for the difference. Of course there are other pickups with independent rear ends which can tow 3.5 tonnes – but they are a lot more expensive. It's also very competent off-road with its four wheel drive system, which runs in rear wheel drive form till total traction is required and no doubt contrubutes to the 31 mpg return.
And surely that's the basis on which the Musso Rhino has to be assessed. You get a lot of truck for a lot less money.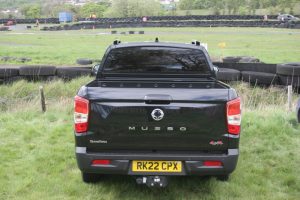 If you want a more 'sporty' truck then the Musso range starts with the standard wheelbase EX at £28,263 (incl VAT), the Rebel at £33,063 and the Saracen at £37,143 and these will provide a better ride quality than the LWB Rhino. You pays your money and takes your choice!
The Rhino will appeal to those towing the bigger car trailers, plant hire operators and big boat and caravan owners, although you might just need one of these if you keep a couple of pet Clydesdales!
Styling is a personal thing, but you can't doubt the vehicle's working credentials and interior comfort.
SsangYong Musso Rhino
Review Date: 17 May 2022
Price: £38,343 (incl VAT and as tested)
Engine: 2157cc, 4 cylinder diesel, 199 bhp
Performance: 0-62 mph in ?? secs, flat out at 113 mph
Economy: 31.0 mpg
Emissions: 245 g/km
[Back to Top]