… Ford Puma ST …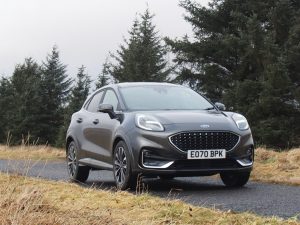 The Ford Puma is an SUV, or maybe it's a Crossover. It's hard to tell these days what cars are any more. Is it a family car, a commuter car, shopper express, holiday holdall, continental cruiser, weekend runabout, adventure outing supporter, or sports car? You know what, it's all of those. This in fact is something that Ford is really pretty good at, taking one car and make it fit many purposes and desires.
It reminds me of an almost forgotten statistic that a Ford exec once revealed at, of all things, a Ford Transit launch in Munich some 15 or 16 years back. He said that if you take all the options, specifications and derivatives of the Ford Transit there would be well in excess of 1 million variants. From memory, and without going up to the loft to dig out the notebook from that period, it was about 1.6 million.
Rubbish, we all thought. But on the flight home a few of us started murmuring. A Transit is a bluidy van for gawd's sake. It's a box on wheels with doors. Of course it is, but how many doors? Two hinged doors at the front for the cab, one or two sliding side doors and either twin barn doors at the rear or a tailgate. Then there's seats. Two up front or three, and then three in the back if you go for the double cab in van option. 1.6 million? Rubbish.
Short, medium or long wheelbase, standard, medium or high roof or even the monstrous 'jumbo' size extra long and high roof job. Four wheels or six. Steel wheels or alloys, and what size of wheels? Trouble is, it's not just vans. Transits comes as tippers and flatbeds, pickups and box vans, plus bare chassis for the coachbuilders to work their own specialised magic.
Then there are the engine and drivetrain options. FWD, RWD or 4WD, manual or auto 'box and choice of final drive ratios.
And all that is before you arrive at the colour options. No more of this "any colour you like so long as it's black" business. Nope, any colour you like. Period.
Finally we come to the trim and specification options. Leather or cloth seats, SatNav or not, cruise control, air con, carpets or rubber mats, premium stereo or simple radio, touchscreen controls, reversing sensors or camera, fitted 240v inverter. The list goes on.
And that's before you start on the 'Tourneo' option, Ford's all seater mini bus and crewbus variants.
You know what? We all decided that perhaps 1.6 million variants was a conservative answer. If you multiply all of the options above, never mind the ones we missed out, that figure could easily be millions, plural! Hard to believe? Go count for yourself.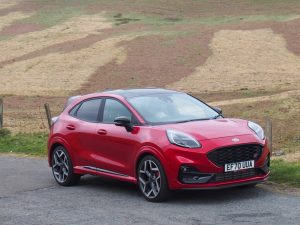 And Ford is doing a similar trick with its cars, not least the Puma, which can easily fit into the one size fits all category of vehicles. That was just one of the reasons it won the 'Scottish Car of the Year' award a year back.
Prices range from around £22,000 to £29,000 depending on what you want/need. The entry level machine has a 1 litre, 123 bhp, 3 cylinder engine whilst the Vignale model provides all the comfort and luxury of a larger SUV in a much more compact format.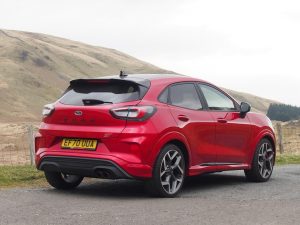 There's also a mild hybrid variant of this engine, but personal preference favours the 1.5 litre, 198 bhp, 3 cylinder job. The same engine that's in the Fiesta ST, and it's a riot.
Putting a big engine into a big SUV is pretty standard stuff these days and creates an executive express much favoured by the rich, famous and successful as well as sundry rogues and rascals. However, extensive suspension modification is required to control these highway heavyweights, so it's an expensive choice.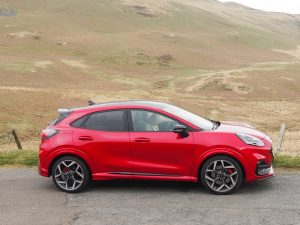 Which is where the Puma ST comes in. At almost half the weight of some of these behemoths, the Puma is almost as nimble as the Fiesta and every bit as quick. Of particular appeal to a certain 'less youthful' generation, the cabin is also a bit roomier and the seats slightly more accommodating than the bum nippers in the Fiesta.
The firm suspension copes easily with the power and it feels just as planted on the road and round corners as the Fiesta. It may not be as outrageously quick as a bigger engined vehicle but it wouldn't get left behind on a twisty road. This is where it excels, it provides all the Ford small car performance feedback for which the company is famous. I dare you not to grin when you first drive it.
In other words this is a seriously satisfying machine to drive and enjoyable to own. Now, if Ford could just put the same engine and drivetrain in a Ford Transit Connect. Now there's a machine!
Ford Puma ST
Review Date: 17 May 2021
Price: £28,495 (as tested)
Engine: 1497cc, 3 cylinder petrol with 198 bhp
Performance: 0-62 mph in 6.7 secs, flat out at 137 mph
Economy: 41.5 mpg (combined)
Emissions: 155 g/km
[Back to Top]