… Land Rover Defender 90 SE …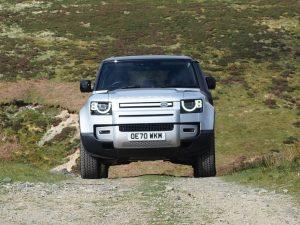 I'm puzzled. I have no idea who the new Land Rover Defender 90 is aimed at. It has four seats but works better as a two seater, or a 2+2 at a push. Of course it will go anywhere but an explorer won't be able to take much survival equipment and provisions with him/her unless the rear seat is folded down and a roof rack is fitted. It would be of little use on sporting estates unless only one guest has bought the shooting rights. It even fails the dead sheep test so farmers won't be interested. As an off roader it requires little skill from the driver, even a numpty could reach unreachable places although he/she could still be caught out if they wade too deep or climb too steep. On that basis, it's about as much use as a Whitworth spanner in a metric toolbox.
So I'm puzzled, who would want such a machine? For a start – me! I loved it.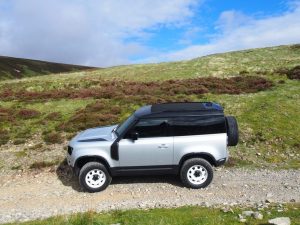 This is the ideal runabouting off-roader for a childless selfish couple. As I said there are indeed four seats in the vehicle and even with its two wide front doors, getting into the back seats is a right sprachle, and even worse when folks want to get out. Admittedly the younger and more nimble the passengers the easier it will be for them to negotiate the front seat mountings but if you want to strap a toddler into a kiddie seat, forget it. Besides, the pram will need to go on the roof.
Similarly if you don't want to take out the parents or grandparents or even the in-laws, this machine provides the ideal excuse. Even if they wanted to go, they couldn't get in – or out. It's as selfish a machine as a Jaguar F Type. In other words the new Defender 90 is the ideal two person private car or second car for the family man who just wants to get away from it all at weekends.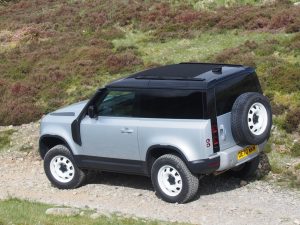 That's all a bit harsh of course but seriously it works better as a two seater than four. For sure the rear seats are comfy and there is plenty of head and shoulder and even leg room once seated but it requires an athletic and determined approach to gain entry. Getting out presents even more of a challenge. It's not as if one could stand up and turn around. Head first, or reversing out butt first, requires even more dexterity. Having said that if the car is fitted with the £1615 air suspension it could be lowered to make the job a little easier, or raised if you don't like the passengers in the first place. On the other hand you could specify a sun-roof and use a step ladder to scale the outside and drop in through the roof. Much easier!
However, it's only the rear seat passengers who will find life getting awkward. The new Defender is much bigger than the old one. It is 440mm (17 inches) longer and 206mm (8 inches) wider. I know this because I have a double gate at the rear of the house. In the past I only needed to open one to reverse in the old Defender but I had to open both to get the new one in! It's also half a tonne heavier. The towing limit has also been increased greatly, now up to 3500kgs.
In other words, this not a re-modelling of the old, this is new from the ground up. The only similarities are the badge and the name.
Naturally, many of the 4×4 purists don't like it. They want multiple gearbox levers, lockable diffs, manual handbrake levers and be able to fix it with a lump hammer and blunt screwdriver but the industry has moved on. We're all a bunch of softies these days, only the old timers want draughts, drips and numb bums. Even the farmers have moved on, there is a huge variety of pickups now out there to cater for more agricultural needs. On that basis Land Rover has gone upmarket with the new Defender.
The switch to pickups from Land Rovers was speeded up because of the long gap between the last of the old Defenders and the introduction of the new ones. That gap was 5 years and one wonders if it was deliberate. Land Rover as a company seemed to be moving towards more sophisticated tastes and more affluent customers. Whatever, the long gestation period created a demand for a utilitarian alternative hence the rise of the pickup. That's not the only reason for the rise of the pickup, the leisure market is a big consumer of these 'lifestyle' vehicles.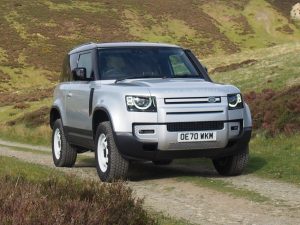 In terms of physical size, one can see where LR is headed. the new machine is much bigger than the previous 'original' so more kit and more comfort can be built in. Also it doesn't fit many of the traditional customers' lifestyles or budgets any more.
Civilisation has reached the serious off road market and even a 'basic' Defender is required to have more creature comforts. And yet the new machine is every bit as capable as the old, perhaps even more capable given the array of electronics built in to cope with any terrain and the skill levels, or lack of them, of any driver.
As for its on-road manners they are quite impeccable, but it's a big tease. It's bulk belies its speed. The 250hp 3 litre diesel engine is supposedly good for 117 mph and it gets off its mark pretty smartly too, dispatching the 0 to 60 sprint in 7.6 seconds. Crazy, eh? And also pretty addictive. 'Commercial vehicles' shouldn't be this much fun, should they?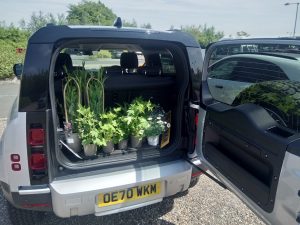 As it stands the Defender 90 is quite unique. It can't be pigeon holed. They aren't too many other 2+2 serious off-roaders out there. I love the soft but well damped ride, and the fact that I can jolt over rough ground without bashing and bruising my right elbow, both knees and seeing stars when head meets roof. This is self preservation not masochism.
But it comes at a price. The 'basic' Defender 90 will start at around £44,000 although this SE version was priced at £51,205 but it also had nearly ten grandsworth of extras including the air suspension, towing pack, terrain response, electronic active differential and other 'luxuries'.
It has to be said that the longer wheelbase four door Defender 110 is a much more practical proposition, but for some lucky folk this will be the only car they ever need, while for others it will only function as a second vehicle. If you want to go where neither man nor motor has been before, this is it.
As for me, the only problem I had was a reluctance to hand it back to Land Rover after a week of pure unadulterated joy!
Land Rover Defender 90 SE
Review Date: 17 July 2021
Price: £61,125 (as tested)
Engine: 2996cc, 6 cylinder turbo diesel with 250hp
Performance: 0-62 mph in 7.7 secs, flat out at 117 mph
Economy: 35 mpg
CO2 emissions: 226-244 g/km
[Back to Top]