… Kia Soul EV …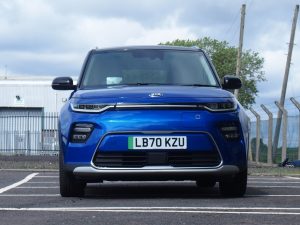 The Kia Soul is a rather unusual looking machine. In fact one observer commented unkindly that it looks like a conventional three box saloon which has been backed into a wall – at speed.
That of course is only one view, there are many others who think it a triumph of function over fashion. At just over 4 metres in length, its compact nature and boxy appearance means it is easier to judge distances and park in awkward locations.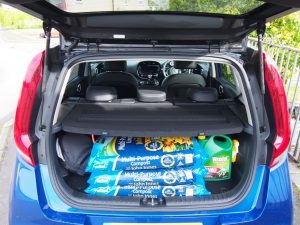 This compact shape therefore gives a clue to its real vocation. Load carrier it isn't, ideal commuter vehicle it most decidedly is.
There really isn't much of a boot behind the rear seats, adequate rather than capacious, but that is compensated by the passenger accommodation. In fact the new car is slightly longer than the model it replaces but the extra space appears to have been used for passenger accommodation rather than luggage space. There's bags of head, shoulder and legroom for four, and the seating position is good, more upright than supine, which improves visibility especially for the driver as well as the passengers.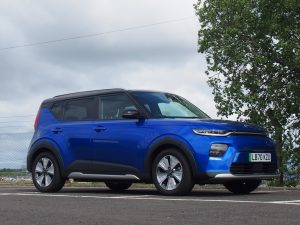 And it's electric! The Soul now comes with a 150 kW drivetrain which is equivalent to around 200 bhp. That means it's quick, but only if you want it to be. Use the power and you use the charge. For instance Kia reckons it will do slightly more than 100 mph and sprint from rest to 60 in 7.6 seconds. Drive like that and you'll need to stop and charge up frequently or have to tow your own generator! Stay sensible and it should be good for 280 miles or even more.
The square-ish shape also means that the doors are a decent size and shape, ideal for the creaky knee'd to get in and out and young Mums strapping kiddies into the car seat in the back. Another drawback for new parents is the fact that it might be quite a squeeze to get anything bigger than a pushchair in the boot with the rear seats up. Even when folded quite a few prams wouldn't fit. In other words, measure up before purchase!
That aside this has to be one of the more sensible and capable electric vehicles on our roads. It can be recharged to 80 per cent in just under an hour using a 100kW charger, or using a 50kW charger the same charge will take about 75 minutes. The last 20% of any full battery charge is always the slowest.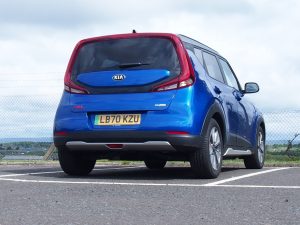 For eco-minded drivers the Kia has a smart regeneration braking system, operated by paddle shifters behind the steering wheel. This has a choice of four settings, there are three regeneration levels (one to three) and a standard mode, and depending on use can make a significant difference to charging on the go. Use of the maximum setting will allow single pedal motoring, that is, press the accelerator to go and as you lift off the 'engine braking' can actually bring the car to a halt. The system can also automatically adjust the braking level if it detects the car in front slowing down. And to keep the driver informed, there's a Smart Eco Pedal Guide display on the instrument cluster which shows real-time battery usage based on accelerator pedal input.
And you know what? Kia is still offering its seven-year, 100,000-mile warranty for new cars, and that includes the electric motor and battery pack.
Kia Soul EV
Review Date: 16 June 2021
Price: £33,795 (inclusive of the £3500 government grant)
Engine: 150kW electric motor with 201bhp
Performance: 0-62 mph in 7.6 secs, flat out at 104 mph
Range: 280 miles (claimed)
CO2 emissions: 0 k/gm
[Back to Top]