Suzuki SX4 S-Cross …
The SUV crossover styling of the Suzuki S-Cross and the reasonable price tag may well attract many potential punters keen on a bargain, whereas the badge on the grille may not have quite the same appeal to those of a more socially aspirational nature. That is their loss. The Suzuki may not have the snob attraction of certain other manufacturer grille jewellery but it does have a lot going for it. If a buyer has a need for a well built, reliable, practical and comfortable car then Suzuki has the answer.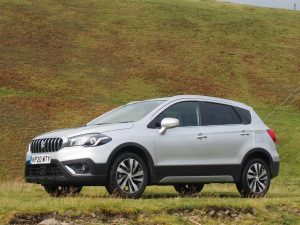 My regard for Suzuki automobiles may well be coloured by a youth spent tinkering with, as well as trialling and enduro riding, Suzuki motor cycles – which I loved to bits. Even when a certain DR350 was so reluctant to fire up on occasion that I spent a few days afterwards limping, after it either refused totally to start (and needed a tow) or kicked me off like a wasp-stung mule, riding the beast more than made up for the heartache. In its defence, mostly it did fire first or second kick, but then again thoroughbreds are renowned for being a wee bit temperamental, are they not?
There were no such trepidations with the S-Cross. This is a very 'mild hybrid', mostly reliant on its 1.4 litre Boosterjet turbo petrol engine for a decent turn of performance supplemented by a 10kW electric motor. This secondary motor is not used so much for top end power, being primarily used in slow moving traffic where the Auto Stop Start system comes into its own. When the engine stops in these circumstances, the electric motor takes over all other functions and then electrically fires up the engine prior to moving off.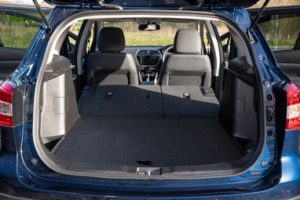 That doesn't sound as though it would generate much of a saving but next time you are sitting on the Edinburgh bypass going nowhere fast or crawling towards the Queensferry Crossing of a morning, just have another think about that. Once on the move, the battery re-generates when driving at a constant speed and during deceleration and keeps it topped up.
Even so the S-Cross is quite nippy with a sub 10 second, nought to 60 mph time and a top speed in excess of 110 miles an hour. No doubt aided by the fact that it weighs less than 1300 kgs! That makes it a really nice car to drive whether cruising on 'A' roads or cutting across country on 'B' and 'C' routes. This latest model sits 15mm higher than the previous one and the suspension has been softened a bit although still on the firm side of comfortable. Mated up to a slick 6 speed shift the engine has more than enough power to entertain coupled with its agility and responsive handling making it feel a bit more like a saloon than an SUV.
The Suzuki is also reassuringly devoid of an over abundance of symbols and functions on its centrally mounted dashboard display screen. Quite often manufacturers like to show off their technology with fancy graphics and moving symbols, whereas with the Suzuki, all you get is a wee warning sized light indicating that it does indeed have an energy efficient electric function and battery.
Otherwise the touchscreen manages the DAB digital radio and SatNav functions while the heating is controlled by a separate switch panel with a couple of temperature adjusting dials. Simple. And yet the car comes with all the in-built safety instigated electronic functionality that we have come to expect in to-day's motor vehicles, like automated emergency braking system, hill hold control, speed limiter, ESP, tyre pressure monitoring system (TPMS) and Adaptive Cruise Control.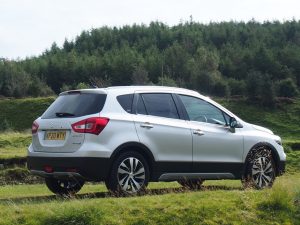 Prices start from around £21,000 for the 2 wheel drive models, but all models have Suzuki's 'AllGrip' four wheel drive option, although this could another £2500 to the price. However, with the Allgrip version comes the top of the range additional equipment.
The S-Cross is a very likeable machine and I would have no problem with one sitting in my drive. That may also be due partly to the company's no-nonsense approach to motoring, something which it may well have learned from its earlier industrial and motor cycling heritage.
Suzuki SX4 S-Cross
Review Date: Sep 15, 2020
Price: £24,249 (as tested)
Engine: 1373cc, 4 cylinder turbo petrol with 127 bhp + 10kW electric motor
Performance: 0-62 mph in 9.5 secs, flat out at 118 mph
Economy: 50.1 mpg (combined)
CO2 emissions: 127 k/gm