… Suzuki Ignis SZ5 …
Car manufacturers shouldn't underestimate the appeal of a flat top dash. For those engaged in more nomadic pursuits, the car is not just a means of transport, it's an office on wheels. Often you will see cars parked in Motorway Service Areas or lay-bys with drivers sitting in the passenger seat and paperwork spread out across the dash in front of them. At least those who have a flat top dash!
Admittedly the arrival of the 'paperless' office and handsfree telephones in cars, with tablets and laptops has reduced the need for order and receipt books, notepads and brochures. It's all on-line these days but the dinosaurs amongst us still hanker for the good old tactile reassurance of a sheet of paper with writing or figures on it.
Of course modern technology is much easier – but only if you can get a signal and don't run out of battery!
Even so, the flat top dash is still something that many outdoor sports reporters and photographers appreciate. Many of the bigger events have fully equipped press rooms, but club, regional and national events simply don't have the resources. Hence the need for folk to sit in cars to write up and send reports or edit and issue photos. Especially in the world of mountain bike events, motorcycle trials and enduros, and of course special stage rallying. Many of these events take place in the middle of nowhere with organisers working out the back of a van or a big tent.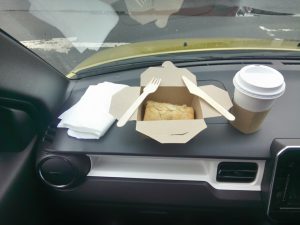 Now I'm not suggesting for a minute that this is the only reason a potential punter should consider the latest facelifted Suzuki Ignis, but the lack of a steeply raked windscreen does indeed ensure that the flat top dash is more user friendly. Admittedly eating a three course lunch off it is not to be recommended, if the steak pie gravy doesn't run down the screen vents then the flaky pastry crumbs will turn mouldy in the footwell. So be careful.
There are many more reasons to like and enjoy the Ignis. This was the mild hybrid version so you could feel smug about driving through town in a 4×4 and be assured that the eedjits with the unkempt hair and hand knitted lumpy cardies won't attack it cos they think it's more cute than butch.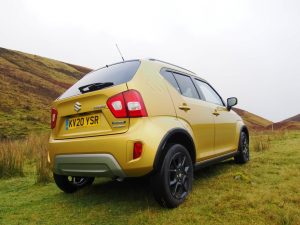 It may be compact but it does seat four in adequate comfort although the fully figured types might feel a bit cramped when sitting side by side. Leg room and headroom is good and the seating is comfortable.
The engine is small too, but it has four cylinders as opposed to the growing number of small capacity 3 cylinder units around. Even so the 1200cc unit has enough poke to make it perky and a hoot to drive on or off road. Suzuki reckons owners should get around 51 mpg for their 4WD models so I thought my average of 53.5 mpg was pretty decent.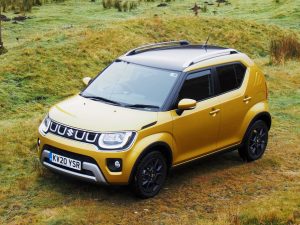 That probably has a lot to do with the weight of the car, or lack of it. It weighs about the same as a prize Belted Galloway Bull, so don't park it anywhere near its harem! At less than a tonne (940kgs) in weight that no doubt also helps with its prodigious off-road capability.
Whether travelling across wet grass or ploughing through mud, the Ignis' ability can't help but raise a smile. A car this small shouldn't be doing this job even with 180mm ground clearance and skinny 175/60 Bridgestone Ecopia 'Summer' tyres. The ALLGRIP 'AUTO' four-wheel drive system utilises an automatic permanent four-wheel drive layout, which transfers additional torque to the rear wheels when required via a viscous coupling. Simple, and yet the system also includes Hill Descent Control and Grip Control.
It's hard to tell what difference the 'hybrid electrification' plays in this fuel economy as the on-board figures only reveal what the self charging automatic stop/start idling time has saved. According to that, after a total of 11 hours of driving the amount of fuel saved was equivalent to 115 miles. To get more accurate figures would need more time and more miles, which wouldn't be at all a chore!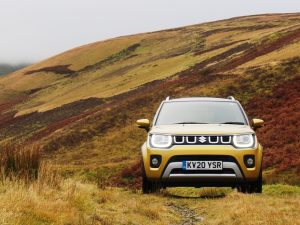 The upgraded 12V Hybrid system incorporates an Integrated Starter Generator which acts as both a generator and starter motor, the ISG is belt driven and assists the engine during vehicle take off and acceleration, and also generates electricity through regenerative braking.
A compact high performance lithium-ion battery under the front passenger seat stores energy and incorporates an idle stop/start function. The hybrid system only uses its conventional engine starter motor when first started from cold, otherwise it uses the ISG unit.
Prices start from £13,999 fort the entry level 2WD models with CVT transmisisons but go up to to £17,000 plus for the 5 speed manual, 4WD range.
For sure there will come a time when the whole country is connected, all cars are electric and everyone has remote access to everything. That will be the day to snap the pencil and burn the notebooks – or maybe not, somebody would complain about the smoke!
It will also be the day that terrific wee cars like the Suzuki Ignis will be consigned to classic car events and museums.
Suzuki Ignis SZ5
Review Date: 23 October, 2020
Price: £17,749 (as tested)
Engine: 1200cc, 4 cylinder dualjet hybrid petrol with 82 bhp
Performance: 0-62 mph in 12.7 secs, flat out at 103 mph
Economy: 55.7 mpg (combined)
CO2 emissions: 114 k/gm