Renault Clio Iconic TCe 100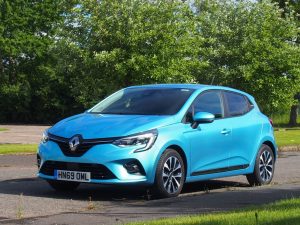 The 1 litre Renault Clio proves one thing – well quite a few things actually. But basically it proves that you don't need oodles of power to enjoy your motoring. Of course it helps, but what you need most of all in a 'driver's' car is a decent chassis with tactile steering, good brakes and agility. For sure it can handle a lot more power, and there are indeed more powerful options in the range, but this was the 99 bhp TCe 100 – and it was a delight to drive.
The brakes are good, should you need them, because corners can be tackled rather more energetically than might be advisable and yet it turns in, steers round and is ready for anything on the way out. More power would be an embarrassment for some.
To emphasise the point, the standard chassis and drivetrain is just so responsive and well matched that you can use all the power without getting into (too much) trouble.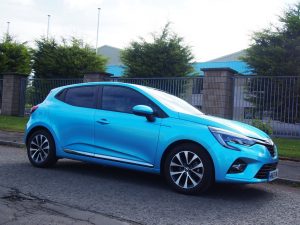 What helps the Clio is the fact that it is not over-tyred with its 195/55 x16 Bridgestone Turanzas and whilst the 0 to 60 time confirms this is not a sports car, it actually feels a lot quicker than the stopwatch would suggest.
It's only got a 5 speed gearbox but unlike some smaller cars it doesn't need a 6 speed unit. The ratios are well enough spaced and it will cruise at 70 mph just as happily and quietly in 4th as in 5th which means you have to keep reminding yourself to change up for the sake of fuel economy.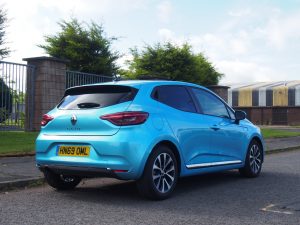 Perhaps more surprisingly, the new Clio is just that, a new Clio. Apparently the chassis and bodywork on this 5th generation version is completely new although it looks surprising similar to the outgoing model. The only really noticeable differences being in the bonnet, front grille and light cluster.
Less noticeable is the fact that the car is slightly smaller but has more room inside. It's also quite appealing inside too. The sports style front seats, leather rimmed wheel on its fully adjustable column and high mounted stubby gearshift just a hand-spread from the wheel give the impression that it is more sporty than it actually is. There's also room for four adults and a decent sized boot.
Base models come with a 7 inch centrally mounted touchscreen with all the modern connectivity that an adult wants – and a teenager needs. And as you move up the range and options list the touchscreen grows to 9.3 inches, but perhaps a more important difference is in the handbrake. It's manual in the lower priced models whereas the more expensive ones have an electronic push-button job. So if you want to do handbrake turns, check the small print!
Prices start from £15,295 although the mid range 'Iconic' model test car was priced at £16,295 and had nearly £2000 worth of extras including a spare wheel (£200), metallic paint (£660) plus the Comfort (£350) and Convenience (£300) Packs and the Parking Pack (£300) which added front sensors and a reversing camera.
Like their 'blue oval' rival, Renault has a reputation for making small, enjoyable, good handling motor cars, and this latest Clio is ensuring that tradition is alive and well.
Me? I thought it was a great wee thing.
Renault Clio Iconic TCe 100
Review Date: June 25, 2020
Price: £18,105 (as tested)
Engine: 999cc, 3 cylinder turbo petrol with 99 bhp
Performance: 0-62 mph in 11.8 secs, flat out at 116 mph
Economy: 48.6 mpg
CO2 emissions: 99 k/gm