… Ford S-Max ST-Line …
It's odd how the mind works, especially the memory. There I was hustling the Ford S-Max down the Dalveen Pass and on towards New Galloway and Newton Stewart heading for Stranraer. Minor roads and back roads all the way, and it called up times past in a Ford Granada. The S-Max looks nothing like a mid 1970 s Granada and handles much better. And yet it conjured up long forgotten memories.
The S-Max may look like a bit of a barge. That's unfair, it's more like a heavyweight boxer. Quite nimble on its feet and with 187 bhp on tap, surprisingly agile for a vehicle weighing as much as, and almost the size, of a Transit.
Back in the mid 1970s, White Horse Distillers sponsored Gavin Waugh and Peter Handy in the White Horse Whisky Group 1 Hillman Avenger – one of the first to roll off the Linwood production line. The PR team followed the rally team in a Chrysler supplied 180 saloon and sometimes the Boss' 3 litre V6 Ford Consul Granada GT Mk1. That cuddly beast rolled around the countryside from Aviemore to Cardiff, from York to Letterkenny, and all points in between. It was like the Ulva Ferry on a bad day, but it hung on. Quick and wallowy, but all the while extremely comfortable with its velour seats.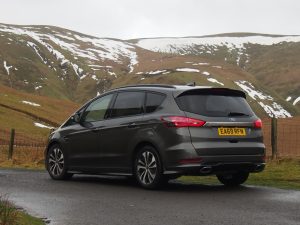 This was a time when the Ford works rally team serviced on the move out of Transits with management teams in Ford Granada estates. Loaded up to the gunnels with trolley jacks, tool chests and fuel cans (!) with wheels and tyres upright on roof racks, these things whistled about the countryside before central servicing brought spasms of idleness and sporadic boredom to the life of the rally mechanic.
Oddly enough, the S-Max conjured up memories of those days. Perhaps it had something to do with the wild terrain through which I was driving and the absence of dense traffic, or perhaps it had more to do with the comfortable, well absorbed ride. Regardless of ditches, puddles and pot holes, the S-Max shrugged them off, cosseting the driver as it surged from bend to bend, rolling gently through each one as it came up.
With its 18 inch 235/50 x 18 alloys shod with Michelin Primacy 4 rubber, even Storm Dennis failed to deflect its progress, tracking straight and true on water-logged the M74.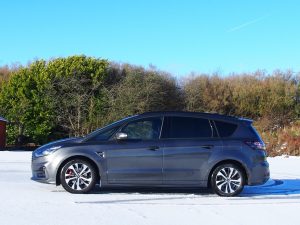 The 8 speed auto also made light work of progress and perhaps was another reason the mind was wandering. It was just so easy to make effortless progress to the extent that arrival in Stranraer was achieved much earlier than intended – leaving some time for sight-seeing. Sad to say, the port of Stranraer is a rather different place to what it was in its heyday when the ferries came to town. It was actually a thoroughly enjoyable run on a cold, wet and horrible day.
The ST-Line sports seats and heated leather rimmed steering wheel enhanced the drive while the Sports suspension provided a somewhat tauter ride than the standard car, but still eminently comfortable. An occasional burst of the 'Quickclear' electric windscreen demister was needed when the rain was heavy, but this is much better than having the fan going full blast to keep it clear.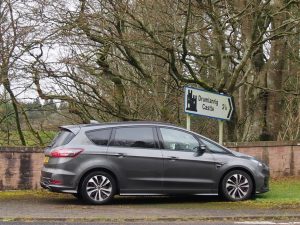 In other words, this would make the ideal 'Chase' car for rally teams. The 7 seat layout would be good for transporting teams and when the rear two rows are folded flat there is plenty of room for all the emergency necessities. It's also got a tailgate so folk can stay dry when working at the rear. And dare I say it, with the dark glass rear windows, it would be quite a 'Q' car if Judges of Fact were on the prowl!
Naturally, this being a modern day vehicle it comes with all the extras such as Adaptive Cruise Control, Lane Keeping Aid, front and rear view cameras, blind spot and traffic sign recognition and the ability to park itself with parallel and perpendicular hands-free parking modes. And having seen some of the efforts of service crews attempting to strike camp in the past, this self-parking mode would be a boon!
On the other hand, as a family car, the S-Max has few equals, and it's quick enough and handles well enough to keep the sporting driver entertained when he or she is on their own. The S-Max ST-Line is priced at £37,510 but this one had a Magnetic grey finish costing £750 while the worthwhile Driver Pack added another £1500.
It's quite a machine, and I could quite happily live with one.
Review Date: February 28, 2020
Price: £39,760 (as tested)
Engine: 1996cc, 4 cylinder turbo diesel with 187 bhp
Performance: 0-62 mph in 10.5 secs, flat out at 128 mph
Economy: 54.3 mpg (combined)
CO2 emissions: 151 k/gm