… Kia XCeed …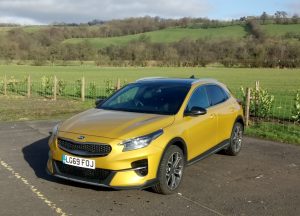 To all intents and purposes, the new Kia XCeed is simply a Ceed that has had a bit of additional iron in its diet, or in this case, plastic. It may not look it, but it is actually longer, higher and wider than the 'standard' Ceed saloon.
That is all down to the SUV inspired styling. The front and rear bumpers are different, it sits on new hydraulic bump stops with a slightly softer suspension and the wheel arch and sill extensions add a little extra girth. It may only be 85mm longer and 26mm wider but somehow the boot is bigger.
The cars sits 48mm higher too and it's amazing how a mere couple of inches can make such a big difference. The slightly elevated driving position just aids visibility that little bit more.
There's no 4WD option on the XCeed, this is purely a styling exercise, but it works. The car looks smart while the softer ride offers a more comfortable everyday driving experience.
If you've got wriggling kiddies to strap into the child seats or heavy bags to heave into the boot, then the few millimetres of extra height will be appreciated by those who suffer sore backs when bending and lifting. In other words, this a proper family car.
The boot has an additional trick too. It has a dual floor, so taller items or bigger bags and push chairs can be more easily accommodated.
In other words, this is a well thought out addition to the Kia family. It's no wonder that Crossovers and SUVs are taking sales from standard saloon cars.
The XCeed offers a choice of engines. There is a 1 litre, three-cylinder turbo petrol engine with 118bhp or a 1.4-litre diesel with 114 or 134bhp, all of which come with a six-speed manual gearbox. However, the test car came with the more powerful option, a 1.4 litre turbo petrol and seven-speed dual-clutch automatic.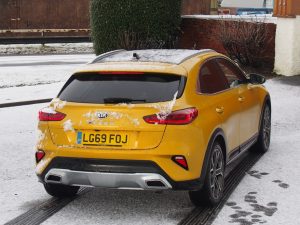 With 138bhp it's certainly no sports car, but it is responsive and reasonably quick with a sub 10 second 0 to 60 mph time. The auto 'box is actually better than some of those I've encountered in cars at twice the price, and includes a 'Sport' mode that holds on to ratios for longer. Just don't book any Track Days with this though.
Inside the car, the 10.25 inch touchscreen is sharp, clear and pretty damn impressive for this class of vehicle. It's also easy to use, with a dual-screen option that lets driver and passenger choose their own functions, although just be careful who you let sit in the front passenger seat. If you are concentrating on the SatNav half, and the passenger has selected Planet Rock on the other half, the SatNav voice lady might just get a bit distracted!
Otherwise the interior is a pleasant place to be. The black finish has been lifted by some contrasting semi-matt silver and body coloured trim while the black faux leather/cloth seats have been lifted with contrast colour stitching designs. It looks good and it also feels good, the seats offering decent comfort and support even on longer journeys never mind the school run.
It drives well too and given the snowy conditions that prevailed at times during the appraisal, that was appreciated. The snow was never deep enough during the test to necessitate 4WD but it was slippery and slushy at times, and it's at times like that, a driver appreciates a car which offers feedback through the steering wheel and seat of the pants.
There was just one wee niggle. A couple of times, my size 11 boot caught something in the pedal box area, possibly at the foot of the steering column or under-dash trim. That was disconcerting but I couldn't see anything when I had a poke about. I'd need a torch to have closer look. So if you have big feet, take a test drive before buying.
Aware of that, I was just more careful when switching my right foot from accelerator and brake and vice versa, although it didn't detract from my driving or my enjoyment of the car.
Prices start from £20,795 although this 'First Edition' top of the range model with panoramic sunroof, heated seats, powered tailgate, JBL sound system and 18 inch wheels was priced at £29,195.
A very smart compact car, I really liked it.
Review Date: February 12, 2020
Price: £29,195 (as tested)
Engine: 1353cc, 4 cylinder turbo petrol with 138 bhp
Performance: 0-62 mph in 9.2 secs, flat out at 124 mph
Economy: 36.4 mpg (actual)
CO2 emissions: 134 k/gm