… Land Rover Defender 110 P400e …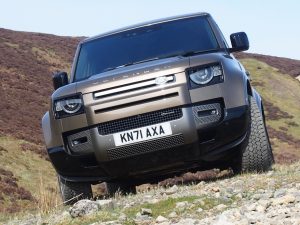 I have already been castigated by bearded and booted purists that the new Land Rover Defender is a not a Defender. But that's the point. Life has moved on. Gone are the days of fixing silent, dead metal with lump hammers and big screwdrivers. Modern transport has become much more sophisticated. Nobody is building cars any more with simplicity in mind.
The majority of today's customers want luxury and comfort, aircon and sun roofs, electric windows and heated seats, parking sensors and cameras, touchscreen displays and electronic dashboards, interconnectivity with phones, internet, homes – and even washing machines!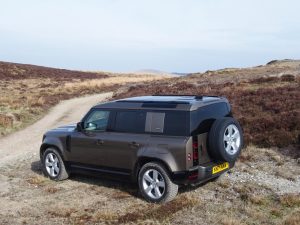 And why are some of the car manufacturers introducing things like Alexa and Google? Because modern buyers want them and modern youth has the financial power to afford them. The customer is (nearly always) right.
Those who think otherwise are living in the dark ages. No car manufacturer can survive these days on simplicity of engineering. Every vehicle now comes with its own assortment of sensors, micro- switches and 'driver aids' for the computer generation.
Of course, for a certain other generation it's only too easy to mourn the passing of a simpler life but we can all appreciate what modern technology can do even if we don't like it or think we need it. In fact many of this generation are horrified by the thought of driverless cars although there are many more who welcome the idea. For them simplicity of transport is the sole aim as opposed to those who enjoy the physical experience and wish to retain some form of human input.
To criticise the new Defender simply on the basis that it's not the old Defender is a pointless exercise. The new version has as much in common with its long revered ancestor as the modern MINI has with British Leyland's original. The styling pays a nod to heritage but that's all, these are quite different machines and have to be assessed and appreciated on that basis.
And so it's on that basis that I am mightily impressed by the new Defender. Yes I worry about the complexities of the electronics lurking underneath the skin, but there is no doubt that this is a supremely capable machine, both on road and off. Impressively so.
This is a machine that will make a confident off-road adventurist out of a home-loving numpty. Ride height can be raised or lowered and various modes for tackling different terrain from rock crawling to mud plugging, from river crossing to the motorway cruise, and all at the twist of dial or press of a switch. No secondary levers and no trying to lock diffs while cursing and swearing at the sheer mechanical physicality of such long outdated processes.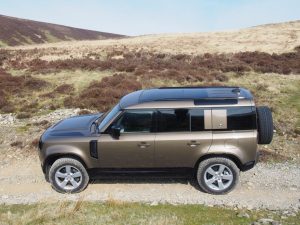 Nope the new Defender might not appeal to purists but you have to admire the thought and the engineering that has gone into it.
The trouble is, all this comes at a price. And it's not just Land Rover that is suffering. Just look at the price of vans these days. Every manufacturer is raising prices, not just because of shortages and increased material costs but having to incorporate ever more stringent safety regulations while at the same time being urged by governments to produce quieter, cleaner vehicles, switch to electricity as well as work on fully autonomous future transport modes. And who knows, one of these days this new Land Rover Defender might well become an icon in its own right.
A week with the car is not enough to discover its true potential but it is enough to savour the comfort and impeccable road manners. The seating is sumptuous and the ride quality is more than a match for any luxurious saloon. It doesn't roll on corners, it simply wafts along untroubled by pot holes and weather conditions. Having said that, it really comes into its own off road although some may flinch at the thought.
Farmers and utility workers have long ago moved on from Defenders to pickups with hardtops. These are now the work vehicles of choice for country dwellers and workers and most of the manufacturers have a budget' special' at the lower end of their range to appeal to this market while also producing much more 'luxurious' versions which appeal to leisure and business users.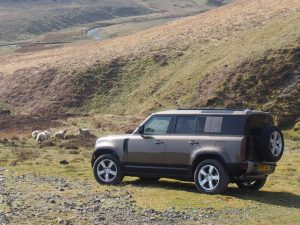 The new Defender is therefore for those who don't want or need to get out and dig a hole or lamb a ewe. This is for folk who want to keep their hands and feet clean, instead they need something to assist them with their cross country estate keeping duties, tow horseboxes and trailers around the country and provide a little luxury in their rural lifestyle.
Land Rover has moved on, there's no point in looking back to the day of black and white television sets and vets in wellies, or cleaning the inside of a working vehicle with a hose. On the other hand, the easily removable floor carpets reveal a fully rubber lined floor, so just take the carpets out if you're on a muddy boot job.
Of course I hanker after the good old workhorse with all its foibles and fallabilities but I can appreciate the sheer competence and ability of the new Defender with its go-anywhere, tackle anything attitude and 3.5 tonne towing capability.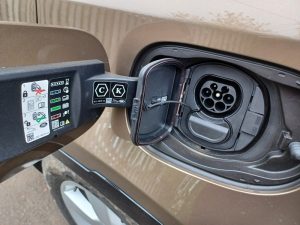 Mind you, not everyone will want or need this electrically supplemented 2 litre turbo version with 400 bhp. This is a seriously quicker motor for its size and bulk, but at the expense of fuel consumption! It does have a little help of course, this being a mild Hybrid with a rechargeable electric motor. Electric power alone can be used for short trips but is it enough to appease the more militant anti-4×4 brigade?
And as if that isn't enough, the rascal comes with a 'Sport' setting on the 8 speed auto 'box, as if it wasn't quick enough. It's fun of course, but it doesn't do anything beneficial for the fuel consumption figures!
The bottom line is, I love the style, comfort and ability, but price and running costs are way beyond more modest means. Prices for this X-Dynamic S model start from £65,915, but that still doesn't mean it's not one of the most desirable vehicles on the road, but that's just my opinion.
Land Rover Defender 110 P400e
Review Date: 11 May 2022
Price: £73,775 (as tested)
Engine: 1997cc, 4 cylinder petrol plus electric motor = 404 bhp
Performance: 0-62 mph in 5.4 secs, flat out at 119 mph
Economy: 25 mpg (actual)
Emissions: 74-88 g/km
[Back to Top]

**