… Jaguar I-Pace HSE …
I am an unashamed entrenched Neanderthal petrolhead. I like the power, the response, the noise, the smell and enjoy the need for tinkering at weekends. I am an oil ingrained, dirty finger nailed, addicted Swarfega user. There is a certain inexplicable satisfying comfort in the need for a toolbox with spanners and sockets.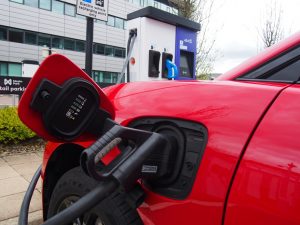 I don't like electric cars. They are soul-less, character-less and silent (nothing to say for themselves?) and apart from tyre pressures and windscreen washer re-filling require little in the way of nurturing and cosseting. So there you have it. I hate electric cars.
And then Jaguar sends an I-Pace to members of the Scottish motoring press for appraisal. Now it's one thing driving a new car at launch, it's quite another when you take the time to try out a brand new vehicle over a longer period on more familiar territory.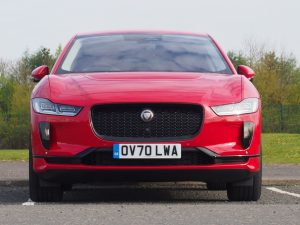 The launch of a new car is always something to get excited about, even after nearly 50 years of appraising and reviewing new cars, vans and trucks. The launch events themselves can often provide a distraction, sometimes in exotic surroundings, others in immediately forgettable locations, but the act of removing journalists from their more familiar surroundings and plonking them into brand new vehicles which are to be driven over unfamiliar roads in new surroundings can divert attention.
Admittedly most of us 'seasoned professionals' can rise above such minor distractions, but even so, car launches can create a rather better first impression than driving along a standard British potholed thoroughfare in the pouring rain.
On that basis it can be easy to overlook faults when the coffee is good, the croissants are fresh and flaky, or the burgers meaty and succulent.
And so it was at the launch of the Jaguar I-Pace a couple of years back. The assembled journalists gathered in a nice hotel, were looked after by attentive staff and had a test route already prepped and set-up on the SatNav. Even a slight smirr of Scottish rain failed to dampen the mood. It was like driving the first diesel X-Type nearly 20 years ago. Different, but still definitely a Jaguar.
Those first impressions of the I-Pace were favourable too but not quite sufficient to convert a dedicated petrolhead. Job done.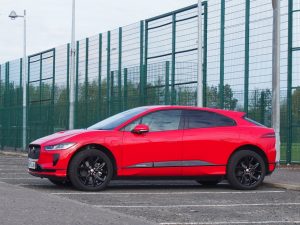 And then Jaguar sends a car to Scotland with an invitation to spend a few days on home turf with the car. No fancy hotel and make your own breakfast before venturing out into the Scottish climate for the day. In other words, no extraneous distractions, just you, the car and roads you know. No external distractions.
So with that in mind the Jaguar I-Pace was approached with an initial feeling of job compulsion, sort of "a man's gotta do what a mans's gotta do". When this is your job there's no room for bias or pre conceived notions or ideas. One must be professional about this and review it dispassionately.
And it was on that basis that this test was conducted. Now did I say I hated electric cars? Well, hold the front page. I Like the Jaguar I-Pace. No, that's not quite right. I really like the Jaguar I-Pace.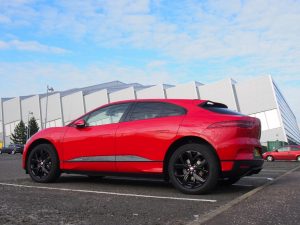 Yes it's quiet and lacks the aural experience so beloved by certain age groups and automotive fans but really when you hit the accelerator all the doubts are blown away. To coin a phrase, the performance is electrifying. Sorry, couldn't resist that one!
Admittedly this was a top of the range job. Prices start at just over £65,000 but this was the 395 bhp HSE version which added another 25 grand to the base price. A bit out of the way for most mere mortals perhaps but for those who can afford such grandeur then it does provide a very attractive alternative option to petrol or diesel.
Jaguar prides itself on providing vehicles with a sporting character and the I-Pace has it. Under that fastback styled SUV shape is a proper high performance sports car. The sub 5 second 0 to 60 mph time confirms that opinion which is further bolstered by the way it handles. The four wheel drive powertrain ensures it corners like it's on rails, flat and fast, no doubt helped by the full length underfloor battery pack slung between the front and rear axles. That provides a pretty even weight distribution albeit with a slight bias towards the rear.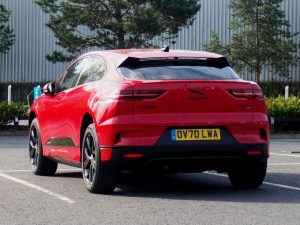 The I-Pace also features a fun but entirely practical application whereby energy can be generated on the move. Selecting the 'high regenerative' mode allows single pedal motoring. Press to go faster, lift off to slow down. In fact this lift off 'braking' is so effective it can generate up to 0.4g of braking force. It takes the job of identifying and judging braking points to a whole new level – while increasing range. It also takes a wee while to get used to, but it is fun and involving.
Ride quality whether hustling along or cruising quietly was exceptionally good, especially considering the fact that the car was riding on 20 inch wheels. Regular readers will know I'm not a fan of big wheels and minimal sidewalls, but the I-Pace was remarkably pliant and shock-free on its 245/50 Goodyear Eagle Sport M+S tyres! And unlike other M+S tyres these were pretty quiet on smooth, dry tarmac.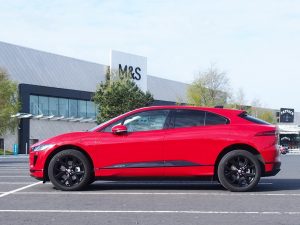 The car is not faultless, it does have one annoying habit. When you go through a tunnel or under a bridge, the radio/sound system suffers electrical interference. The first time it happened I thought ET was trying to make contact. The buzz and crackle is quite disconcerting the first couple of times you hear it because it's a noise current motorists have not been used to since Austin tried to put valve radios in a Metropolitan Coupe 70 years ago. The radio interference was so bad back then that a sparrow fly-past could distort the signal.
Another disappointment is towing capacity and that's something electrical vehicle manufacturers are aware of. A car of this size and weight (2.6t) should be able to tow more than 750 kg but that is the limit.
And then there is the charging of the batteries. One of the biggest drawbacks to electrical vehicle ownership. However, in the case of the I-Pace this is one of the better one ones. An overnight charge at home on the domestic supply will give a 100% charge, which is good enough for around 235 miles (say Jaguar) and possibly up to292 depending on how it's driven. So that is pretty reassuring. However, using one of the publicly available high-speed chargers a 25% charge can be delivered in one hour 20 minutes, exactly. How do I know this? That's the time I was stopped at such a charger and wrote up this appraisal while sitting in the front passenger seat.
And there's more, so much more that a week with the car simply wasn't enough. For instance if you download the I-Pace app you can programme the car before you leave the house and once on the move it will highlight charging points and even direct you towards the nearest when your range drops below a critical level. And that's just the tip of the built-in electronics iceberg.
So having reviewed what I have written up to now I do have one more correction to make. I don't just really like the Jag, I really, really DO like it. If the manufacturers can sort out the range, the batteries and the charging infrastructure then this could be a welcome and central part of our motoring future. But I'll miss the noise of an F-Type SVR.
Jaguar I-Pace Electric HSE
Review Date: 10 May 2021
Price: £77,015 (as tested)
Engine: Two electric motors, 90kWh battery pack with 395 bhp
Performance: Top speed 124 mph
Range: 235 miles (claimed)
CO2 emissions: 0 k/gm
[Back to Top]