Vauxhall Corsa SRi Nav Premium 1.2 Turbo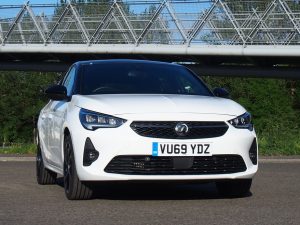 Hard to believe perhaps, but the original Vauxhall Nova was launched nearly 40 years ago. The original may have been smaller than Margaret Thatcher's handbag, but like any baby born back then it is all grown up now. This latest Corsa can no longer be considered a small car, it's a proper family car, albeit a fairly compact domestic saloon.
Its dimensions are still modest but compared to the original, this feels a whole lot more substantial when you sit inside. The latest car is 438mm (17 inches) longer and 233mm (9 inches) wider than that very first Nova.
That equates to more legroom, shoulder room and headroom and it also accommodates the extra girth that the average adult has amassed over those same years. And just as that adult has ever so slightly increased his/her weight over that time span, so too has the current Corsa which tips the scales at a rather surprising 355 kgs heavier than the original. That of course is not entirely due to the increase in physical size, but all the NCAP crash protection requirements and enhanced electronics and safety features that modern cars need. Having said that, this latest Corsa is actually lighter than the previous model which it has replaced.
Even so, the result is a very roomy compact saloon which will seat four in comfort and five at a squeeze with a decent sized boot for the weekly shop or annual holiday.
The engine line-up for the latest models also show just as big a difference too, especially in their power delivery and fuel efficiency. There are two petrol options, an entry-level 1.2 litre unit with 74 bhp and a slightly more powerful 99 bhp version. This also comes with a 6 spd gearbox compared to the entry-level car's 5 spd unit and there is an eight-speed lightweight automatic transmission option for the top of the range car.
For high mileage users, there is a 1.5 litre, 3 cylinder, diesel turbo with 101 bhp and a six-speed manual gearbox as standard which will provide up to 20-25% better fuel consumption than its petrol siblings. These days, even a diesel engine this small comes with a passive oxidation catalyst/NOx absorber, AdBlue injector, SCR catalyst and Diesel Particulate Filter (DPF). Phew!
There is also a fully electric version, the Corsa-e, but the test car had the 1199cc, direct-injection, all-aluminium, turbocharged unit with 99 bhp and it was a treat to drive.
For a start, Vauxhall's electrically assisted rack and pinion electrical power steering system is so good it is often the first choice of amateur (and professional) rally car builders who want power steering in their competition machine whatever the make of vehicle. Add that to a lightweight MacPherson strut front end with coil-overs at the back and you have the basis of a pretty decent handling machine for a family motor.
It's not a fast motor as such, but it could be classed as quite nippy with its sub 10 second 0 to 60 time. The ideal runabout for busy town and city centres. The clean shifting 6 speed gearbox also helps and turns a daily chore into a bit of fun.
Nor was it over-tyred, with a set of 205/45 Michelin Primacy 4 tyres on shiny black 17 inch alloys the Corsa rode the bumps like the Michelin Man himself. And it had a 'proper' emergency spare wheel as opposed to the more usual skoosh and blow jobs that come as standard these days.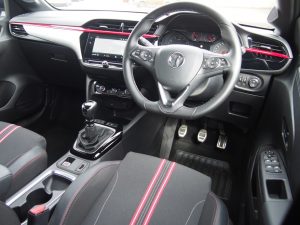 Vauxhall has also done a lot to improve its interiors over recent years with the Corsa's cabin providing an attractive place to be. The 'sports-style' fabric covered seats are shaped for comfort and the flat-bottomed leather rimmed multi-function steering wheel just wants to be grabbed and cosseted. The all-black interior has been lifted by red highlights with red and dark grey contrasting stitching. Naturally the 7 inch colour touchscreen not only controls the Radio and SatNav system while offering a bewildering array of functions if you want to delve into the various options.
For instance, Vauxhall has introduced a 'Flank Guard' system. Fitted with 12 sensors, the driver gets a warning if the side of the car is about to collide with an object while manoeuvring at speeds less than 6mph. In addition to warnings displayed on the touchscreen, the system also gives audio signals that increase in frequency the closer the car gets to the obstacle. Ideal for those cramped spaces in busy retail mall car parks!
Now owned by PSA Group, I just hope the Frenchlanders leave the Vauxhall folk to their own devices. They are building very attractive, practical and comfortable motor cars. Long may it continue.
As for the Corsa, I really liked it.
Vauxhall Corsa SRi Nav Premium 1.2 Turbo
Review Date: June 10, 2020
Price: £21,005 (as tested)
Engine: 1199cc, 3 cylinder turbo petrol with 99 bhp
Performance: 0-62 mph in 9.4 secs, flat out at 121 mph
Economy: 47.9 – 42.3 mpg (WLTP)
CO2 emissions: 96 k/gm