… MG5 EV …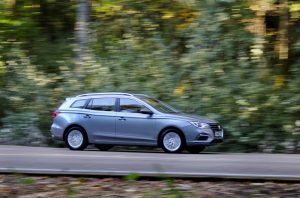 My time with the electrically powered MG5 coincided with that brief period a few days ago when fuel delivery drivers were in short supply. Some filling stations were running out of supplies of petrol and diesel as folk went on the now customary panic buying spree whenever anything is declared to be at threat and compounding the problem. Hence the feeling of smugness as the electrically powered MG whispered almost silently past.
This was also the very latest version of the car with a new 250 mile longer-range. It also benefits from a faster charge time for its 61.1kWh battery. It will take an 80% charge in just 61 minutes on a 50kW rapid charger or 40 minutes on a 100kW rapid charger. That's time enough for a mug of tea, a pie sandwich and a read of the newspaper in the local caff.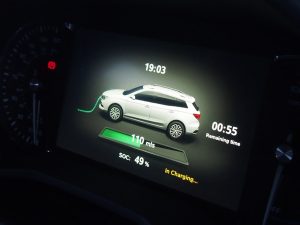 However a 100% overnight fast charge will take approximately 9.5 hours on a domestic home charger supply. To those who haven't yet sampled the delights of electrical motoring, those figures represent a big improvement over many current models.
In fact there could have been a third reason for feeling smug but that would only really apply to those folk who actually owned one of these cars, for it comes with a 7 year/80,000-mile fully transferable warranty as standard.
Power comes from a 115kW electric motor. That's equivalent to 154bhp and good enough for a 7.3 second 0 to 60mph sprint time with a top speed of over 100 mph. Of course, battery power won't last long if the driver is toying with the car's performance. Mind you, it's easy to get carried away. The water cooled 61.1kWh lithium-Ion battery pack is slung low in the bodywork which enhances the feeling of stability and no doubts adds to the road-holding sporting appeal of the chassis.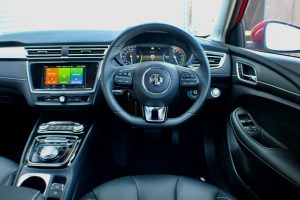 On the other hand a more frugal approach can extend the range by up to 80 miles. That's because it comes with three driving modes – Eco, Normal and Sport – and also three regenerative braking modes which adds progressive degrees of retardation. To get the best out of that system takes a little practice, but it can pay off with less frequent trips to the charging point.
Otherwise this is just another comfortable family car that drives well and like other electric cars , is actually a joy to drive. In fact, once you master the regenerative braking it almost becomes single pedal operation as opposed to two-pedal automatic or three pedal manual. Although having said that, it's nice to have the safety and comfort of a proper brake pedal for reassurance and/or emergency use.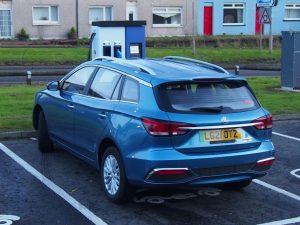 The increased range of the car and its estate car roominess will also add to its appeal for business use. Many businesses, large and small, are still a bit reluctant to seriously consider the switch to electric cars. Whereas electric vans are now becoming more commonplace that is down to the more localised nature of their use while the 'business car' is still seen as a tool which may have to cover longer mileages. A genuine 250 mile range could reduce that often quoted reason for not buying one – range anxiety.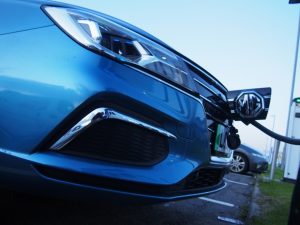 There is no shortage of equipment on the MG5 either as it comes with MG's MG Pilot Driver Assistance System and all the other electronic safety aids that we come to expect these days on modern cars. MG Pilot offers a selection of warning and alert features including Active Emergency Braking (with pedestrian and bicycle detection), Lane Keep Assist, Adaptive Cruise Control, Traffic Jam Assist, Intelligent High Beam Assist and Intelligent Speed Limit Assist.
The MG5 EV is roomy, comfortable and extremely practical with prices for the longer range model starting from just £26,495 after the Plug-In Car Grant (currently £2,500) and business users benefit from 1% Benefit-in-Kind tax (2021/22 tax year).
I really quite enjoyed it.
MG5 EV Exclusive
Review Date: 07 October 2021
Price: £28,995 as tested (with PiCG)
Engine: 115 kW electric motor with 154bhp
Performance: Top speed 115 mph
Range: 250 miles (claimed)
CO2 emissions: 0 k/gm
[Back to Top]