… Ford Kuga ST-Line X Edition …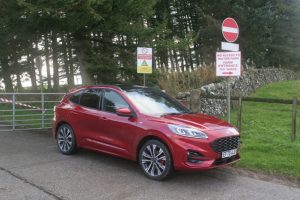 It was wet during my time with the Ford Kuga ST-Line X Edition, very wet, but this was the all wheel drive version. Just what you need when scampering across muddy, puddled country roads on the way to the Solway Coast. The normal route from North Lanarkshire is down the M74 to Crawfordjohn and then turn off to head down the Dalveen Pass and across to Moniaive, through New Galloway to Castle Douglas and beyond.
Pick your travel time carefully, i.e. early morning or late evening, and the only things you have to worry about are suicidal sheep and distracted motorhomers, plus the usual helmetless farmers and shepherds with collie dugs on quad bikes!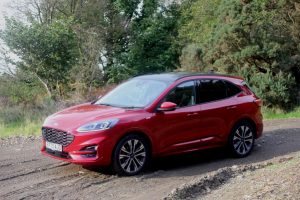 Even when observing the national speed limit on motorway and country roads, the Ford all wheel drive system provides all the necessary assurance one needs when trying to maintain a respectable average speed. And despite all our criticisms and lack of faith in modern electronically controlled drive systems this was a surefooted trip. Even with water cascading across the road just over a hump and round a bend failed to deflect the Kuga from the driver's chosen path. There was a momentary slide from the 245/40 Continental Premiums as the suspension went light before they settled, gripped and regained the line with not a grey hair disturbed.
In the dry the handling is exemplary which you might expect from its Focus underpinnings but in some respects it could be regarded as an altogether better car than the saloon, purely from the point of view of internal accommodation. It's SUV styling offers easier access and egress and more head and shoulder room once inside. Whilst the sports seats provide all the necessary 'flab' grip that one requires when cornering hard.
Even on its (optional) 20 inch wheels the firmer sports suspension copes with everything although the occasional pothole can send shudders through the underpinnings.
With a nearly 9 second nought to 60 time, the 2 litre diesel is not the quickest thing off its mark but its speed through the 8 speed automatic gearbox is quite impressive and helps to maintain sensible average speeds regardless of the terrain. Or maybe I shouldn't sleep-in and thereafter need to rush!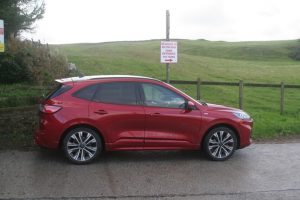 Ford claims an average fuel consumption figure of 47.9 mpg for this new EcoBlue engine, which replaces the previous Duratorq TDCi range, so I was pretty pleased with an average of 46.4 mpg during the appraisal. No doubt more sensible motorists would return well over 50 mpg!
To say I enjoyed the drive, even in the streaming wet, is an understatement but anyone who simply enjoys driving will appreciate a car that handles predictably and derive a sense of tactile pleasure regardless of what Mother Nature blows and throws at it.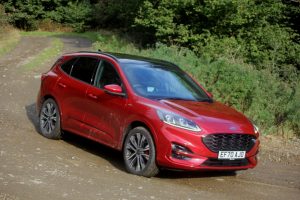 It's not cheap though. The test car had 3 grandsworth of extras which raised the £37,140 asking price to over £40,000 and these included the Lucid Red paint job, 20 inch alloys, mini spare wheel and the Technology Pack with Head Up Display and LED lamps plus the Driver's Assistance Pack which offers additional electronic functions like adaptive cruise control, traffic sign recognition, blind spot information system, Park Assist and other 'driver aids'.
The heated front and rear seats were also a welcome addition to the spec sheet and along with the power operated tailgate and B&O premium sound system added a premium feel to the car although the power operated panorama roof remained unused during the test period!
This is a car which is easy to live with and enjoy, and we should enjoy it while we can before the mandarins tell us we can't and order us to be carried around in autonomous mobile boxes!
Ford Kuga ST-Line X Edition
Review Date: 06 October 2021
Price: £40,290 (as tested)
Engine: 1995cc, 4 cylinder turbo diesel with 187 bhp
Performance: 0-62 mph in 8.7 secs, flat out at 129 mph
Economy: 47.9 mpg (combined)
Emissions: 156 g/km
[Back to Top]