… MG HS TGI …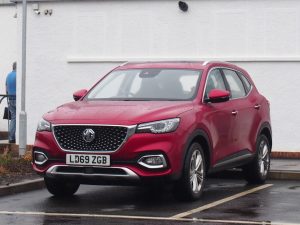 There was a time when the 'MG' name conjured up the vision of wind-in-the-hair two seater sports cars and sporting saloons but like so many companies from the last century it was swallowed up by BMC which was itself swallowed up by British Leyland. Along the way, other weel kent names such as Austin, Riley, Wolsley, Rover and Triumph have disappeared, glimpsed only occasionally on heritage runs and at car shows.
But the name MG lives again. The MG marque along with other MG Rover assets were purchased by the Chinese Nanjing Automobile Group which itself merged into SAIC in 2007. Production restarted in 2007 but it wasn't till 2011 that the first all-new model was launched in the UK for 16 years. That was the MG 6 saloon.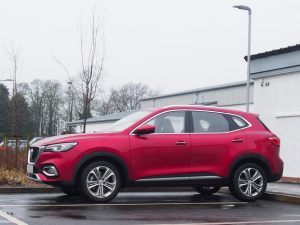 However, it does seem as though the public appetite for saloon cars is waning with small, compact and large SUVs being seen as more desirable and practical by the great British public. Hence the more recent appearance of the MG GS, and now the MG HS.
First impressions are indecently favourable. It looks good, it's big and it's comfortable inside. Then you look at the price, which starts from around £18,000. Now that is impressive considering it's as big as some of the so-called 'large' SUVs and certainly bigger than many of its mid range rivals.
There is just the one model at present with one engine and three trim levels with the top of the range model coming in at around £24,500 and that comes with a seven-speed dual-clutch automatic gearbox.
As for the engine, it's a turbocharged 4 cylinder 1.5-litre petrol unit with 160bhp and the whole car tips the scales at just under 1600 kgs. That gives it a towing limit of 1750kg which will interest the caravaneers, especially those on a budget, but seeking the freedom of holidays and life on the road.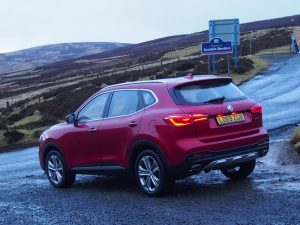 Inside the HS there's plenty of room for four adults, and five at a pinch and it comes with all the electronics that you'd expect of a modern car these days. That includes keyless entry and smartphone connectivity along with automatic emergency braking (AEB), lane-keeping assistance, blindspot monitoring and even a rear cross-traffic alert system to help when reversing onto a busy road. The automatic gearbox also comes with adaptive cruise control and a traffic jam assist feature that can steer the car in slow-moving traffic.
There is a downside with all these electronics. Many of them are accompanied by an infuriating range of 'boings'! For some folk this will be reassuring but for others it will invoke a search for the fusebox but that's not to be recommended. There was no Handbook with the test car so I was unable to find out if these could be switched off , or toned down in volume even after looking through all the various Menu options on the dash mounted touchscreen.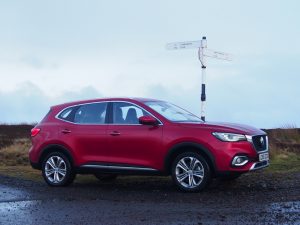 There were another couple of niggles when the SatNav switched itself off and I was left with a blank screen, but this could easily have been a software fault rather than electronic failure cos everything else worked. Oddly enough, the low fuel indicator didn't have a warning 'boing', and it could well have done with one. It is situated at the bottom of the driver dash panel display and hard to notice behind the steering wheel, but I got away with it and didn't need to call the AA or go for a walk.
Those niggles aside, the MG HS has a lot going for it. The front seats are well shaped and very comfortable, more wicker sun lounger than competition buckets, and legroom in the rear is good even with two bigger folk up front. It can carry a 1 litre bottle of Irn Bru in the door pocket quite securely while the boot floor is flush with the rear bumper. That means you can have a seat in the boot with the tailgate up and spectate at outdoor events or when rally marshalling out in the wilds.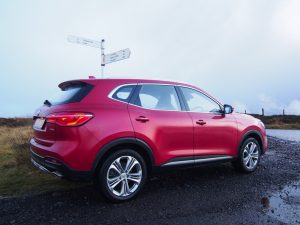 It's not a sports car but it's quick enough to satisfy most folks' needs. The suspension is good, but a bit jiggly over uneven surfaces and there were plenty of those on a trip back from Duns on the road from Longformacus to Gifford. The six speed gearbox is effortless and the steering is light, although it lacks feel, so whilst it might not appeal to the sporting driver it will be appreciated by those who simply want to tour and travel. There is just one other tantalising 'extra', it comes with a7 year warranty.
Otherwise this is a thoroughly likeable machine, but if the 'boings' start getting to you and you can't turn them off, just turn up the ICE volume. On the whole I liked it and I could just about live with it.
Review Date: February 09, 2020
Price: £24,495 (as tested)
Engine: 1490cc, 4 cylinder turbo petrol with 160 bhp
Performance: 0-62 mph in 9.9 secs, flat out at 118 mph
Economy: 37.2 mpg (combined)
CO2 emissions: 148 k/gm